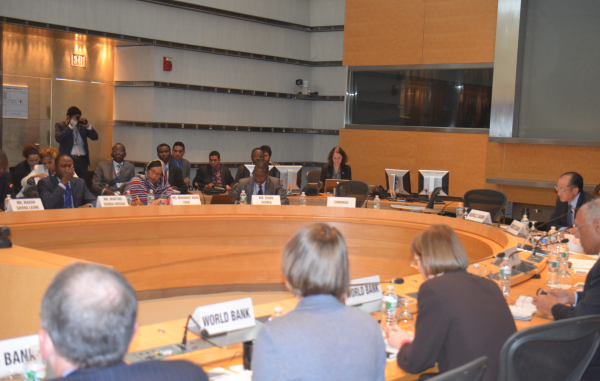 The three Ebola hardest hit West African Countries (Sierra Leone, Liberia and Guinea) have appreciated in unison the efforts of Dr. Jim Yong Kim President of the World Bank Group (WBG) and its leadership role in promoting the global co-ordination of the fight against the Ebola epidemic, and urged the World Bank Group to "take the necessary steps to ensure that scaled up emergency financial support, and technical and policy advice, are expeditiously disbursed."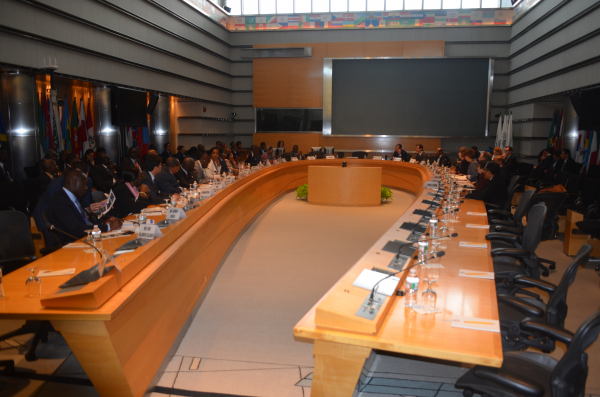 Speaking at an African Caucus Meeting on October 11th 2014 chaired by Dr. Jim Yong Kim President of the World Bank Group and Co – Chaired by Dr. Kaifala Marah Sierra Leone's Finance and Economic Development Minister at the World Bank building in Washington DC, Dr. Marah said "if support is not ramped up, the economies of the three Countries, our people and the region as a whole will experience devastating and far-reaching consequences."
He urged the WBG to take the necessary steps to ensure that scaled up emergency financial support, and technical and policy advice, are expeditiously disbursed.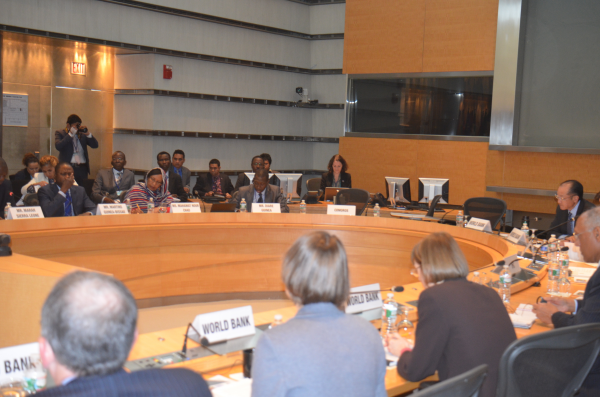 According to Dr. Marah, "the criticality of urgently containing the epidemic need not be over emphasized, because the increasing loss of lives caused by the rapid spread of the disease, and the social and economic toll we continue to face, will have devastating and far-reaching consequences for not only our economies and peoples, but the region as a whole."
"Let me, on behalf of the three Mano River Union Countries, Sierra Leone, Guinea and Liberia, thank you President Kim for your leadership in fostering the global coordination of the Ebola epidemic. Said Dr. Marah. Adding, the global attention you drew, building on your credentials as a Tropical Disease Specialist with global reputation, help to further mobilize the international community for expeditious support to tackle this urgent and destructive global externality, under such dire circumstances.
"Therefore, I take this opportunity to invite you to the three Ebola heavily hit Countries of Sierra Leone, Guinea and Liberia to enable you as a medico, have an eye witness account of what the three Countries are going through. "Mr. President, your visit will not only see a more robust and speedy help, but will also reduce the current Ebola stigma that is associated with the three Countries." Said Dr. Marah.
Sierra Leone's Finance Minister re-called October 8th, 2014 when leaders of the three West African Ebola hardest hit Countries joined global development partners and discussed the needs and possible solution geared towards addressing the health and socio economic impacts of the crisis, and sought ways, how the international community and partner countries can best support the affected countries and further end the epidemic, and reiterated their demands.
"Our Heads of States made specific requests at the round table and we wish to emphasize further the following requests:
"Direct budgetary support to address our heavily damaged public finances – this is an urgent and pressing need to keep our countries running and prevent our economies from collapsing.
Commitments and resources to fundamentally revisit and strengthen our health systems, the vulnerabilities of which have been painfully exposed by this outbreak.
Post – Ebola support that will entail significant resources to enable critical investment and interventions over the medium-term, particularly in infrastructure, to ensure that our economies do not merely scrape through this crisis but recover onto a path of much stronger and more inclusive and poverty reducing growth.
Flexibility in application of the IDA policy to allow for the front-loading of our IDA17 allocations and consideration of applying the exceptional window under such a worsened "Turn-Around Situation" for our three countries.
Let me close by appreciating the tireless and selfless commitments of the World Bank Staff in the field offices who have been toiling through this scourge with our people. We truly appreciate them.
Responding, Dr. Jim Yong Kim, assured governments of the three hardest hit Ebola Guinea, Liberia, Sierra Leone of new pandemic emergency facility that could facilitate the immediate disbursement of money to Countries which are in the face of the Ebola outbreak.
He said beyond the human tragedy, economic losses in these countries are devastating, and there is need for a "Swift and coordinated action, because   financial support are critical to contain and mitigate both direct and long-term economic impacts of the crisis.
Dr. Kim advised officials of the affected Countries to stand firmly together in the course to end the crisis sooner than later, to enable them get back on their feet, and said he will look at his busy schedule and try to explore the possibility of a visit to the three Mano River Union Countries.
Pasco Gerald Temple
Information attaché
Embassy of Sierra Leone
Washington DC
20009 USA
Tel- 2024466958