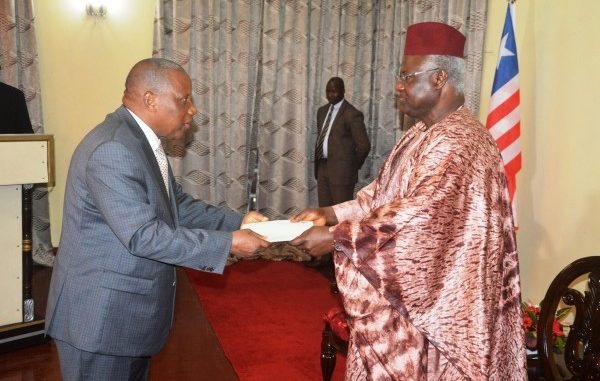 By State House Communication Unit
FREETOWN, Sierra Leone, September 10, 2015/ — Three ambassadors and one High Commissioner designate to Sierra Leone on Thursday, presented their Letters of Credence to His Excellency, President Dr Ernest Bai Koroma at State House, Freetown.
They were Mr. Jarjar M. Kamara of Liberia, Madam Hege Hertzberg of Norway, Mr. Christopher Thornley of Canada and Mr. Kaoru Yoshimura of Japan.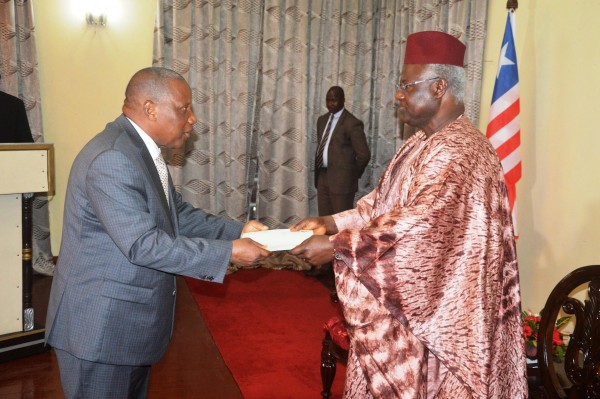 President Koroma urged the ambassadors to help in entrenching shared aspirations and cooperation for socio-economic and political transformation, accountability, transparency and open government partnership. He thanked their respective governments for supporting Sierra Leone during the height of the Ebola epidemic.
The president reiterated government's determination to return the country on the "Agenda for Prosperity" pathway as the implementation of post Ebola recovery programmes gathers momentum. President Koroma also called on the governments of Norway, Japan, Canada and Liberia to support Sierra Leone in building resilient health systems and achieving the goals encapsulated in the post Ebola recovery plan.
The head of state also used the occasion to canvass support for Africa's representation in the Permanent category on the United Nations Security Council. "This year marks the 70th Anniversary of the United Nations, and calls for reforms of our global organization have never been greater than now. As Coordinator of the African Union Committee of Ten Heads of State on the Reform of the United Nations, we seek Japan's continued support for Africa's representation in the Permanent category on the United Nations Security Council," he said.
The Ambassadors pledged to continue to strengthen and promote bilateral relations between their countries and Sierra Leone and also improve on the good works of their predecessors. They also expressed strong admiration for the leadership qualities of President Koroma in the fight against the epidemic.
The credentials ceremony saw in attendance Vice-President Ambassador Victor Foh, cabinet ministers, senior government officials, officials of the Ministry of Foreign Affairs and International Cooperation and senior State House staffers.