By Septimus Kanu :
The New Guinean Ambassador to the Republic of Sierra Leone. His Excellency Fode Camara, on Thursday,28th paid  a courtesy visit on  the Minister of Information and communications, Hon. Alhaji Alpha Bakarr Sahid Kanu,to familiarize himself with members of the government, as he settles down to work  in sierra leone .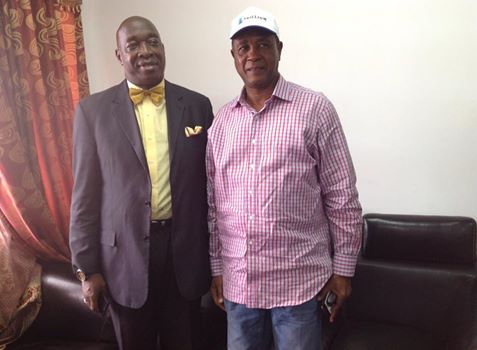 The Hon.Minister, started by introducing his staffs,  the Permanent secretary Mr. Paul Sandi, and the Director of Communications, Mr. Abubakarr Tarawally. The  Minister, further explained that,a year or so there was no Ambassador to fill the position very well, which was necessary , due to historical link between  our countries . The Minister ended up by welcoming the newly appointed Ambassador Fode Camara,from the People's Republic of Guinea to Sierra leone.

In his statement, Ambassador Fode Camara,said he was  extremely happy to meet with the Honourable Minister of information and communications,and the people of Sierra Leone. He said the link between these two countries demands that they should foster all steps in order to fight this scourge of Ebola . He further stated that these three sisters countries,Guinea, Sierra Leone,and Liberia,are connected in the web of humanity because they have  a shared experience.

Meanwhile, Ambassador Fode Camara,stated that indeed Sierra Leone  Guinea and Liberia are sister  countries and he will like to use this medium to send out a message to the world that indeed they will adopt a compromise approach to fight this dreadful Ebola disease.

The  Permanent secretary seized the  moment to express the popular saying "A friend in need is a friend indeed". He said the Ministry of information will cooperate and ensure that the relationship sustains.