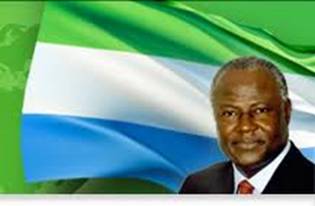 By KABS KANU :

The Fathers ' Day will not be complete if we do not pay homage to the Father of the Nation, His Excellency Dr. Ernest Bai Koroma, President of the Republic of Sierra Leone, the sovereign Fountain of Honor and the Commander-In-Chief of the Armed Forces of Sierra Leone. 

PRESIDENT KOROMA is a role model to me and to all those who work under him and even those who do not work with the government as well as the ordinary man in the street. This is because he is very caring about the nation just like a father cares for his family.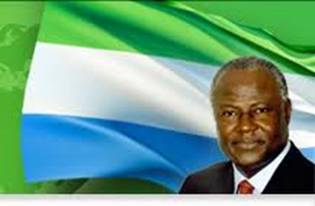 He cares for our comfort and convenience and for our ability to move around freely and transport goods and services , and for these reasons, he has taken his time to construct state-of-the art roads and other infrastructure throughout the country. Under the fatherly care of President Koroma, Sierra Leone today has one of the best roads system in West Africa.
Like a good father that cares for the health and well-being of his family, PRESIDENT ERNEST BAI KOROMA launched the free health care scheme in Sierra Leone for pregnant women, lactating mothers and children under 5.
Because he is a father desirous to provide food for his family, PRESIDENT KOROMA concentrated the nation's resources also on Agriculture in a determined effort to make Sierra Leone self-sufficient in food production. President Koroma introduced the Smallholders Commercialization Program through which 150 agricultural centres were built in one year , which has enabled thousands of farmers to come together in farmer-based organizations to be provided with training, machinery and tools.
Like a true father who cares for the education of his children, PRESIDENT KOROMA has boosted the educational system in Sierra Leone .He set up the Gbamanja Commission of Enquiry to review the educational sector and the Commission provided a White Paper that recommended total overhaul of the system. He has employed thousands of teachers, built schools in many parts of the country and provided incentives for instructors , measures that have improved the educational system.
Like a true father, President Koroma is patient with people and he gives them chance to rectify their mistakes or re-invent themselves and he disciplines them when they overstep their bounds, in which case he has no blame and his conscience is always clear after cracking down. President Koroma will never listen to or act on the basis of rumors and gossip about people. He allows them to fall by their own weight. There are times, though, when if the situation demands it, he does not wait but acts expeditiously in the interest of the nation. We thank God for imbuing the Father of the Nation with such wisdom to deal with the diverse and complex people under his care.
Like a true father, President Koroma does not discriminate between his children. He does not care if you are APC, SLPP, PMDC or UDM, Creole, Mende , Temne or Lokko. He cares for us all.
I can go on and on and on.
For being such a good father to this nation, let us all put our hands together and wish President Koroma a Happy Fathers'Day. May God bless him and continue to guide him and give him more strength to continue his good work for Sierra Leone and humanity.