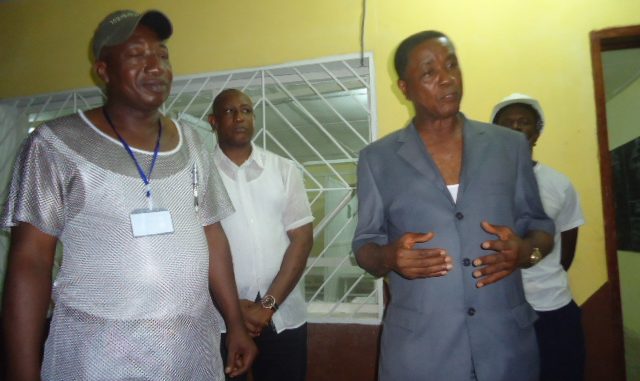 The Minister if Information and Communications Hon. Alhaji Alphha B. S Kanu has formally handed over two holding centres in the Port Loko District to the Paramount Chiefs of Lokomasama and Kafubulum Chiefdoms to enhance their capacity in the fight against the Ebola virus. The event took place at the Lokomasa holding centre on the 19th November, 2014.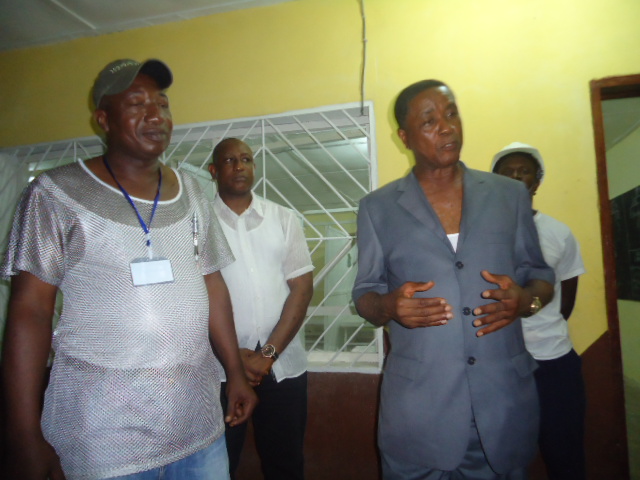 Whilst handing over the centers, he said the centers are ready for use and will start operations the following day and urged the Paramount Chiefs and key stakeholders in the chiefdoms to take advantage of the opportunity and increase their effort in searching for suspected cases in their respective chiefdoms.
He said the holding centres can admit up to 102 patients 67 in Lokomasa and 35 in Sumbuya adding that the two centres will not only serve the two chiefdoms but also other chiefdoms in the district that do not have centres to keep suspected cases
He encouraged the Chiefs to ensure that all suspected cases in their Chiefdoms are brought to the centres where they will receive proper medical attention and besides reduce the risk of infecting more people in their various communities.
The Minister also distributed assorted items that include 50 bags of rice, palm oil, chlorine, sanitizers, and dettol to immediately kick start the feeding process in the centres and assured that the people who will be admitted in the centres will be well taken care of.
Applauding the donation by SLIEPA, Hon. Alpha Kanu thanked the Chief Executive Officer of SLIEPA for donating food items for distribution to the holding centres saying that the people of Port Loko district appreciate his goodwill gesture.
The Chief Executive officer of SLIEPA Raymond KGbekie noted that he is making the donation on behalf of his institution to complement the effort of Government in the fight against Ebola. He said the items they are donating will include rice, chlorine, dettol palm oil and other items to supplement relevant items in the centres.
The Paramount Chief Baimaro Lammina Augbathor II express his gratitude to the President, the Minister and other stakeholders in the fight against the virus for providing his Chiefdom with a holding centre and assured the Minister of his unflinching determination to accelerate his effort in searching for people with suspected cases in his Chiefdom. Receiving the items, he assured the Minister that the items will be used for the intended purpose and will ensure that the rightful owners benefit from the supply.