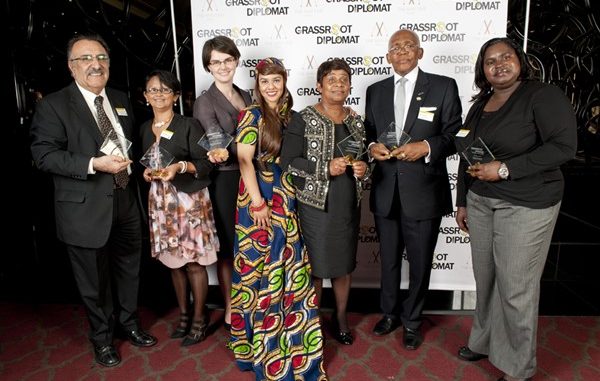 SORIE SUDAN SESAY :
Having earned a reputation for his close ties with the grassroot community especially his Sierra Leonean people in the United Kingdom as well as in Europe, Sierra Leone's High Commissioner to the United Kingdom Edward Mohamed Turay, has at last got an international reward for his services to the Diasporan community – thanks to The Grassroots Diplomat publication.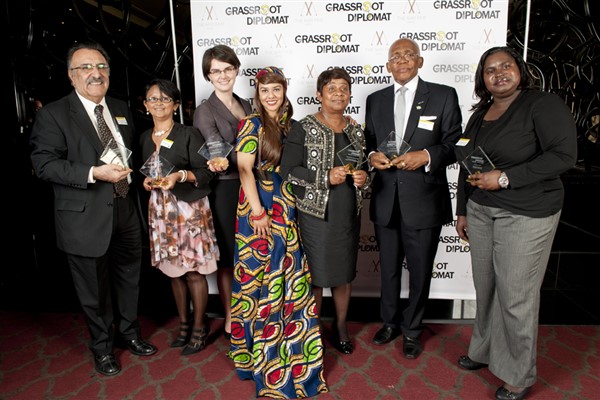 The Grassroot Diplomat Initiative Awards organised in partnership with The May Fair Hotel is an annual event organised in honour of diplomats and politicians who have contributed immensely to civilian interests in the United Kingdom and in Europe.
The awardees have been monitoring Turay's services especially his contribution to the Sierra Leonean community in the United Kingdom and Northern Ireland as well as other countries of accreditation in Europe.
The full content of the report is reproduced here verbatim…
Grassroot Diplomat Announces Diplomatic and Political Award Recipients
Hosted by TV Psychologist Dr Linda Papadopoulos, Grassroot Diplomat
announced last night the six winners for the 2nd Annual Grassroot Diplomat Initiative Awards in partnership with The May Fair Hotel.
The Grassroot Diplomat Initiative Awards recognises the achievements of UK based diplomats and politicians who are representing civilian interests at the highest level in areas of policy, social and business.
Recipients were chosen out of 42 shortlisted nominees in the categories of Policy Driver, delivering policy changes that positively affect local or international communities, Social Driver, working closely with non-governmental organisations for social projects, and business driver, support small businesses and entrepreneurs.
The winners of the Grassroot Diplomat Initiative Award are:
– Cllr Sanchia Alasia (Barking and Dagenham) – Policy Driver Winner for Equality and Diversity
– HE Dr Mohammad Daud Yaar (Afghanistan) – Policy Driver Winner for Protecting Women's Rights
– Baroness Lawrence of Clarendon OBE – Social Driver Winner for Stephen Lawrence Charitable Trust
– HE Marie-Pierre Lloyd (Seychelles) – Social Driver Winner for MPower Seychelles
– Chloe Smith MP (Norwich North) – Business Driver Winner for Norwich for Jobs Initiative
– HE Edward Turay (Sierra Leone) – Business Driver Winner for Positive Business Development
Talyn Rahman-Figueroa, founder of Grassroot Diplomat notes that: "For our society to function, it is crucial that such outstanding policy makers continue to represent civil interests, to be ambassadors of this cause and push for people's interest above and beyond political and national interest. We must focus on bringing more positive role models into society and diminish negative news – that is the grassroot diplomacy way". Ms Rahman-Figueroa wore an African-style dress made by Senegalese designer Khadim Sek.
 POLICY DRIVER WINNERS
Political Policy Driver winner Cllr Sanchia Alasia was chosen for her work on equalities and diversity, successfully winning her position in May 2010 by unseating BNP member Robert Bailey to become the youngest woman on the council. Now, as part of the Labour Black Women's network, Cllr Alasia mentors women as well as pointing them to shadowing opportunities, so that they can learn more about how to get involved in local politics and public life.
A dedicated campaigner, the Ambassador of Afghanistan Dr Mohammad Daud Yaar has made it his mission to protecting women's rights in Afghanistan as the most important issue to the development of his country. Dr Yaar has managed to create an environment where men are encouraged to talk about women's rights without the attachment of traditional stigmas within a strongly patriarchal society and thanks his wife Sadia Yaar for providing him with the strength to do so on an official capacity.
 SOCIAL DRIVER WINNERS
A charity born out of a personal tragedy, Baroness Lawrence was awarded as the Social Driver winner for founding the Stephen Lawrence Charitable Trust following the murder of her son Stephen in 1993. The charity promotes a positive community legacy in her son's name and creates an environment of social inclusion and empowerment for youths in Britain. Her charity offers free training workshops to local communities in Lewisham, Greenwich and Southwark in providing young people with tangible skills and access to professions including music, media and law.
On the diplomatic side, the High Commissioner of Seychelles Ms Marie-Pierre Lloyd was chosen for establishing MPower Seychelles, an NGO aimed at empowering vulnerable islanders including unemployed, addicts, ex-convicts and teenage mothers. The High Commissioner firmly believes that people should be at the centre of policy, programme or project, focusing on human dignity and well-being.
BUSINESS DRIVER WINNERS
Chloe Smith MP of Norwich North conceived and designed the Norwich for Jobs campaign, bringing together a team from local firms to the Chambers of Commerce and charities to create jobs for young people. Since its launch in January 2013, Norwich for Jobs has directly brought about over 400 jobs and apprenticeships for Norwich young people by providing businesses with the confidence to open jobs and breaking the stereotype of the "lazy" youth on Jobseeker's Allowance.
Diplomatic winner HE Edward Turay of Sierra Leone has done remarkable work in galvanising diaspora communities across Europe, bringing better visibility to his country and people. With extremely stretched resources, the High Commissioner also heads diplomatic missions in Denmark, Norway, Sweden, Spain, Portugal, Cyprus and Ireland which he frequents to every two months. In the UK, the embassy manages a 100,000 people diaspora with 25,000 Sierra Leone civilians living in the London boroughs of Lambeth and Southwark alone.
HONOUREES
With so many outstanding candidates, Grassroot Diplomat also provided honourable mention to David Amess MP (Southend West), Cllr Abdul Quadir (Camden), Stephen Lloyd MP (Eastbourne), HE Hamzah Thayeb (Indonesia), HE Aino Lepik von Wiren (Estonia), and the Young Diplomats in London Association for their outstanding contribution to society in the political and diplomatic arena.
A special "Certificate of Excellence" was offered to guest speak Professor Yongjun Huang, CEO of President Xi Jinpings Thought and Study Centre for his contribution to cultural and international diplomacy.
A special thanks to Dr Paul Clark and David Blunkett MP for their contribution to the eulogy of late Paul Goggins MP who was nominated for the Policy Driver category for the award and to HE Williams