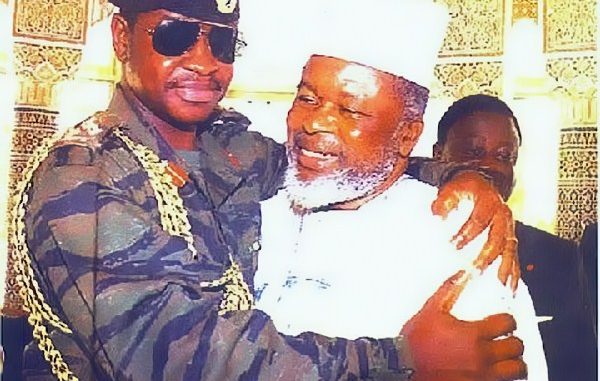 It is a huge shame to the opposition Sierra Leone People's Party ( SLPP ) that their presidential candidate, Mr. Julius Maada Bio,  thumbed his nose at the Police who had summoned him to provide evidence about allegations he made against President Ernest Bai Koroma and the ruling All People's Congress ( APC ) Government . The allegations against the government  do not only border on scaremongering but are promotive of social disorder and chaos of the magnitude of the 11-year bloody war that killed nearly half-a-million people , destroyed the country's infrastructure and put her socio-economic and political development many decades back. Maada Bio's wilful and insolent refusal to honour the invitation of the Police demonstrates that he is a reckless, irresponsible and lawless individual who has no respect for the administration of  law and justice in the country.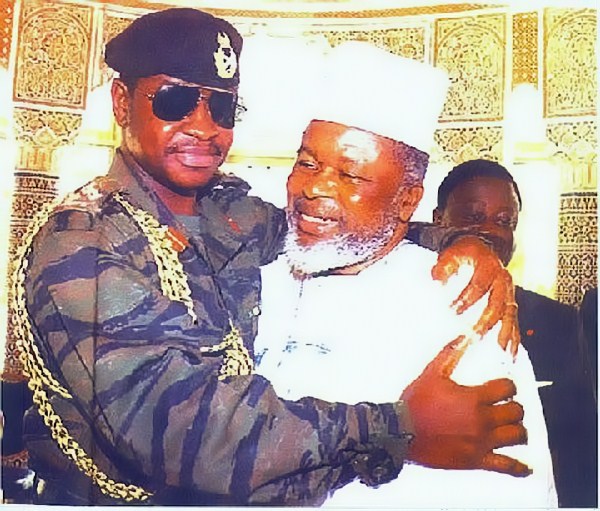 MAADA BIO : WANTS TO BE PRESIDENT BUT DOES NOT RESPECT LAW-ENFORCEMENT OFFICERS; HE IS SEEN HERE WITH FORMER REBEL LEADER FODAY SANKOH
Presidents and heads of state are the chief law-enforcement officers of their nation. They are the last persons to be seen treating the instruments of law and order with contempt. It is a 'no-no'  for them to snub law enforcement officers who want to get critical information from them that will facilitate the administration of law and justice in the country. When somebody who is so desperate and greedy for power thus treats the enforcers of the law with disrespect and levity, it is a clear sign that when he shall have gained power -if he ever will- Maada Bio will have no respect for law and order .Those supporting Maada Bio and his quest for power should hang their heads in shame at this falagrant disrespect for the Police by the former military junta leader who has other excess baggage around him like extrajudicial killings and racketeering in  the country's passports and helicopter parts. We have repeatedly stated that from Maada Bio's horrible and bloody past and his penchant for violence and lawlessness he is not fit to be President of even a village and his conduct to the Police  has proved our point.
Maada Bio should realize that he made very serious and alarming allegations against the government of a law-abiding country. According to the shameless gangster , "…The ruling All Peoples Congress (APC) has embarked on transporting ex-combatants from different parts of the country to register in towns in the South and the Eastern Provinces, the strongholds of the Opposition SLPP. Ex-combatants armed with weapons and other offensive instruments have already been ferried to Moyamba, Bo, Kenema, Pujehun, Kailahun and Zimmi.  "
In his unfortunate press statement which is now being condemned by many sections of the press and citizens , Maada Bio who believes only in brawn and not dialogue with his opponents, stated : In addition, foreign nationals and ex-combatants from neighbouring countries are also being transported by Sierra Leone's Ambassadors accredited to those countries for the purpose of swelling APC votes in the elections. In all places where ex-combatants have been deployed, the indigenes of those towns have expressed fear and have made formal complaints to the local police stations. Unfortunately, the Police have refused to take action and have insisted that the ex-combatants have the right to register wherever they wish. The APC has rented houses in all these locations for these ex-combatants where they are intimidating the local inhabitants." Maada Bio went on to say :  "This cross district and regional registration is not without sinister motive on the part of the APC. First, the APC intends to provoke violence in the strongholds of the Opposition during the campaign to have an excuse for declaring a State of Emergency and thereby extending the tenure of the President beyond his five year term. Second, the APC intends to provoke violence in the SLPP strongholds during the campaign and blame it on our Party supporters to have an excuse for mass arrests of our Party stalwarts. Third, the APC intends to use these ex-combatants to create mayhem thereby preventing supporters of the SLPP from voting, whilst voting would proceed smoothly in their own strongholds."
Nobody needs to tell Mr. Bio that these are very serious allegations underpinning the commitment of our government to promote peace and security in the country and to make the Presidential, Legislative and Local elections of November this year free, fair and devoid of anything that would take the nation back to war.
The Sierra Leone Police, cognisant  of its responsibility to protect life and property and to facilitate the consolidation of peace in the country, immediately responded by highlighting the seriousness of these allegations by Mr. Bio.  A statement from the Police, circulated to all the media houses, stated : "In as much as the Sierra Leone Police is not responsible for determining who is eligible to register or where he or she can do so, mindful of its constitutional responsibility to provide security and maintain law and order throughout the country as in all liberal democracies, the Sierra Leone Police takes these allegations very seriously. " And rightly so.
No true lover of law and order and adminstrator of  peace and security would treat such allegations with levity . Therefore, the Police said :  "..Since security is a collective responsibility, all Sierra Leoneans should be interested in establishing the veracity or otherwise of these allegations especially those relating to the alleged re-arming of ex-combatants and the importation of ex-combatants from neighbouring countries, it is the responsibility of all of us to work together to achieve sustainable peace. These allegations if found to be true have the potential to subvert the security interests of the state as they  are likely to generate  feelings of hatred, fear, distrust, intolerance, insecurity uncertainty and a relapse to conflict.  "  It was as a result of these serious ramifications of the allegations made by Mr. Bio that the Police invited him to help them verify these allegations. Any lawful and responsible person who is sure of his allegations would have taken the Police invitation with a smile and responded to it with despatch. The failure of the so-called presidential candidate to do just that demonstrates that Bio was neither speaking the truth nor does he respect the Police.
It is very certain that Bio was only lying to the nation and the world .  Somebody who wants to be President cannot even be trusted to tell the simple truth. In his attempt to continue his smear campaign against the government–thinking that he will gain power through it–Maada Bio told whooping lies to the nation and the world. In his disdain for the nation and the world, Maada Bio was very reckless and irrresponsible as to the seriousness of the allegations , their import and effect on the maintenance of law and order and peace and security.  Does such a person have the mental ability to be President of a country ? It is left with Sierra Leoneans and the international community–To whom Maada Bio has destroyed his credibility –to decide. But all these are clear signs that Sierra Leone would be heading for chaos and lawlessness if they make the mistake of voting in somebody like Bio. All the gains this country has achieved in the realms of peace and security and national development would be obliterated.
Maada Bio proved it in 1995-96 when he ruled Sierra Leone briefly that nothing he says must be trusted.He promised to hand over power to a civilian government but when he time came, he started dilly-dallying and fooling the nation , wanting to stay on. Sierra Leoneans had to go on the streets to  demonstrate and force him out, with the help of the international community.
Maada Bio has no evidence to prove his allegations . He has no evidence because the incidents he recounted are only a figment of his perverse  imagination. This is the kind of man who wants to be President. It is a shame that his supporters, the media  nothing but trash bags full of deceit, lies, scaremongering and destabilization of a whole country but they lack moral principles to desert him like the thousands of SLPP  supporters who have already done so.
Maada is a disgrace and a calamity and his shameful  attitude to law-enforcement authorities has just gone to further determine that he is not fit for any leadership position.