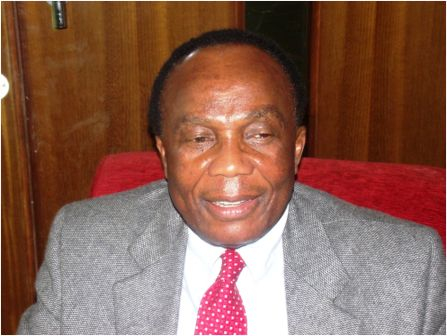 Press Briefing Statement
By  John E. Leigh
Ladies and Gentlemen of the Media, thank you very much for accepting my invitation to participate in this briefing. Those of you who were my guests at my press briefing here on May 22 and are here today, I thank you for accurately reporting what transpired here then.
I sincerely hope that your reporting of today's briefing will continue to be accurate and that no misleading headlines or analysis will be published.
Late last week, I completed a two-week tour of the Southern and Eastern Provinces in order to continue my evaluation of conditions in the interior of our country.
I am pleased to note that our people are strongly committed to peace and democracy but they also desire genuine development without too much further delay. Living conditions are difficult, even harsh, for many of our people because of the mass poverty that began spreading nationwide under the APC leadership of Siaka Stevens and General Joseph Momoh. As we all know, this poverty was made harsher by the scraping of our railway by the APC, by the violent RUF war and by the activities of AFRC/RUF junta.
During my most recent tour, I spent considerable time in several towns in Baoma Chiefdom in Bo District because the area voted for independent candidates during the 2004 District Council elections and I was informed that a newly-formed political party had been seeking to exploit the grievances of the people in the area by lying to them in their false propaganda that Chief Hinga Norman, Dr. James Jonah and the undersigned are with them.
As it were, on Thursday August 31 in Gerihun in the Bambawo Section of Baoma Chiefdom not less than 35 PMDC members, led by Mr. Sam Smith, appeared in a public meeting at the courthouse to relinquish their PMDC membership and rejoin the SLPP with apologies. Mr. Smith made it clear that a number of people in the area had been misled by repeated PMDC propaganda of lies and now know the truth regarding the dubious characters from overseas supporting this newly–formed party of opportunists, liars and flunkies.
On September 2 in Yamandu in the same Baoma Chiefdom, a large crowd of several hundred people turned up at the local courthouse to expose PMDC lies and reaffirm their support for the SLPP under the leadership of VP Solomon Berewa. The fervent hope everyone prayed for is for a new SLPP Administration that will develop our country, substantially increase food production and address the serious plight of our youths as well as empower the women of Sierra Leone.
As I left that meeting early to attend an SLPP-organized Summer School Closing function in Kenema, I stopped by incognito at the PMDC Hall in town on the way out to view things for myself. I counted only 28 disgruntled-looking people in attendance. This was in sharp contrast to the hundreds of people present at the SLPP function from which I had just departed.
I would like to take this opportunity to thank Mr. Prince Bindi of Bo for his work in reaching out to dissatisfied people and explaining the improvements that lay ahead.
Earlier on Saturday, August 26 at the Bo Town Hall, Dr. Bubakarr Jabbie, Defence Counsel to Chief Hinga Norman, released a statement issued by Chief Hinga Norman reaffirming his membership in, and support for the SLPP. He criticized all those who have been misusing his name in their lying propaganda for private political profit.
In Kenema, I delivered the keynote speech at the well-attended Summer School closing function for school children in the area organized by our party. It was a joy to see so many parents showing deep interest and partaking in the education of their enthusiastic children. Full school scholarships were awarded to all those pupils who excelled in the Kenema Summer School program organized under the leadership of the SLPP District Chairman, Mr. Prince Quee.
Throughout my stay in the Southeast, I spoke at length to all SLPP independent District counsellors and we all agreed on the need to stay in the party and reform it from within.
Party officials, elected counsellors, returned members, youths and the loyal rank and file membership were delighted to learn that Party Leader VP Berewa has made it clear that starting with the 2007 elections, the AWARD of the party Palm Tree Symbol to candidates for parliamentary and local government elections will be awarded by the local membership in democratic public meetings. No longer will a few in party headquarters in Freetown award the party symbol on the basis of personal friendships or for some other unjust reason as was first done in the 1967 general elections by Sir Albert Margai that helped to throw SLPP out of power for approximately 30 years until 1996.
Further, incoming MPs will be better empowered by involving them upfront in all developmental and governmental activities in their respective constituencies.
I appeal to the leadership of the SLPP to sincerely listen to the people's cry for economic development, and youth & female empowerment.
I appeal to the incoming Berewa Administration to improve Sierra Leone's relations with all those countries that faithfully stood by Sierra Leone to expel the AFRC/RUF junta, end the RUF war, bring peace to our country and provide us with humanitarian assistance since then. Those are the countries most likely to be systematically helpful in our long-term effort to move our beloved country forward for the benefit of the people.
Thank you all for your individual attention. I will now take a few questions from invitees.
Submitted this 11th Day of September, 2006 at SLPP Headquarters in Freetown.
John Leigh for President