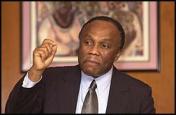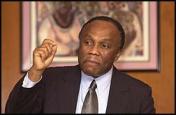 PRESS BRIEFING STATEMENT BY JOHN E. LEIGH
Ladies and Gentlemen of the Press:
Thank you for accepting my invitation to attend this Press Briefing.
I hope each one of you will report fully and accurately to all your numerous readers and listeners, respectively, the relevant remarks made here today.
I am holding this briefing to inform all my fellow citizens of Sierra Leone and all my friends and well wishers abroad that I am supporting Vice President Solomon Berewa for the office of the President of Sierra Leone beginning in 2007 in succession to President Tejan Kabbah.
I support VP Berewa as our next President because I believe he is the most qualified candidate among those currently vying for the presidency.  In my experience, Mr. Berewa is known to be far more experienced, far more educated, far more able, and far more good-intentioned than any other candidate contesting with him.
I know Mr. Berewa to be nationalistic, not tribalistic.  Mr. Berewa is known to me as a mature leader free from petulance, political selfishness and rash actions.  In fact, he is quite deliberative.
BEREWA WILL MOVE SIERRA LEONE FORWARD
I believe that when elected, Solomon Berewa will pursue policies and implement practices to improve international affairs, promote economic development, protect our institutions, advance women's rights and institute law reforms.
While one candidate has already announced that he prefers to impose a dictatorship up on us but ONLY under his so-called benevolent leadership, VP Berewa seeks genuine democracy.  And while another opposition candidate will most certainly impose a harsh tribal hegemony upon us, I believe Mr. Berewa will strive for efficient, responsible, representative government composed of highly trained, experienced and good-intentioned officials in order to move the country forward regardless of gender, tribe, region, or religion.
Mr. Berewa has personally assured me that considerable attention and resources will be concentrated in waging a war against poverty; food insufficiencies; improving Sierra Leone's image and respect worldwide and in uplifting the lives and the general wellbeing of our people.
Under his leadership, I expect that laws that discriminate against women and hinder their advancement will be repealed or reformed as would laws that criminalized libel.  No more jail time for Sierra Leone journalists.
I believe that many more qualified people from all regions of our country will be more willing to work with VP Berewa for the advancement of Sierra Leone than for any of his rivals.
I BELONG ONLY TO THE SLPP
As the leader of the SLPP, Mr. Berewa heads the one political party in Sierra Leone that belongs to all its members equally and which possesses a culture of internal democracy – the very culture I personally live by.
This is in sharp contrast to the situation in the two other political parties that are either owned by one man; or very new with no tract record; or monopolized in a significant way by members of one single tribe as evidenced by the disproportionate numbers of top officials and cadets – civilian, police and military – that they appointed from only a few chiefdoms in only one province in their pre-war governments.
I learned recently that one immature politician and his close supporters have been telling his membership falsely that Dr. James Jonah and I are with him in his new party; and that we might even be contesting for the leadership of his party. This is talking rubbish, nonsense.   That man's party is a one-man affair and a useless dictatorship and was set-up to improperly confiscate the much talked about Third Force.
I am a member of the Sierra Leone Peoples Party and will so remain.  I know that that are some serious internal problems within the SLPP.  However, I have no intention of leaving my party and joining any of the other two parties – let alone take part in a phony leadership contest in a new party of dictatorship.  I plan to continue to seek reforms from within the SLPP.
Dr. Jonah retains his friendship with President Tejan Kabbah, the SLPP President of Sierra Leone. From what I know of him, I can tell you that Dr. Jonah is unlikely to participate in any political venture predicated on vexation and dynastic ambition and whose leadership, from its public acts, oozes immaturity. At any rate, I do not speak for Dr. Jonah. I am only giving you my views in light of the persistent rubbish talk that he and I will be contesting the leadership position in one of the new parties.
PLEASE GIVE BEREWA YOUR FULL SUPPORT
I appeal to all the people of Sierra Leone who believe in what I stand for to join me in supporting Mr. Solomon Berewa for President and in vigorously campaigning for him with me so that he will most certainly become our next President in 2007.
SLPP WANTS YOU TO REJOIN YOUR PARTY
I appeal to all those SLPP members who have left the party to join new-fangled opportunistic parties to please return to your SLPP home and join me in helping to make our party more democratic and stronger.  Long after the 2007 elections have come and gone, SLPP will be around ready to help you.
No one can say the same thing for a one-man, new party born in vexation and grounded in vaulting personal ambition. Nor can one put any hope in a party whose mind-bogging, long, bad record in office, notorious tribalism, poverty-generating practices and narrow mindedness will keep it from winning national elections in the foreseeable future because large numbers of people suffered grievous wrongs under their power.
PLEASE JOIN ME TO FIGHT TRIBALISM
As we Sierra Leoneans get closer to each other; learn better from each other, sensible people will realize that there is no place for tribalism in our country's future. We will all come to understand that either we all must advance and prosper together or we will all fall together!
I therefore appeal to my Northern brethrens who truly abhor tribalism and who seek genuine democracy, justice and development to forthwith cross-over en-mass into the SLPP and join me there in helping to make the SLPP a truly democratic and much stronger national party so that we will continue to advance our country's interest for the benefit of each one of us.
Thank you for your kind attention.
Dated in Freetown, May 22, 2006
And
Respectfully submitted
By:
John E. Leigh, Member Sierra Leone Peoples Party