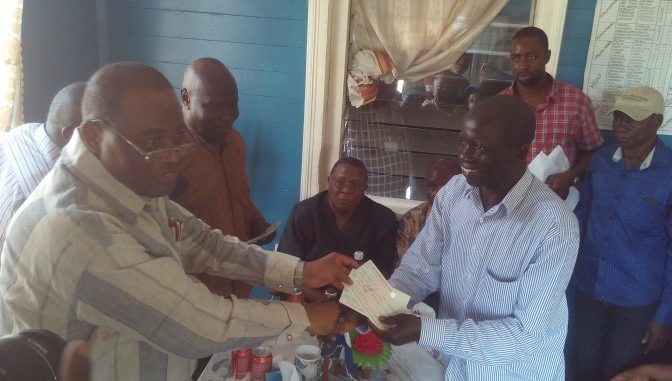 By Ortorkor Janaba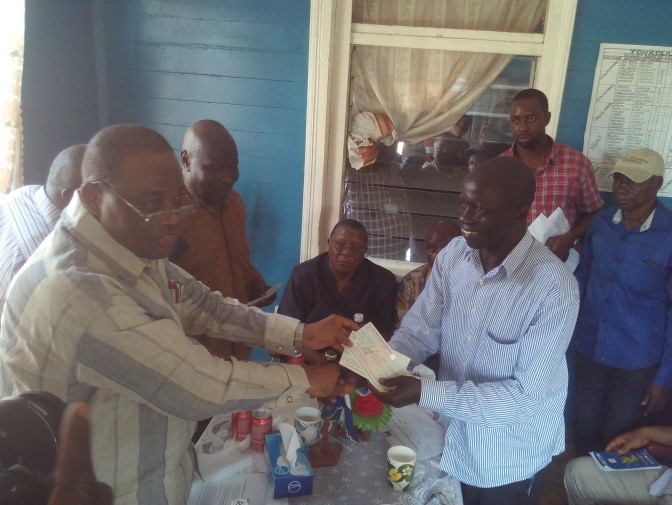 Prof. Jones handing over cheques to Landowners Committee Chairman
The lease agreement between the Magbass Sugar Cane Company and Government of Sierra Leone started in 2003 to date. The payment is made for 2014 summing up to Le550, 000, 000 (five hundred and fifty million Leones) including a ten percent withholding tax.
Beneficiary distribution is as follows: Landowners 50% valued at Le247, 500, 000; Chiefdom Administration – 20% valued at Le99, 000, 000; District Council – 20% valued at Le99, 000, 000; Government of Sierra Leone/Agric Ministry – 10% valued at Le49, 000, 000; and withholding tax of 10% valued at Le49, 000, 000 to the National Revenue Authority.
The Minister of Agriculture, Forestry and Food Security, Prof. Monty Patrick Jones,  was in Magburaka Town in the Tonkolili District on Wednesday 23rd March 2016 to pay surface rent on behalf of the Magbass Sugar Cane Company. Fifty percent of the surface rent payment went directly to landowners in the seven villages (Magbass, Mamunth, Rochen, Maforba, Makapr, Rothongbai and Mathinka) with a total of 2, 280 hectares of farm land.
Royalties are used by landowners and authorities to undertake community development projects in the seven villages, including schools, boreholes, skills training, markets, bridges and mosques.
In his welcome address, Paramount Chief Masakama Kanamanka III of Kholifa Rowala Chiefdom,  commended President Koroma's government for enabling them benefit from surface rent payments, sixty percent of which goes to development activities. So far, he said they have started a Secondary School since the last payment was made. The project has stalled because more money is cash is required to complete it. He urged government to come to their aid so that they complete the construction of the Magbass Secondary School.
The Paramount Chief revealed that Magbass is in serious crisis that requires the intervention of government to enable it resurrect from its almost dead status.
Chairman of the Landowners Committee, Joseph B. Sankoh disclosed that monies have been coming under the District Council for community development, which they have not been benefiting from. He admonish the Minister to ensure that the company continues to operate so that the people benefit from it.
The Deputy Distruct Council Chairman, Foday A. Kanu, assured that they will use the money for development projects that directly benefit the landowners in accordance with their Development Plan.
The Permanent Secretary in the Ministry of Agriculture, Edward M. Kargbo advised the landowners to come up with an action plan for the attention of the ministry, which will be used as a guide to bring development to them.
The Minister Minister of Agriculture, Prof. Monty Patrick Jones said the vision of His Excellency President Dr. Ernest Bai Koroma is to make farmers become rich, provide enough local produce for the people to become food self-sufficient and for the sector to serve as a hub to make Sierra Leone a Middle Income country by 2035. He revealed that government will revisit the current agreement it has with the company and would by the end of this year improve on it before it us taken to Parliament for approval.
Professor Jones further said the government will ensure that the company declares it profit, part of which should go to landowners, authorities and corporate social responsibility. "We will review the terms and elements contained in the agreement," he said, and added that they will put pressure on the company to make sure that the 2015 payment is done almost immediately. He concluded by calling on farmers to make use of the monies received and move from subsistence farming to mechanized farming, which will earn them money and benefit the nation. He urged farmers to work individually and collectively to bring development to the nation.