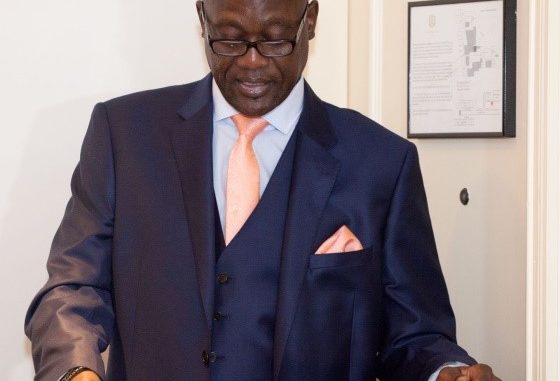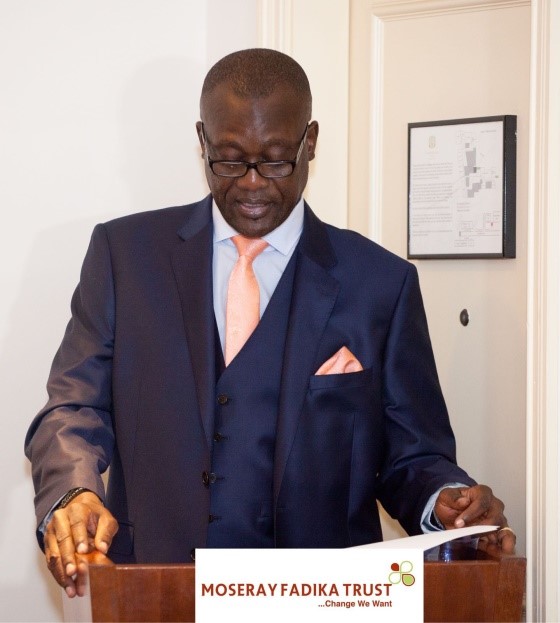 Ambassador Gibril Moseray Fadika, delivering his speech
Keynote Address by Ambassador Gibril Santigie Moseray Fadika at the Commonwealth Africa Summit, held in London, UK from the 14th – 16th March 2016.
• H.E Chief Olusegun Obasanjo, former President of Nigeria
• Excellencies
• Honourable Ministers
• Members of Parliament
• Representative from the Commonwealth
• Distinguished Ladies and Gentlemen
Greetings from Sierra Leone! It gives me great pleasure to be present at this summit today and to address you all. I wish to express my gratitude to the Commonwealth and the organisers for hosting the Commonwealth Africa Summit and for the warm hospitality extended to me and my delegation.
We are meeting at a momentous time – just after the adoption of the UN Sustainable Development Goals (SDGs). The Commonwealth is at a critical moment in its history, with the appointment of a new Secretary General—this time a dynamic female in the person of Baroness Scotland. I would like to take this opportunity to congratulate Baroness Scotland on her appointment, which I am certain inspires a new dawn for the commonwealth. We need to grasp this moment with both hands!
Excellencies, delegates, Africa's shared prosperity and mutual security lies in our hands and collective efforts. I am very pleased to be here today representing the business side of the house, and to explore Africa's role in the Commonwealth, taking into account the dynamic changes that are taking place at regional and international levels.
According to the 2015 UN World Economic Situation and Prospects (WESP) Report, the global economy is expected to grow marginally over the next two years. The average growth forecast for 2015 was 3.1% and 3.3% for 2016, compared to the growth estimate of 2.6% realised in 2014.
Africa's gross domestic product (GDP) growth was expected in 2015 to strengthen to 4.5%, and 5% in 2016 after subdued expansion in 2013 (3.5%) and 2014 (3.9%). The 2014 growth was about one percentage point lower than predicted by the African Economic Outlook (AEO), as the global economy remained weaker and some African countries saw severe domestic problems of various natures. But the world economy is improving and if the African Economic Outlook's 2015 predictions were right, Africa will soon be closing in on the impressive growth levels seen before the 2008/09 global economic crisis.
West Africa achieved relatively high growth of 6% in 2014 despite its battle with the Ebola virus. My country, Sierra Leone experienced a major crisis due to the impact of the Ebola epidemic, and the associated damage to communities and livelihoods. The Economy was hit the hardest, with business closures and rising unemployment further devastating a country that had not too long emerged from a decade of civil conflict. Our business was seriously affected.
As co-founder and Executive Chairman, I was greatly involved in the work of African Minerals Limited, but the company was forced into administration due to the Ebola crisis. We worked very hard to rescue the mining sector and brought in new investments. We survived! Now we have Shandong Steel SL Ltd, and Pan African Minerals Ltd, working in 16 countries in Africa. We appreciate the support provided and are grateful to the Commonwealth, the international community and patriotic Sierra Leoneans in tackling the Ebola Virus. Together, we defeated Ebola!
Another significant challenge faced by Africa is extreme poverty. Youth unemployment is a major challenge in many countries. African countries need to create millions of jobs over the next decade to absorb people entering the labour market. With almost 200 million people aged between 15 and 24, Africa has the youngest population in the world. And it keeps growing rapidly. Although many jobs have been created, there have not been enough job opportunities to accommodate the number of young people in search of work. This is a major threat to our efforts to secure shared prosperity and mutual security.
Africa's population is rising the fastest. The pressure to provide decent work opportunities for new labour market entrants will be particularly acute in Africa. Promoting more and better jobs for inclusive growth, the rural economy, formalising the informal economy and addressing the needs of African economies is crucial for Africa's development. Climate change and deplorable environmental practices must be top on our agenda and we must all come together to tackle climate change and protect the environment for generations yet unborn. Energy for Africa is crucial. Without energy, African countries will find it difficult to compete with the rest of the world.
The African Economic Outlook finds the continent poised to resume its medium-term growth trend. However, looking beyond 2016, a number of internal and external factors may alter the context in which African policy-makers seek to accelerate growth and deepen structural transformation. African economies have to take those changes into account and adapt their development strategies accordingly.
We should emulate best practices from developed nations and adapt them to our local context. What can we learn from China/Asia and other developed nations?
• Promote and protect African businesses, and attract foreign investments.
• Invest in technology. Technology is the only way forward.
• Harness and put our natural resources into good use.
• A visionary leadership, disciplined economic management and a radical economic transformation agenda.
• Support rural cooperatives, agriculture and small businesses.
• Invest in energy, especially solar energy, as China is doing.
• Invest in education, health, and infrastructural development.
• Empower girls and women, and create jobs for youth.
• Advance democracy, human rights and the rule of law.
• Tackle corruption, promote accountability and participatory governance.
In a rapidly changing world, there is a need for us to create better opportunities for people in the Commonwealth, so we can contribute fully to sustainable social and economic development across the region. Investing in young people, ensuring decent employment, education and health prospects, promoting democracy, and creating an enabling environment where creativity, leadership and energy can flourish, will invariably lay the foundations for a more prosperous, healthier and stronger Africa.
I am therefore pleased to be part of the Commonwealth Africa initiative which will play an important global leadership role in advancing the African agenda. The Commonwealth Africa Summit is an important platform for Africa to engage, inspire and mobilise resources and partnerships for Africa's development.
We must work together to end conflicts in Africa, and dedicate our efforts in promoting democracy, human rights, and the rule of law for a better Africa. Let's use this opportunity to create a unified and influential voice, to champion the African agenda across all policy areas, within our Commonwealth, national governments, and globally.
Africa's unique needs, and our broad ability to contribute, should be integrated and valued in development and democratic processes at global level. Let's walk away with a clear understanding that Africa is moving forward. We should all champion this development and create a better world. Business and political leaders have a critical role in building a stable and sustainable future that will benefit all of us. Africa needs honest and dynamic leaders that can provide insightful directions. We can do better than China!
I am therefore hopeful that this meeting will, amongst other things, result in a clarion call for a stronger recognition of the important role of Africa as an agent of change, and as a driver of development in the Commonwealth. We must commit unequivocally to investing in the Commonwealth Africa Initiative and placing Africa at the centre of sustainable and inclusive development, thus harnessing our creativity, leadership and social capital towards the progress and resilience of Commonwealth countries, and a more democratic and prosperous Commonwealth.
We are born poor, but we must not die poor. I thank you all!