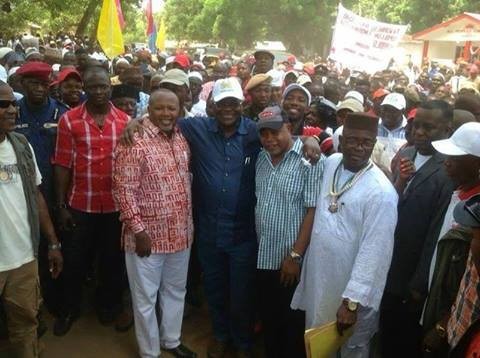 By KABS KANU 
Josephine Koroma's photos on FACEBOOK showing President Ernest Koroma in amicable and effable embrace with the Chairman of the opposition Sierra Leone People's Party ( SLPP ), Pa Sumana Kapen,  and also dining with former Chairman John Benjamin,  depict the story of  a transparent, accountable, good-natured and all-embracing President who is ready to work with everybody across regional, tribal and partisan lines to create a more prosperous, successful and stronger Sierra Leone.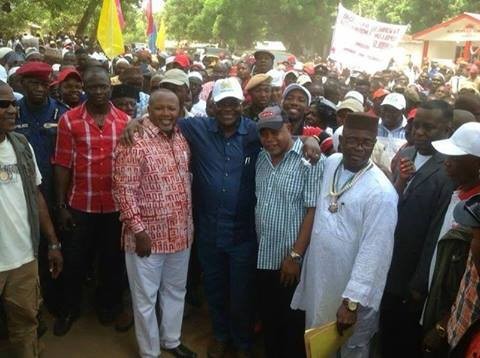 PRESIDENT KOROMA IN WHITE CAP EMBRACING CHIEF SUMANA KAPEN -RIGHT ) AND THE APC'S OWN ALIMAMY PEPITO KOROMA AT MAMBOLO
Miss Josephine Koroma , the SLPP propagandist, twisted and distorted the meaning of the pictures . It was  ridiculous to hear Miss Koroma insinuating that President Koroma was  buying over the opposition to weaken the SLPP in an attempt to stop them from opposing a third term bid ( a bid that President Koroma has clearly said he has no interest in ) or criticizing his government.
Any reasonable person who is not looking at the world through green-tinted glasses knows from President Koroma's character that the Head of State does not play the kind of poison, dirty and retrogressive politics that unprogressive politicians practice. President Koroma's conception of politics is different—-It is nationally -oriented , focused on the good of the nation and how well he can address the welfare of his people.
PRESIDENT KOROMA ( AT THE HEAD OF THE TABLE ) DINING WITH SLPP BIG MAN JOHN BENJAMIN ( ON HIS LEFT ) AND SUPPORTERS AT MAMBOLO
With this in mind , President Koroma's arms are open to anybody who is ready to sit down with him and discuss how best they can move the nation forward.
The photos also show that President Koroma has a clean heart. He holds no grudges for his political opponents and he does not consider them  enemies but co-workers and partners -in-progress for the advancement  of the welfare and common interests of the people of Sierra Leone. He does not feel threatened by his political opponents because he is confident of himself and his abilities and knows that his achievements will speak for him.
It is very foolish to say that President Koroma is bribing his opponents. Where is the evidence ? Sitting down and just making ridiculous assumptions because we want to discredit opponents is a very unprogressive manner of practicing politics in this modern day. Let us stop being parochial and be more nation -conscious. The pictures speak another story. President Koroma's options are open in the interest of the nation and he is amenable to the friendships of all Sierra Leoneans, regardless of their political affiliations .
This is the kind of politics the UN and stakeholders want us to play in Sierra Leone. POLITICAL TOLERANCE is our only hope for continued peace and stability and continuation of our national development initiatives.
We should be proud to have a President who is so psychologically secure that he loves his opponents and creates a synergy with them that is indicative of a political philosophy that embraces anybody who wants to help him continue to deliver socio-political and economic developments to the people of Sierra Leone.