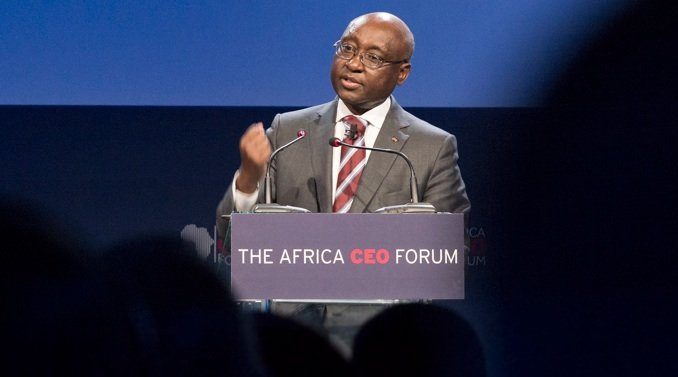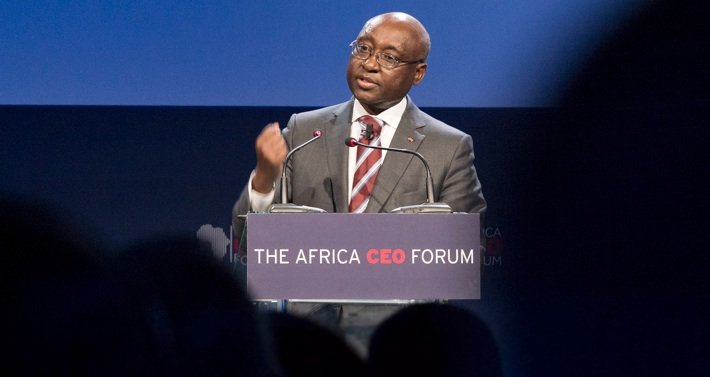 The AfDB [African Development Bank] president is not worried about rising African debt levels and wants to restructure the bank before he steps down from his second term in office in 2015.
 There will be no let-up on the pace of reform at AfDB when its president Donald Kaberuka's home capital of Kigali hosts its annual meetings on 19-23 May.
Nigerians should be worried about the headline 'We're now bigger than South Africa
Not only does Kaberuka see a more rapid expansion of the AfDB, its soft loan fund and private sector financing – its operations outstripped the World Bank in Africa last year – but the bank will also intensify efforts to raise funds from other emerging economies and from institutional sources such as pension funds and sovereign wealth funds.
This year the bank celebrates 50 years of operations, and in July it will start a phased return to its original headquarters in Abidjan.
Telling its own story about changes in political and economic conditions, the bank left Côte d'Ivoire in 2002, in the middle of a civil war, for Tunis, which went through its own revolution in 2011.
Côte d'Ivoire is now one of the region's fastest-growing economies again, and Tunisia is negotiating the terms of a new constitution.
Next year, Kaberuka will hand over to his successor at the head of the bank after a decade in which African economies saw their highest average growth levels since
the bank's founding in 1963.
But at this year's meetings finance ministers and central bank governors will be debating economic policies and institutional reforms for Africa in the next 50 years. After discussions with the African Union and Economic Commission for Africa, says Kaberuka, "we'll look at the way the bank is owned, its instruments, the way it works".
"Is it right that the large emerging markets don't have seats at the table [of the AfDB's executive board]?" asks Kaberuka. "Is it right that African countries who contribute to the African Development Fund have only a small say in the function of the fund?"
Structural changes
The changes could go beyond governance reforms to big structural improvements. "I think the time has come when you merge them [the AfDB and the soft loan fund] completely, and again we shall look at what this means for the bank, its funding and governance," Kaberuka continues slightly wistfully, "and I suppose the next president will take it from there."
But the changes won't stop there. The other big plan is to develop the Bank's fast-growing private unit into the African equivalent of the World Bank's International Finance Corporation, which has come under heavy criticism over its governance and its investment targets.
Banker's milestones
5 october 1951 Born in Byumba, Rwanda
1980 Master's degree – University of Glasgow, UK
1997 Appointed finance minister of Rwanda
2005 Elected president of African Development Bank
2010 Re-elected as Bank president
That fits in with the new push for the blended finance that Kaberuka considers the new zeitgeist in development strategy: how to raise commercial funds for public goods such as housing and infrastructure.
Again, there are big institutional obstacles. "We're talking about how to build stock markets because many investors face really big problems such as instability of policies: 'Will these guys change? And if they change, where is my exit?'"
African capital markets are trailing in the wake of the region's investment boom: "The lack of exit options, that's the real problem," muses Kaberuka. "I think we resolve that by having regional stock markets which are expensive debt or for infra- structure and in a few cases simply to get the benchmark."
Although diplomatic about the personality clashes, Kaberuka says the long-running crisis at Togo-based Ecobank – which the AfDB has $20m lined up to invest in – has been effectively resolved with the appointment of Ghana's Albert Essien to replace Thierry Tanoh as chief executive in March.
"It shows corporate governance at work both at the board level and at the supranational level. The board members and the [regulatory] authorities have worked together to try and deal with the problem at the core."
Nigerians should worry
However, Kaberuka, who sits on President Goodluck Jonathan's investor advisory council, sounded a warning note on the ever-expanding Nigerian economy and its recently recalculated national income: "I think the Nigerians should be worried about the headline 'We're now bigger than South Africa.'"
More widely, Kaberuka argues that Nigerian, Ghanaian and other countries' attempts to protect their processing and manufacturing industries should proceed with great caution: "The nature of global trade has changed dramatically. It's no longer about producing the Nigerian car, the Tata vehicle. It's about where in the global value chain for vehicle manufacturing it might likely fit."
Rather than try to build tariff walls against low-cost foreign manufactures, African countries should try to bring in the companies as investors, to transfer their skills and build a viable manufacturing base, he says.
Perhaps the only issue on which Kaberuka will not voice a strong opinion is his future plans. Doubtless, his return to Kigali in May will rekindle memories of his glory days as finance minister. Few can resist asking him if he plans to return to politics, perhaps for the top job if it falls vacant in 2017. On that matter, Kaberuka remains uncharacteristically inscrutable. ●