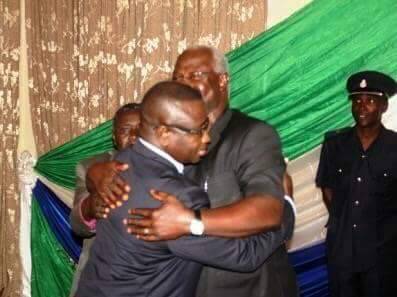 By KABS KANU :
Whoever is advising former military leader , Retired Brigadier Maada Bio , is doing a great job.
Bio wants to be President of Sierra Leone.
In the past, his utterances and actions suggested that he preferred  brawn, intimidation, mixed messages and veiled threats to enforce his intentions to rule Sierra Leone. Lately, though, Brig. Bio seems to have started executing a different game plan , which seems to suggest that the young brigadier who has just completed his PH.D in the United Kingdom , is striving to re-invent himself from the image of the scruffy  school yard bully  he once projected to the stature of a more mature politician with diplomacy and respect for the national interest, established constitutional structure and procedures as his guide.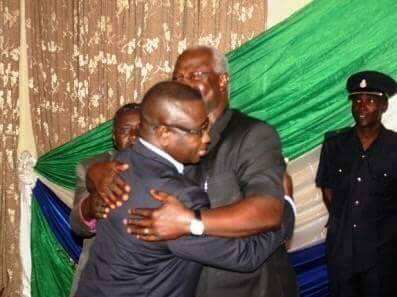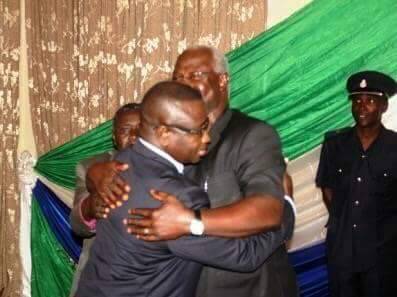 It is too early yet to dance in the open that one of Sierra Leone's perennial presidential aspirants has grown in stature , maturity and the drive for patriotism and national peace because It is yet to be seen how far Dr. Bio's supporters  will go to allow him to continue with his new style of politics which is also now geared more towards consensus with government and putting the nation first.  But if it is true that oncoming events do cast their shadows , Bio has stolen a march on the starter and maybe, Sierra Leoneans can now hope to see real democratic  politics , with a bipartisan stance,  as we approach the 2018 Presidential Elections.
By paying a courtesy call on President Koroma yesterday on his return home from the UK , Bio has once again actualised  President Koroma's continued appeal to the nation that the politics of hostility and non-compromise with opponents should have no place in Sierra Leone, if we must surge forward in our socio-economic and political renaissance. This followed even more impressive gestures the former military ruler demonstrated when Ebola and the catastrophic floods hit our nation , for which COCORIOKO commended him in another Editorial , titled : THAT IS MORE LIKE IT, BRIGADIER MAADA BIO ( http://cocorioko.net/that-is-more-like-it-brig-bio/).
Yesterday, Bio displayed more maturity at State House where "Brigadier Bio commended the effective leadership of President Koroma in the fight against Ebola and also government's proactive stance in helping and catering for the welfare of those affected by the flooding on September 16th." According to the State House Communications Unit, "The former SLPP presidential candidate also informed President Koroma of his desire to compliment government's social mobilization and sensitization drive to end Ebola. He therefore said he will be traveling around the country to talk to people to continue to adhere to the health protocols and medical regulations in the fight against Ebola."  This is political maturity in full bloom , which must be emulated by other opposition officials , whose hostile and ungrateful rhetoric helps to further polarize the political landscape and threaten national unity, national cohesion and national integration.
This stance will definitely put Bio at odds with extremists and non-conformists within the opposition Sierra Leone People's Party ( SLPP ) . Supporters of the other SLPP presidential aspirants, many of whom loathe any cooperation with the ruling All People's Congress ( APC ) ,  would also misread Bio's signals and portray his move as a cunning ploy to propel himself into the good books of the administration and gain unfair advantage over them, but Bio should follow his heart and continue his re-invention, for there lies the future success of his endeavours.
If our country must move forward with her socio-economic and political rejuvenation and progress, the ruling party and the opposition must establish common grounds for national  collaboration and synergy for the betterment of our nation. We are tired of poison, disruptive and blood-enemy -politics in Sierra Leone. This message is the sing-song of President Ernest Koroma and any politician that puts it into practice earns our respect.
Retired Brig. Maada Bio just accomplished that goal.