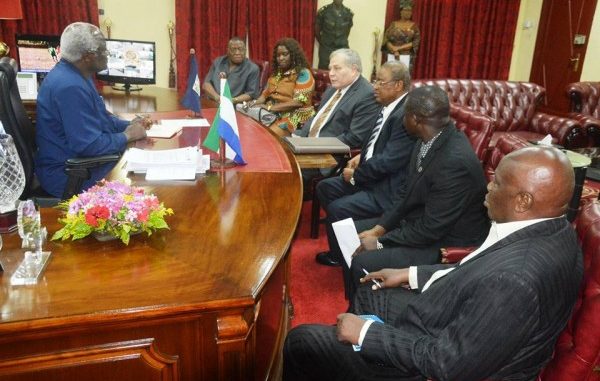 By State House Communication Unit
In a courtesy call on President Ernest Bai Koroma at State House, the Minister of Agriculture, Forestry and Food Security (MAFFS) Professor Patrick Monty Jones together with the President of the South African Chamber of Commerce in America, Mr. Willem Ellis have appraised the president on a potential agricultural investment. The prospects include expanding agricultural growth through large scale farming in corn, rice and other grains across the country.
Presenting the investor, Professor Monty Jones said Mr. Ellis has a keen interest in agricultural investment as well as in energy and roads. He also informed that Mr. Ellis is working with companies interested in investing in developing countries.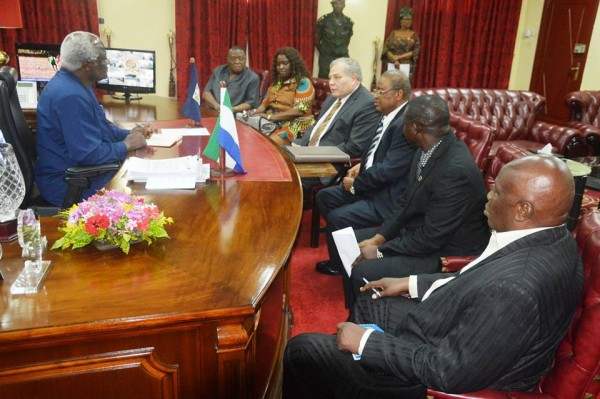 Mr. Ellis, who has worked with many leading global companies and industries in manufacturing, real estate, agriculture, healthcare and food processing, seized upon the moment to explain his investment plan.
"My vision is to establish large scale farming, support supply chains and export high quality products under a Sierra Leone Brand," Ellis said. The potential investor went on to say that "All this will be done under a sustainable plan and that benefits of the large scale farming will be extended to the small holder farmers in order to significantly increase and intensify farm development. "'In partnership with investment companies in the United States, new production methods and other opportunities would be pursued, " Ellis added.
Responding, President Koroma said that government has put a lot of emphasis in agriculture and has prioritized the sector in it's post Ebola recovery plan which aims at improving on private sector engagement and the expansion of agricultural activities. He noted that agricultural investment will create the space and move the people from traditional farming methods to new farming techniques. The president also pointed out the huge potentials in the country's vegetation and water resources and stressed that "Investment and knowledge will help in the efficient exploitation of those potentials."
Citing cocoa, coffee, cashew as examples of where more investments should be targeted, the president stressed the need for a model and a template to attract more investments in the sector. He also underscored the significance of value addition as an integral part in the entire process.
"We are an open government and these proposals are in sync with our programmes and policies in diversifying the economy", said President Koroma. He encouraged Mr. Ellis to tour the country and see for himself.