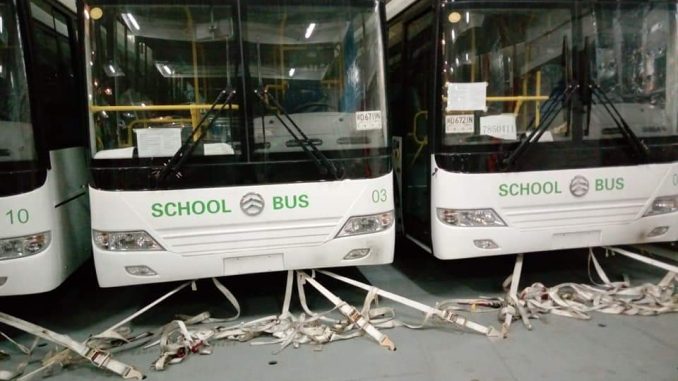 By KABS KANU
The school bus system in Sierra Leone has collapsed due to the inability of the President Maada Bio Government to sustain it . According to reports from government sources, the government cannot afford to continue shouldering the costs of paying the drivers ,  providing fuel and maintenance of the buses.
Since schools reopened after the Christmas holidays, not a single school bus was seen as all the buses had been parked, fueling lots of questions and concerns in the social media. As school children began suffering extremely for transportation to go to school, Sierra Leoneans wondered what had happened to the lofty promise of the Bio government to provide buses on a regular basis to convey children to school.
It must be recalled that in September last year, the President Bio Government, in consonance with its flagship Free Education system, bought 50 school buses , which were distributed to district headquarters around the country, to be used to transport school children to school . The gesture  was highly hailed then by  the public, school children  and  even journalists as a great initiative to ease the burden of transportation of school children.
However, it did not take long for concerns to start arising about whether the government would be able to sustain the bus service for the schoolchildren. District and City Councils across the country started  complaining about the prohibitive  costs to maintenance  the buses, buying fuel to keep them running and paying the drivers.
The system soon collapsed , bringing the nation to square one, with regards to transportation for schoolchildren.
Now, the government has decided to solve the problem by diverting funds meant for the national cleaning exercises to the bus system to revive the service. But that decision has also got tongues wagging as it will surely jeopadize the cleaning exercise, which is another flagship program of the Bio Government.