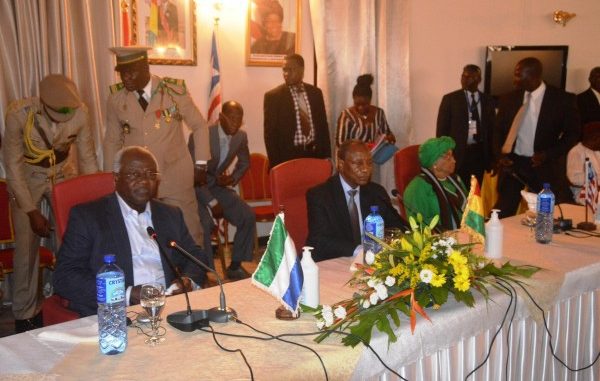 By State House Communications Unit :
The leaders of the three Ebola worst-hit countries of Guinea, Liberia and Sierra Leone declared at an Extraordinary Summit in the Guinean capital of Conakry, on Sunday 15 February to eradicate the virus within 60 days effective 15 February, and called on the international community to provide all necessary support to meet this objective.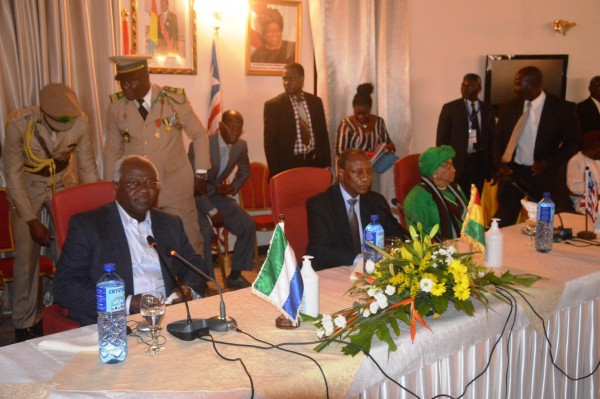 Guinea's President Professor Alpha Conde and his Sierra Leone and Liberian counterparts Ernest Bai Koroma and Ellen Johnson Sirleaf made the pronouncement after day-long closed talks in Conakry.
A joint communiqué signed by the three leaders "recognized the efforts that have been made by the member states and the international community, which have resulted in the decline of Ebola infections and deaths rates." They also "expressed deep condolences to the families of the victims across the three countries, especially those of the health personnel who were in the forefront of fighting the epidemic."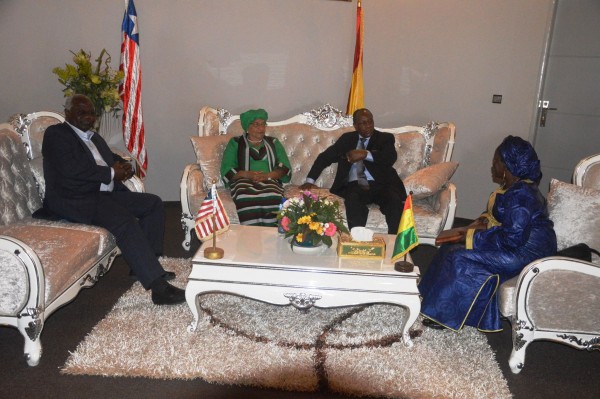 The summit also approved the strategy for reaching and sustaining zero Ebola infection in the MRU basin with special emphasis on infection prevention control, social mobilization, community engagement, surveillance, cross border collaboration, instituting robust and sustainable social protection programmes, providing mental and psychosocial support and ensuring coordination.
The leaders endorsed the Post-Ebola Socio-Economic Frameworks prepared by the Foreign Ministers in order to mobilize the required resources for implementation, and noted the emphasis put on instituting sustainable healthcare delivery systems, reopening of educational institutions, revitalizing the agricultural sector, addressing the needs of women, children, youth, orphans, survivors and persons with disability, among others.
The heads of State and Government of the MRU further called strongly on the international community to provide direct budget support and debt cancellation for the affected countries, and also called on development partners to renew their commitments to the New Deal Principles and country-specific Mutual Accountability Frameworks as the main levers to guide post-Ebola recovery interventions.
They also appointed President Ellen Johnson Sirleaf as Spokesperson for the MRU at the 3rd March 2015 European Union Ebola Conference in Brussels.