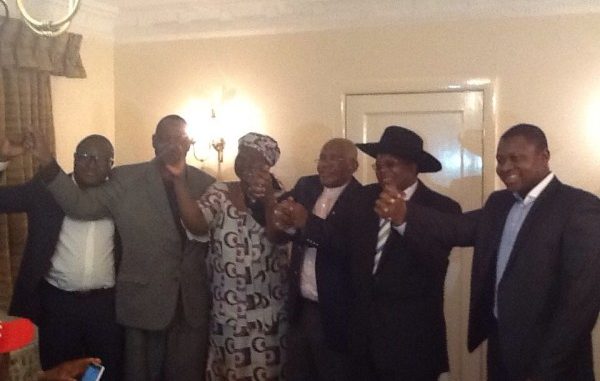 COMMUNIQUE ISSUED AT THE END OF A CONSULTATIVE MEETING OF STAKEHOLDERS OF THE ALL PEOPLES CONGRESS (APC) UK AND IRELAND BRANCH AND THE DELEGATION FROM THE NATIONAL SECRETARIAT OF THE PARTY IN LONDON, 30TH NOVEMBER 2013
- Whereas the National Advisory Committee (NAC) of the APC applauds the important role the UK & Ireland Branch has always played in the development and progress of the party
- Whereas the current internecine conflict among various factions of the APC in the UK& Ireland is counterproductive
- Aware that the Branch has failed to produce a credible membership list (with each faction producing its own list) even though the National Secretary General had made a request some six months ago for a harmonised list to be 
collaboratively produced
- Aware that the membership lists presented by the various factions to the National Delegation are untenable as lists to constitute a credible voter register - Aware that several attempts to bring the various feuding parties together to resolve the impasse have failed to bring order and sanity to the Branch
- Expressing profound thanks and appreciation to the Sierra Leone High Commissioner to Britain for the assistance he provided the delegation in a variety of ways to make the consultation process the success it has turned out to be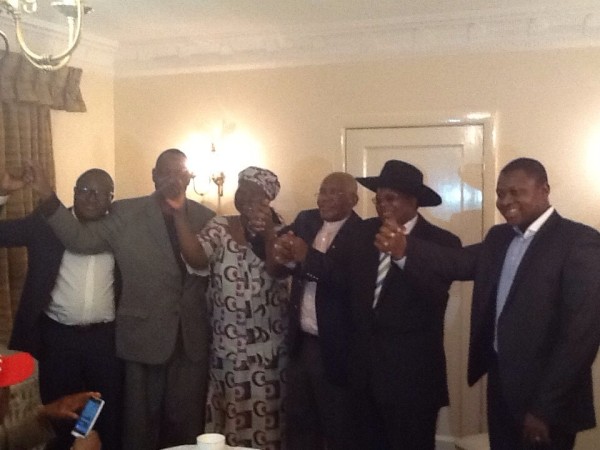 - Now therefore the various stakeholders 

here

 assembled in London have agreed as follows:
1. To abide by a 2012 pre-Convention decision of NAC, in accordance with the powers given to it by the 5th December 1995 Constitution, to select all executives of the party at all levels
  2. To assist the national delegation in selecting a branch executive to run the affairs of the UK & Ireland Branch on an interim basis until further notice
3. To empower such an interim executive to work and liaise with the National Secretariat to draw up a credible membership list compliant with the provisions of the 1995 APC Constitution
4. To ensure that the interim executive in collaboration with the National Secretariat design systems and structures within the framework of the Agenda for Prosperity to realise the aspirations of the party
5. To preclude all current protagonists and aspirants in the contest for the leadership from being members of the interim executive
6. To debar all those selected to serve in the interim executive from contesting for the positions of Chairman, 

Vice

 Chairman and Secretary General in the substantive executive that will emerge at the end of the interim tenure
7. To work with the interim executive to speedily produce a plan of action leading to the development of ways and means of raising funds for the Branch
8. To support the interim executive to engage in a pro-active and robust membership drive in the UK & Ireland
9. To cooperate, collaborate and coordinate with the interim executive at all times, especially in maintaining discipline among members of the Branch After rigorous and all-encompassing consultations, the following have therefore been appointed to constitute the new interim executive: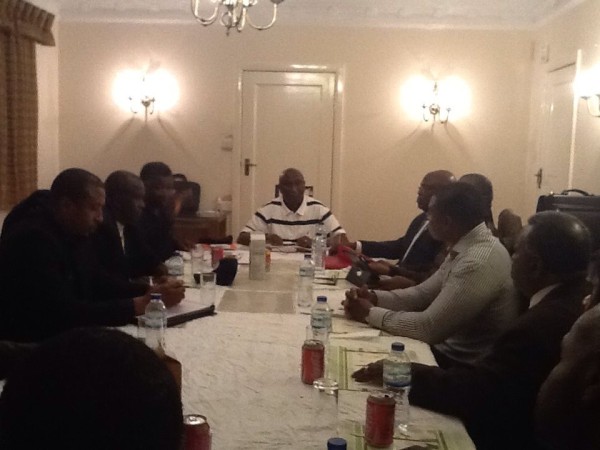 No. Name Position
1. Ansumana E. Kamara Chairman
2. Isatu Kamara (Dr.) Vice Chair (1)
3. Idrissa Bangura Vice Chair (2)
4. Alpha Bai Kamara Secretary General
5. Mackie Sheik Member
6. Zachariah Dainkeh Member
7. Hassan Kamara Member
8. Kadie Johnson Cole Member
9. Salma Bah Member
10. Malcolm Conteh Member
11. Victor French Member
12. Israel Paper Member
13. Veenod Foulah Member
14. Abdulai Sam Kamara Member
15. Abdul Kamara Member
16. Lamin Timbo Member
17. Neneh Sawaneh Member
18. Haja Matto Member
19. Kadie Kuyateh Member
20. Kadie Buya Kamara Member
21. Setton During Member
22. Ibrahim Sanda Barrie (Dr.) Member
23. Filma Fatu Doherty Member
24. Bristol Representative (i) Member
25. Bristol Representative (ii) Member
26. Reading Representative (i) Member
27. Reading Representative (ii) Member
Now therefore, the undersigned members of the UK & Ireland Branch of the party together with senior officials from the National Headquarters of the party from Freetown hereby on Saturday 30th November 2013 adopt this communiqué in the interest of peace and progress in the UK & Ireland Branch and the APC party as a whole.
………………. Kumba Alice Momoh (Mrs) (OUTGOING CHAIRMAN, UK & IRELAND BRANCH) ……………………………… Adu Aezick Seray-Wurie (Dr) (SENIOR ELDER, UK& IRELAND BRANCH)
…………………………………… Tamba Opel Pessima Sam-Sumana (ASPIRANT)
…………………… Sheku Abes Kamara (ASPIRANT)
…………………………. Mustapha Hamid Koroma (ASPIRANT) MORAL GUARANTORS / NAC MEMBERS
……………………. Minkhailu Mansaray (DEPUTY NATIONAL CHAIRMAN/ LEADER)
……………………… Osman F. Yansaneh (NATIONAL SECRETARY GENERAL)
………………… Momodu Allieu Pat-Sowe (WESTERN AREA REGIONAL CHAIRMAN)
…………………………. Leonard Balogun Koroma (NATIONAL ELECTIONS COORDINATOR)
–

_
—