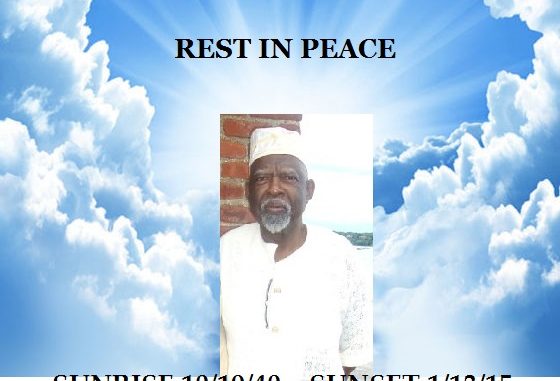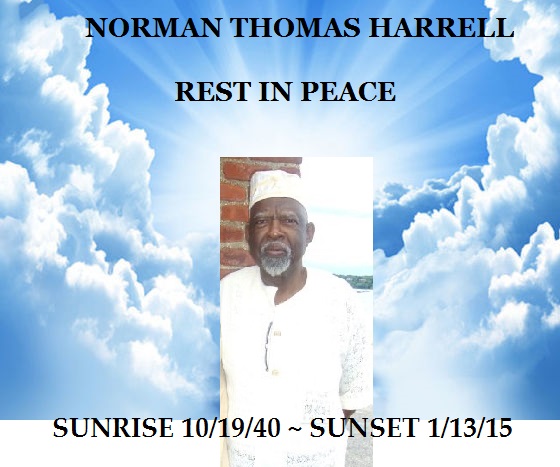 THE SIERRA LEONE NURSES ASSOCIATION IS DEEPLY SADDENED TO ANNOUNCE THE LOSS OF OUR SLNA-NYT HONORARY MEMBER AND DONOR
 MR. NORMAN THOMAS HARRELL
(AKA BAI BUREH)

  SUNRISE 10/19/40-SUNSET 1/13/15.

PLEASE SEND CONDOLENCES TO HIS FAMILY, CHILDREN, EXTENDED FAMILY HERE IN NEW YORK AND FLORIDA.

He is survived by his Daughter Sierra Leone Nurses Association – New York Tristate President Zainabu Sesay-Harrell, Alpha, Kadie, Muskuda, Abdul, Estelle, Terrence, Torrence, Grandkids Amad, Amani, Amari, Naquan, Sheriff, Rashid-Rashawn, and Nashara-Jasmin, Harrell Brothers and Sisters, nieces, nephews, and friends in Roosevelt, Far Rockaway, Queens, Brooklyn, Bronx, Greater New York, Fort Pierce-Florida, Sierra Leonean Community, Real Estate Friends and Associates.

FUNERAL ARRANGEMENTS TBA.

Please send prayers, and call Family at 347-729-9648

Rest in Peace Chief Bai Bureh…..We thank you for everything you have done for us, to support our Sierra Leonean Community, for your family, and for your children.