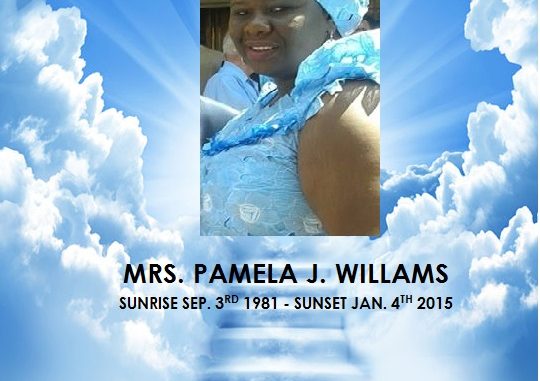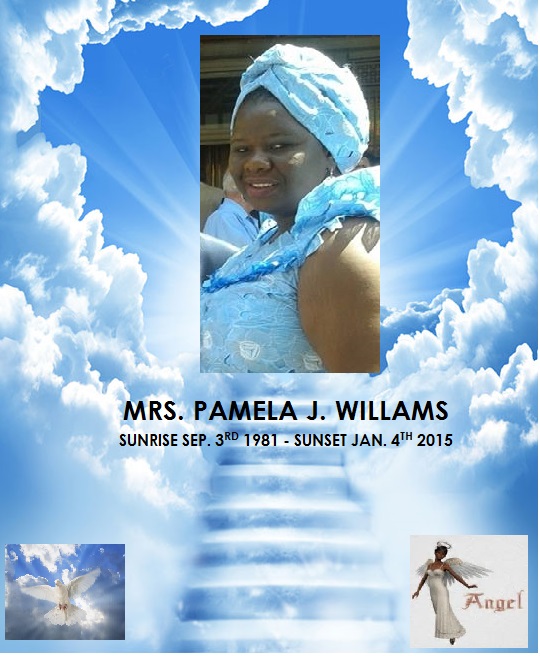 On Behalf of the Sierra Leonean Community and Members of THE MISS SIERRA LEONE NEW YORK PAGEANT COMMITTEE and Members of USLO , We would like to inform you of the passing of Member and Leader

MRS. PAMELA J. WILLAMS-JALLOH

SUNRISE SEP. 3RD 1981 – SUNSET JAN. 4TH 2015

WE REGRET TO INFORM THE COMMUNITY ABOUT THE LOSS OF OUR WIFE, DAUGHTER, SISTER, FRIEND, AND (MOTHER), WHO PASSED AWAY ON JAN 4TH, 2015.

Pamela was a mother to every child in every community.

She was the STAPLE to our PAGEANT COMMITTEE and to USLO

She is survived by her husband Waxson F. Jalloh, Mother Ms. Pamela Elizabeth Williams presently in Freetown, Sierra Leone Sisters Jacqueline,Hannah, and Matilda. Brother Ransford Jr. Uncles, Aunts, Cousins, nephews, nieces, and friends in Staten Island, Eden 11, and greater New York communities.

A Member of the Christ United Methodist Church +

FUNERAL ARRANGEMENTS TBA.

Please send prayers, and visit Her Family at
168 Union Ave
Staten Island NY 10303

Rest in Peace Pamela…..We thank you for everything you have done for us, for our Sierra Leonean Community, for Staten Island, and for your children…

Till we see you in Heaven….