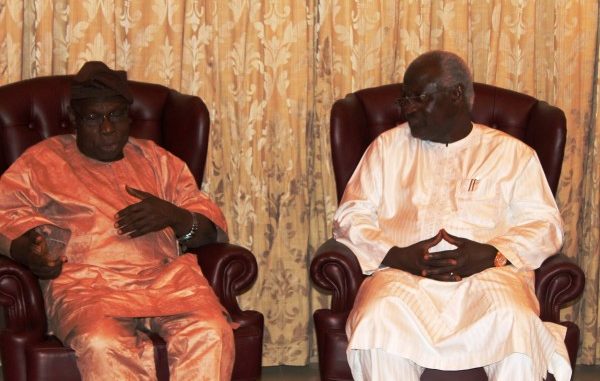 By Sate House Communications Unit
Former Nigerian President Gen. (Rtd.) Olusegun Obasanjo Thursday 19 February assured President Ernest Bai Koroma of additional support from the international community to give a final push to the waning Ebola virus disease in the three worst-hit countries of Guinea, Liberia and Sierra Leone.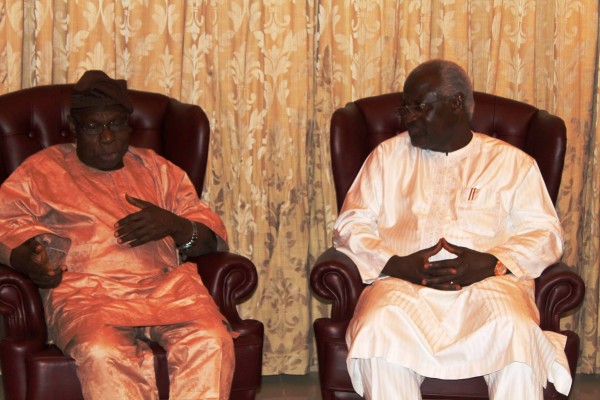 The statesman made the assurance while on solidarity visit to Sierra Leone, and commended the leadership of his brother (President Koroma) for effectively handling the situation. He also expressed his heartfelt condolence to the government and people of Sierra Leone for the loss of vital lives to the outbreak, and lauded government for recording only two new cases, for 19 February and prayed that it speedily drops to zero digit.
He also commended leaders of the other affected countries of Guinea and Liberia and hailed their concerted efforts as member states of the Mano River Union (MRU), which he believes has contributed immensely to defeating the virus. Considering the magnitude of the havoc, former President Obasanjo re-echoed that the epidemic has cost so many lives, including health professionals, at a time when the country was about to take-off for progress and fast track development.
He pledged to further reach the international community and sensitize them about post-Ebola socio-economic recovery challenges in the three worst-hit countries of Guinea, Liberia and Sierra Leone.
Welcoming the Nigerian statesman to his Goderich residence in Freetown, President Koroma updated the former president about the latest figures for 19th February, recording only two new confirmed cases, saying that it is now better and has positioned the country almost out of the epidemic that has left devastating effects on the three countries. He described the visit as timely and informed his guest about the role being played by Nigerian health experts working with the African Union team at the Ebola frontline. This, he said, has enhanced the country's fight against the disease.
The president said the three heads of state and government of the MRU are busy doing the things that will eradicate the virus in their countries.
President Koroma also paid tribute to the international community for their support in combating the disease and informed his guest about the forthcoming high level European Union summit on Ebola on 3rd March and a United Nations General Assembly meeting on Ebola in May this year. He reiterated that as member states they had met twice in Conakry within the MRU framework level to chart the way forward to break the chain of transmission in the three countries.