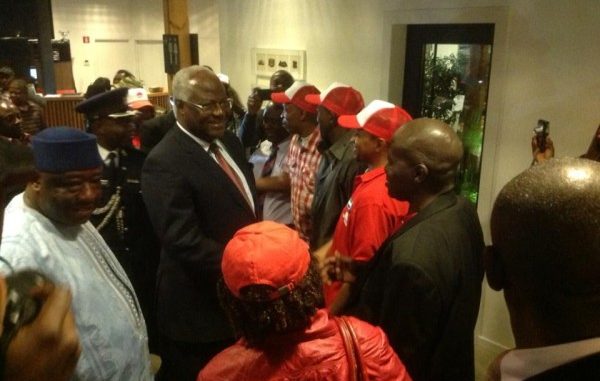 President Ernest Bai Koroma yesterday arrived in Brussels to attend the European Union-Africa Summit and also take part in other engagements.
According to Press Attache, Chernor Ojuku Sesay, President Ernest Bai Koroma is in Europe on  three missions; to attend the EU-Africa summit; to launch the All People's Congress  (APC  ) Belgium Branch and to hold Town Hall meetings in Antwerp (Belgium) and The Hague (Holland) with Sierra Leoneans.
PRESIDENT KOROMA MEETS SOME  MEMBERS OF THE APC IN BRUSSELS : PHOTO BY JARRAH KAWUSU-KONTE
According to Mr. Sesay, in The Netherlands, the President and team will not only be holding a Town Hall meeting with the Sierra Leone Community but also  he will be on an official Working Visit and  will have a meeting with Dutch Business Entrepreneurs.
The Town Hall meetings in Belgium and Holland will be organised by the Open Government Initiative (OGI) in collaboration with the Sierra Leone Embassy in Belgium and the Sierra Leone umbrella organisations in both Belgium and Holland, notably the Sierra Leone Progressive Union (SLPU) in Belgium and the Sierra Leone Central Union (SLCU) in Holland.
PRESIDENT KOROMA IS INTRODUCED TO SOME OFFICIALS IN BRUSSELS BY AMBASSADOR IBRAHIM SORIE : PHOTO BY JARRAH KAWUSU-KONTE. 
Mr. Sesay announced that some members of the President's advance team arrived  on Sunday morning. They included  the head of OGI, Madam Khadija Sesay, her colleague in the OGI, Madam Binta Bah, the National Authorizing Officer, Mr. Soriba Kanu, Minister of State Finance, Hon. Alhaji FBL Mansaray and the Minister of Foreign Affairs, Dr. Samura Kamara.
The rest of the delegation will arrive on Monday. They are : Hon. Alhaji Alpha Kanu (Minister of Information and Communication), Hon. Alhaji Usman Boie Kamara (Minister of Trade and Industry), Ambassador Rasie Kargbo (SCOP), Dr. Sylvia Olayinka Blyden (Special Executive Assiistant to the President), Mr. Brian Gilpin (Personal Assistant), Mrs Gladys Strasser-King ( Chairperson SLEIPA/Chamber of Commerce), Madam Razia Bash-Kamara (Snr. State House Correspondent), Jarrah Kawusu-Konte (Communications Manager), Ibrahim Sesay (Security/Valet), David Williams (Cameraman), Supt, Brima Q. Sesay (ADC), Mohamed Massaquoi (President Sierra Leone Reporters Union) etc.
Mr. Ojuku Sesay and the State House Communications Unit will bring you a full coverage of the visit.