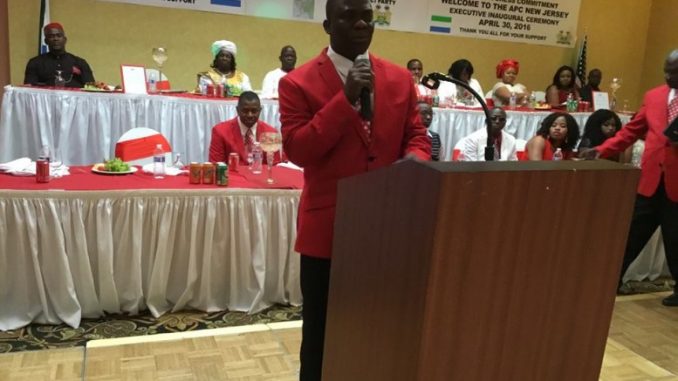 It is unbelievable that today (November 15, 2016) marks exactly one year in office of my administration. You will agree with me that when my administration assumed the leadership of our chapter, I vowed my unwavering commitment to members to do everything in our ability to make our party very vibrant in the U.S.
As a result of our determination to do so, and with the help of our courageous and enthusiastic members, we were able to accomplish a lot in the past one year. Our collective effort was the reason for our achievements as a political party in the U.S., thereby making the first year of my administration an incredible one.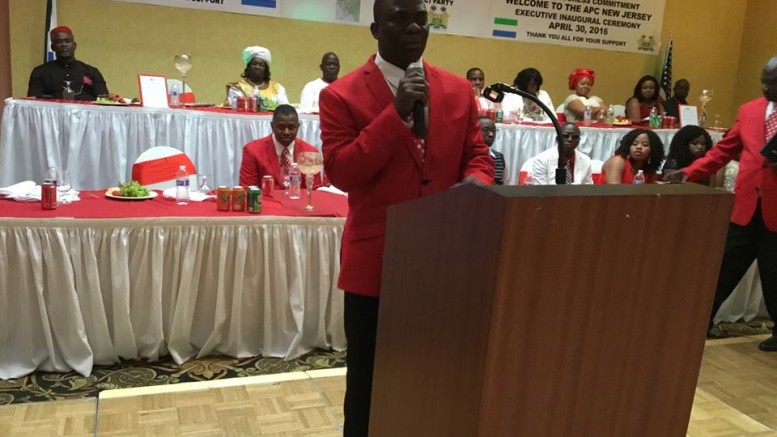 Together with the administration of former Interim Chairman, Mr. Ibrahim S. Kamara and other APC chapters, you will agree with me that we worked tirelessly to ensuring that the 2016 APC-USA Convention held in New Jersey was peaceful and successful. And with the presence and guidance of some of our party leaders from Freetown, a new APC USA administration headed by Chairman Unisa B. Kanu was established on August 13, 2016.
I take this opportunity to thank all members of our vivacious chapter, including the government officials in our State, for the tremendous contribution they made to enable us to successfully stage the APC-USA Convention. For a new administration, it was a magnificent achievement.
Apparently, our determination, hard work and steadfast commitment were the reasons for the following:
1. The successful outcome of our executive inaugural ceremony on April 30, 2016.
2. Increase in membership by more than 100% within one year.
Increase in women's participation.
Significant participation in out of state programs such as APC executive inaugurations and fundraisers, meetings, the New York City rally etc.
Holding of numerous executive and general meetings.6. Increase in the executive team from 9 to 15.7. Increase in our chapter's fund, and so on.

The first year of my administration has been a year of significant improvements as stated above, and I am so impressed for the commitment of my executive and the cooperation of our membership.
In the next one year, we should focus on the following:
i. Creating and implementing strategies that will result in peace and stability in our party and winning of elections in Sierra Leone.
ii. Demonstrating unwavering support for our party and its members.
iii. Recruiting additional members for our party.
iv. Increasing youth participation.
v. Sustaining the participation of the women.
vi. Raising funds for our party.
vii. Organizing social activities and fundraisers in our communities. For example, our December 10, 2016 event and our main fundraiser slated for April 15, 2017.
viii. Working in collaboration with other chapters and the APC Party in Sierra Leone for the progress of our party, country and people.
ix. Defending our party at all times.
No matter the challenges we are confronted with in our chapter and party as a whole; let us focus on working together for the progress of our party and country. We will not stop supporting our party and country that we love so much and wish to continue seeing evidences of economic development in our country in the years ahead. Indeed, our support for the APC party and President Ernest Bai Koroma's Government is an ongoing effort.
It is evidently visible that I have a very dedicated and experienced executive team working with me every day, and I can assure you that they will continue to do their very best to meeting your expectations and move our chapter forward.
As we start the second year of my administration, I would like to encourage every member of our chapter to be steadfast in supporting our party. Additionally, I am encouraging the executive and general membership to choose the right path for our party and country that will bring about long term sustainable peace and development for our country and people. I am confident though, that under the leadership of His Excellency, Dr. Ernest Bai Koroma, and with the dedication and commitment of his team and party, Sierra Leone will emerge as an overcomer of the challenges it faces.
As I have repeatedly mentioned in the past, I am not free from making mistakes, which is always the case with any leader or human being. However, whatever the mistakes I have made or errors committed by any member of my administration, I accept the blames for such unintentional happenings, and hence my sincere apologies to such member(s) if any. Therefore, I am kindly requesting members for full cooperation and steadfast support.
In conclusion, let me thank God and once again express my sincere gratitude to the entire membership for your valuable contributions in the growth of APC New Jersey. Special thanks to my executive, our advisers, foundation members of APC New Jersey, election commissioners, new members and our members currently working in Sierra Leone.
Finally, congratulations to my executive and each and every one of you for what we have achieved for our party and country since the establishment of APC NJ Chapter.
I look forward to a stronger second year in office.
May God bless us all!
Alimamy Turay
Executive President
APC New Jerseyh
Sent from my iPhone