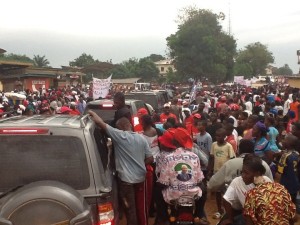 PICTORIAL DISPLAY : Ernest Koroma-mania sweeps Kailahun, the SLPP stronghold
The Sierra Leone People's Party ( SLPP) stronghold of Kailahun District has fallen to President Ernest Bai Koroma. Kailahun District went red last weekend when the President took his development projects to a district that once stoned anything APC . The massive throng that wore red and came out to welcome and hail President Koroma gave credence to speculations by political experts that the days of strongholds may have died in Sierra Leone.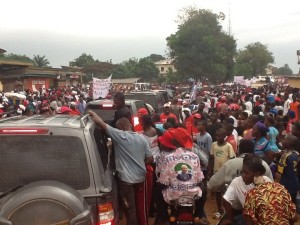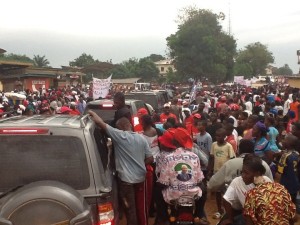 According to members of the State House Press Corps who accompanied the President, what was amazing was not just the massive number of people who turned out but the body language of the crowd, which gave every indication that the Kailahun people have chosen outstanding leadership and national development over ancient regional and tribal loyalties to the moribund SLPP. Everywhere President Koroma went, he was overwhelmed by genuine expressions of support by multitudes of Kailahun residents who have chosen the APC over the SLPP.
PRESIDENT KOROMA ADDRESSES MUSLIMS IN KAILAHUN
All great truths start as blasphemies and the SLPP  spinmasters will wake up to this stunner accusing COCORIOKO  of blasphemy. But pictures never lie. Through our pictorial display today, we demonstrate how much KOROMAMANIA has swept another SLPP  stronghold ,and how much  SLPP supporters  who continue to play the deceitful game of false confidence  will be so stunned when Kailahun presents the platform for President Koroma's victory in November that they will need grief counsellors.
PRESIDENT KOROMA WAVES TO CHERRING CROWDS AFTER OPENING A NEW MOSQUE IN KAILAHUN
Maada Bio was  showboating in Britain, where votes from  the insignificant number of  SLPP  supporters who welcomed him –If they were to vote– will not even constitute 1% of the total votes in Sierra Leone , while President Koroma was teaching him the meanings of RIGHT PRIORITIES  and SENSIBLE STRATEGIES by penetrating and capturing his stronghold of Kailahun where he could garner a significant percentage of the total votes. Even if Bio comes to the U.S.  now, that should not bother any APC supporter because the  votes are in Sierra Leone, not in the diaspora and President Koroma is getting the potential votes where it will matter on November 17 .  The mistaken idea the SLPP  nourishes that falsely gaining sympathy from the international community will translate into victory for them will cost them in November.
All being well, President Koroma will also take  some other SLPP  strongholds to pave the way for victory in November.
PICTURES COURTESY OF STATE HOUSE PRESS CORPS MAN JARRAH KAWUSU-KONTE
© 2012, COCORIOKO. All rights reserved. – Discuss this and other related articles on the Salone Forum