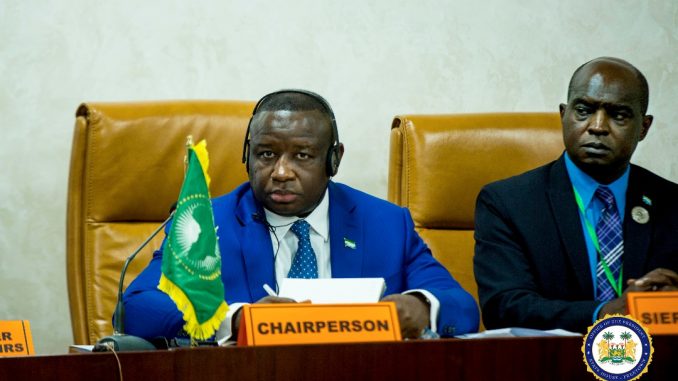 By Alieu Badara Kamara (Awareness Times)
His Excellency the President of Sierra Leone Julius Maada Bio and his Foreign Minister Honourable Alie Kabba have been entangled into a fresh morass; this time concerning the Sierra Leone Government's claims that the Guinean Government still has Guinean soldiers stationed inside Yenga town, a formerly disputed town located at Guinea Sierra Leone border. Whilst the Bio Government is claiming Guinean soldiers are still inside Yenga and affecting the free movement of Sierra Leoneans thereon, the residents of Yenga including their Paramount Chief, are sternly debunking such claims as being untrue. Rather, residents of those border areas tell Awareness Times that since the former President Dr. Ernest Bai Koroma had the Guinean soldiers leave Yenga, the place has been peaceful with no militarisation thereon.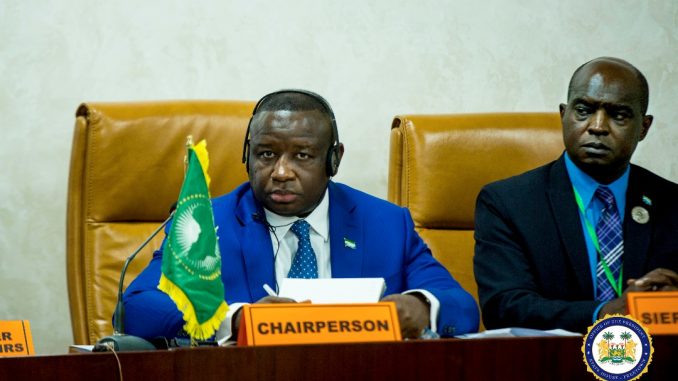 BIO AND KABBA–THE TWO BIG LIARS 
It can be recalled that a long drawn out impasse between Guinea and Sierra Leone over Guinean soldiers stationed on Yenga had spanned for well over a decade since the days of the rebel war. Former President Kabbah of SLPP (RIP) inherited that Yenga crisis from the NPRC Government of Strasser/Bio in 1996 but even after the War ended, the late President Kabbah was unable to resolve that crisis until he left office in the year 2007.
It took the excellent, diplomatic skills of Sierra Leone's immediate former president, Dr. Ernest Bai Koroma of the APC to ensure Guinean President H.E. Professor Alpha Conde withdrew all Guinean soldiers and battle armaments from Yenga. This was a priority of Ernest Koroma and it happened during his First Term in office.
However, a press release dated yesterday 23rd April 2019 from the current Sierra Leone Government of President Bio informs that the Guinean military was still stationed inside Yenga and disturbing free movement of Sierra Leoneans in Yenga.
The release is entitled as *"MINISTER KABBA OFF TO CONAKRY FOR DIPLOMATIC ENGAGEMENT ON YENGA ISSUE".*
The Sierra Leone Government is alleging the following claims against Guinea:- "The aged-old issue of Yenga remained unsolved, irrespective of the acknowledgement of Guinean authorities in 2005 that the town belongs to Sierra Leone. The consensus of Guinea to fully hand over the territory is yet to be fulfilled and the town is still being used by the Guinea Armed Forces and other Guineans for numerous activities including illegal mining. Several Government reports have indicated that the Guinean Armed Forces are illegitimately moving into and occupying border towns in Sierra Leone, thus encumbering the free movement of Sierra Leoneans within their country and across the borders."
The Sierra Leone Government release says the SLPP Government is therefore sending the Foreign Minister to Conakry, Guinea to meet with the President of Guinea, His Excellency Professor Alpha Conde to deliver a letter from His Excellency, President Julius Maada Bio on Yenga.
Sierra Leone Government furthers that: "The issue of land and maritime infringement has dawdled for several years and has been addressed at various levels of government including the Presidency."
In sharp contrast, Kissi Teng Chiefdom Paramount Chief Emmanuel Ganawa, the highest traditional authority in Kissi Teng in which Yenga Town is located says all the above is totally untrue as far as Yenga, his chiefdom and the entire stretch of the environs around Kissi Teng was concerned. His views were re-echoed by many residents of Yenga and the entire Kissi Teng Chiefdom including the Section Chief for Yenga who also has disputed the claims that Guinean soldiers control Yenga.
Asked if Guinean soldiers had returned after President Koroma's success at liberating Yenga in the year 2013 under the APC Government, P.C. Ganawa without mincing his words denied.
🗣"Nothing like that since that time they have never been there again. Guinea soldiers have never re-entered Yenga and we are not even envisaging anything like that," the Paramount Chief told Awareness Times.
However, the Bio Government release alleges: "Recently, there has been a renaissance and increase of land and maritime encroachments on the Sierra Leone border by the Guinea Armed Forces and other Guinea official personnel operating within those axes."
However, when P.C. Ganawa was asked if Guinean soldiers were encroaching into other areas along the border, he said:- 🗣"No Sir. No, no… Situation is normal. Peaceful and calm. Sierra Leone citizens are going about their business doing their farming calmly. Sierra Leone citizens are doing their normal activities at the border. From Liberia border to Guinean side of the border, life is normal. Movement is free. Amen."
However, it is worthwhile to note that whilst the subject heading of the Government press release was all about Yenga in Kailahun, other parts of Sierra Leone away from Kailahun district were also cited by the Foreign Ministry. Whether those areas are so affected, is not known but for the much topical Yenga, the residents insist that nothing like what is alleged in that release happens there. They say they are very grateful to the former APC Government and to the Former President Dr. Ernest Bai Koroma for his excellent diplomatic skills in liberating Yenga.
"Oh, you know these SLPP people now. They are all shameless liars. Everytime they come up with propaganda to make the former APC Government appear like it did nothing good. They want to erase anything good that Ernest Koroma did," said Engineer Borbor Kallon a descendant of Yenga who spoke to Awareness Times yesterday in strong mood.
© *Awareness Times Newspaper – Wednesday 24th April 2019*
FEEL FREE TO SHARE WIDELY