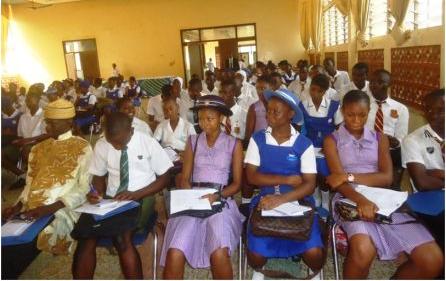 The Attitudinal and Behavioral Change (ABC) Secretariat  has organized a two day training programme for pupils in Secondary Schools in the Western Area from Tuesday, 11th – Wednesday, 12th February, 2014 at the Atlantic Hall at the National Stadium Hostel, Fretown.
Speaking at the opening of the training, the ABC Executive Director, Dr. Ivan Ajibola Thomas, said the training will help the students to serve as agents of change and peer educators within their schools.
He explained that the training will involve discussions, sharing experiences and going into communications and dialogue on the attitudes of people.
He also stated that they will also be interacting on some of the possible means that affect students not to perform well in public examinations. He described the workshop as a pilot project for schools.
He stressed that pupils have to change their negative attitudes to positive attitudes.
He stated that the reasons pupils use abusive languages, take drugs, involve in violence and crime and get pregnant will also be discussed.
Mr. Thomas recalled that Sierra Leone was known for its academic excellence but that he can no longer understand what has gone wrong with the pupils as they are putting up negative attitudes towards education and authorities.
He maintained that their organization is fighting against negative attitudes and identifying role models to emulate.
In his comments, the Principal of the Prince of Wales Secondary School, Mr. Michael A. Bundor, said that change of attitude is the watch word of the Agenda for prosperity.
He said he was happy that his school has been chosen to be in the pilot project, and maintained that they will remain to be pacesetters of change.
He promised that his school will live to its expectations to foster the desired change.
Ms. Lucia Mambu, representing the Freetown Secondary Schools for Girls (FSSG), said that the Attitudinal and Behavioral Change has chosen a theme that will serve as a bedrock for change in this country.
He observed that educational institutions play a very vital role in change as they "catch them young and direct their mind sets."
The Deputy Minister of Information and Communications, Hon. Theo Nicol, who opened the workshop, advised the students to build positive attitudes
He stated that he is very passionate about young people and appealed to them to cultivate the right attitudes for a better future.
© 2014, COCORIOKO. All rights reserved. – Discuss this and other related articles on the Salone Forum