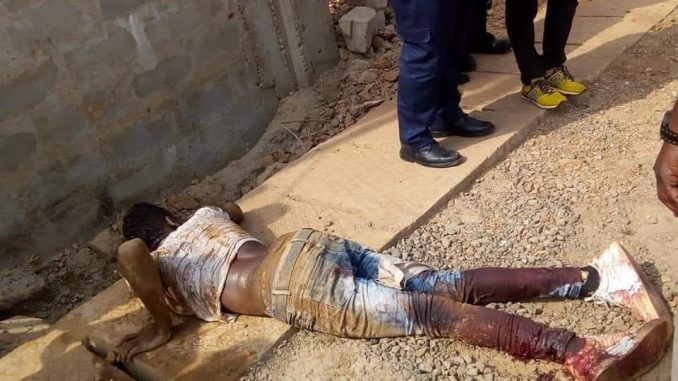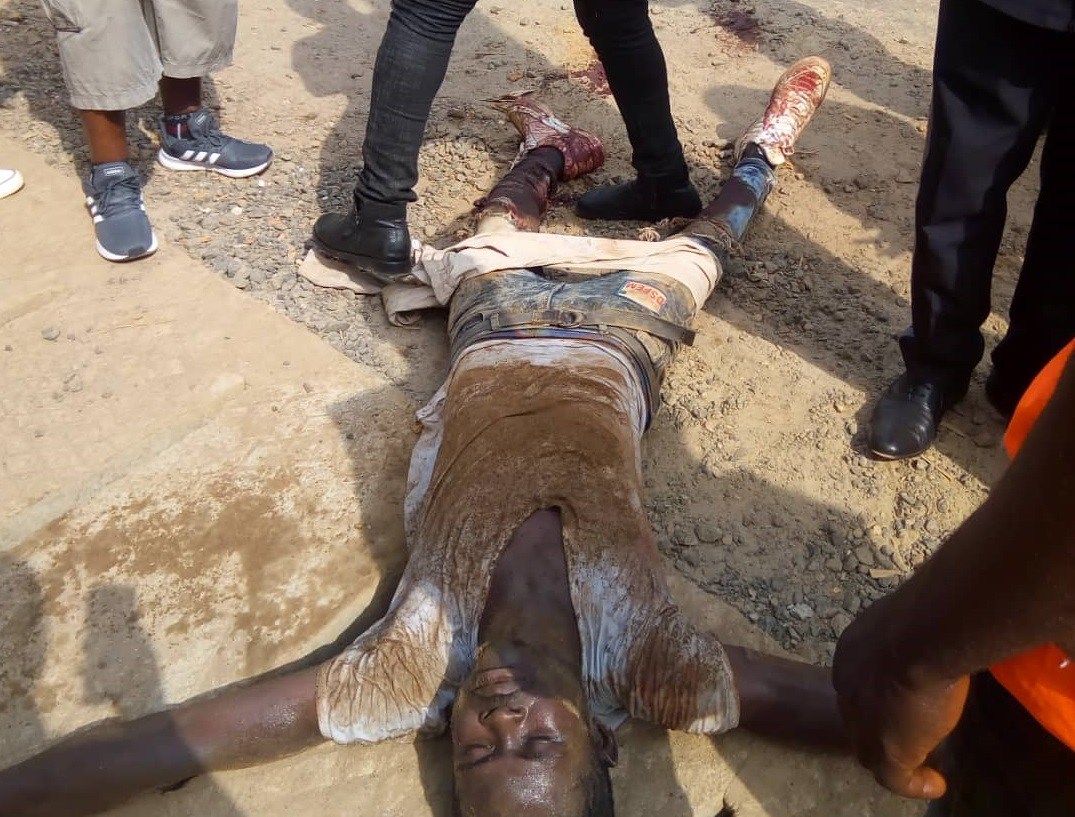 Mr. Lahai Lawrence Leema, President Maada Bio's Deputy Internal Affairs Minister,  has shed blood and  shot down a young man,  after for long threatening  the lives of opposition All People's Congress ( APC) supporters .
Remember our report  two weeks ago when we showed you video footage and photos of  this erratic and notorious minister prowling the office of the opposition All People's Congress ( APC )  at Brookfields with his AK-47  trained at innocent APC  supporters and Mr. Alpha Sheriff, popularly known as APC  Sheriff  ? President Bio has to this day said nothing about the incident or punished Mr. Leema as the public demanded.
Well, this morning, Mr. Leema who has been threatening APC  supporters,  almost  fulfilled his wish at last.
It all started with a Facebook post by Leema that his home and his security have been attacked. Shortly after that,  graphic photos started appearing on social media that Mr. Leema's security had shot a young man who was lying outside his home bleeding profusely and loudly begging bystanders to take him to the hospital or he would die. According to eyewitnesses,  the security blocked bystanders  from rendering help to the dying man .
The young man, who has been identified as a driver called Forster, from Kissy, is said to be recovering from treatment at the Connaught Hospital.
Eyewitnesses said there was no attack on Leema's house. Rather,  some youths who were passing by got into an altercation outside Leema's house over some money. Eyewitnesses said that Leema's security came out and teargassed the youths who were arguing loudly and making noise . The youths were retreating when one of the security officers opened fire, hitting the young boy many times.
Leema's psychotic and erratic behavior had been a concern even before the SLPP  came to power in 2018 . In 2017, he stormed the SLBC  studio where an APC  minister was being interviewed , demanding  to be interviewed as well. When his request was not granted, he resorted to vandalism and the Police had to be called.
THE YOUNG MAN IS LYING ON THE GROUND AGONIZING AND NOTHING IS BEING DONE TO RUSH HIM TO THE HOSPITAL FOR TREATMENT. 
There has been no government or police response to the shooting .
President Bio too has traveled out of the country on a 10-day trip and as usual has remained silent on the incident.
However , lots of Sierra Leoneans have gone on social media to condemn the shooting while supporters of the ruling Sierra Leone People's Party ( SLPP )  are all over social media justifying the shooting to prove the dangerous depths Sierra Leone has fallen under President Bio.
AN EYEWITNESS REPORT
Ousman Barry
Happening now!!!
Juba
Security guards attached to Minister of Internal Affairs, Lawrence Leema have shot and wounded a young man.
From my veranda I can hear the young man shouting 'r dae die una kerr me go hospital'
The OSDs are preventing neighbors from helping the young man who is obviously in pains.
Ousman Barry Julius Kamara he shot when he saw the friends of the youth shouting and crying about the pepper spray.He thought they will attack and shot from a far distance.It happened outside and not inside the compound.Why didnt he just enter and shut the gates but had to shoot?
Deputy minister of this junta and kamajor sierra leone pampas party (SLPP) KUSHE ooooo KUSHE ya, you think you can kill and intimidate peaceful citizen and get away with it, let me tell you now how you are going to end come 2023 by the grace of God, you are not going to die by bullet but by knife and cutlass that will be use to cut your body parts, so that you feel the real meaning of death, you file is open and we are documenting all your stupid and bastapikin behaviour.
A case for the international court… why would anyone shot someone in a broad daylight, who's not in any position with any weapon of it kind to harm Leema or anyone… This guy is provoking unrest in Sierra Leone. I know the SLP will not arrest him, but this is a case for the International court against Leema in the future.
NO EXCUSE: regardless of your political affiliation, and as patriotic citizens, we must all condem the shooting of an unarmed youth at deputy minister Lawrence Leema's house.
We recommend that all instances of brutality and excessive use of force by officers are investigated promptly, independently and impartially by an independent mechanism. The law must take its course.
This incident is a serious security concern, clear violation of human rights and undermines the office of the President, and as well as paints a very bad image for our country.
This is not the Sierra Leone we want. Do let's continue to keep the peace, and not repeat the mistakes of previous FAILED regimes.
@Pipul Pikin
#ForTheRecords.
You didn't come to the government to shift the blame on other people. You came to government on the slogan of change. The past government has served and gone. Whether they created the messy state of our country's economy or not, it is time you rise to the occasion to work in the interest of the people who gave you the popular mandate to serve."
Kamara Alpha Abdul Karim Fonti Kabia I'm not saying he ordered the guy to shoot. But based on his fierce pronouncements of late and a man working him (being the deputy internal affairs minister) head of the forces in a way, should be questioned as well. I know you have heard the term the greatest responsibility especially now that he has come out openly to condemn the act. Well mek we dea go normor.
Alimamy Kamara The SLPP paopa regime lawless to this level and they're yawning for investors to come to the country.
These guys are not serious yet. You cannot be running a repressive regime and you expected to make progress.
The SLPP regime lawlessness is depriving the country from tangible development. A whole regime perpetrating lawlessness. I can't believe this happening in a country that been through a brutal civil war and ravaged by Ebola virus.
SLPP duya una sorry for we pupil dem. ICC officials, please take account of the massive human rights violations in Sierra Leone
Charles Taylor and Laurent Gbagbo are waiting for Maada Bio and Lahai Lawrence Leema
Janice Anderson It does not add up, how can an unarmed man attack a well secured compound?
The man didn't seem like a terrorist or someone that was causing problems.
We need a proper explanation with details.
READ SLPP SUPPORTERS ON FACEBOOK JUSTIFYING THE KILLING OF AN INNOCENT MAN
THE HONORABLE LAHAI LAWRANCE LEEMA HAS THE RIGHT AND TO DEFEND HIMSELF FROM PHYSICAL ATTACKED FROM PERCEIVED APC THUGS.
The Deputy Minister of Internal Affairs, Hon. Lahai Lawrence Leema is a Sierra Leonean like any of us with all the rights and privileges.
He reserves the constitutional as well as natural rights to defend himself when attacked. If the APC Party thinks this country is their bonafide property and therefore only they have the right to rule, they are for sure making a grave mistake.
This country does not belong to any individual or group of people talk less of a particular political group. SLPP won a genuine election and they are now in the driver's seat. Any attempt by the hopeless and corruption-prone APC to subvert democracy would not only be stoutly resisted but they would be pursued, prosecuted and persecuted by the laws of this country.
Hon. Leema continue to defend and protect you and your family, the law is behind you.