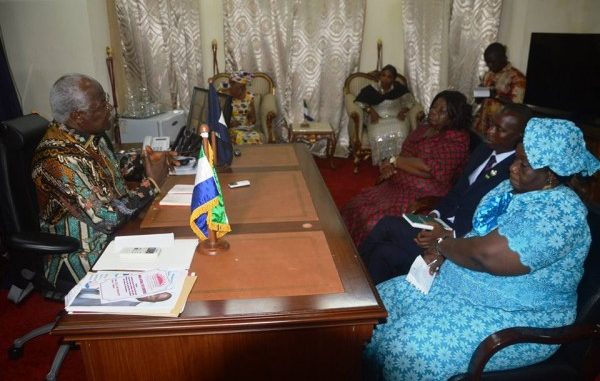 By State House Communication Unit
President Dr Ernest Bai Koroma on Friday October 16 assured representatives of the parliamentary female caucus of the Republic of Sierra Leone House of Parliament of government's continued commitment to ensure women's participation in the post-Ebola recovery programme. He gave this assurance during a courtesy call on him at his State Lodge in Freetown by a delegation headed by its President Hon. Pamela Bangura.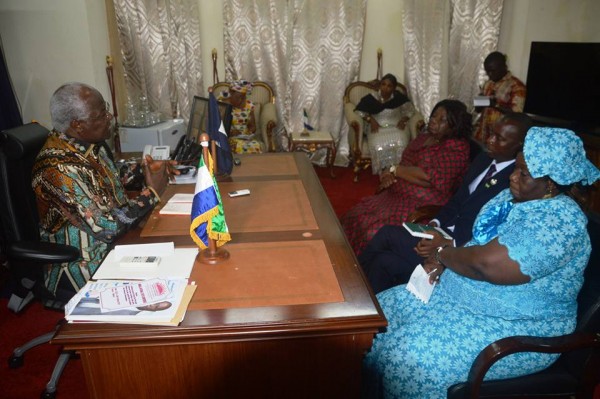 Addressing the meeting, President Koroma reiterated that women will be fully involved and also be direct beneficiaries of post-Ebola recovery programmes. He said anything that will enhance service delivery in the recovery programme will directly benefit the women of Sierra Leone. He noted the significant role of women in national development and reaffirmed his commitment to continue to promote women's issues, strengthen the law enforcement agencies and the judiciary to ensure responsiveness to the protection of women.
As a solid promoter of women's empowerment, the president expressed optimism to having a national gender policy with strong commitment to supporting it. " I will assure you anything that has to do with women, anything that has to do with women's empowerment, gender balance, protection of women, I am committed to it; I have always been committed and will continue to be committed," he emphasized. He also expressed strong conviction that the next parliament will make at least the desired 30% quota and improve on women's participation in governance. He said because of the outstanding performance of women in peacekeeping missions, he informed the female caucus that 300 out of the 500 police personnel going on peacekeeping mission will be women. President Koroma described this development as a great feat and pride for women in Sierra Leone.
The caucus leader said they had come together to speak with one voice to condemn sexual based violence against women and called on the president to make sure institutions such as the judiciary and law enforcement agencies are capacitated to guarantee that cases involving sexual violence are speedily judged and culprits punished according to law. The law maker advocated for women's participation in the post-Ebola recovery programme as well as supporting women to benefit from the programme. She noted the caucus' interest in playing a pivotal role in the post- Ebola recovery programme by sensitizing their various constituents about government's activities as well as monitoring the implementation of the recovery programme.
She lauded President Koroma's strides towards women's empowerment and gender equality and also thanked him for the various appointments of women into sensitive positions. Whilst asking for the president's commitment to the gender policy, Hon. Bangura pointed out that the bill will also make it easier for the passing of the 30% quota bill. She asked for support and capacity to champion various programmes and activities as they hoped to team up with their counterparts in neighbouring Guinea and Liberia to address Gender Based violence.
SHCU©2015