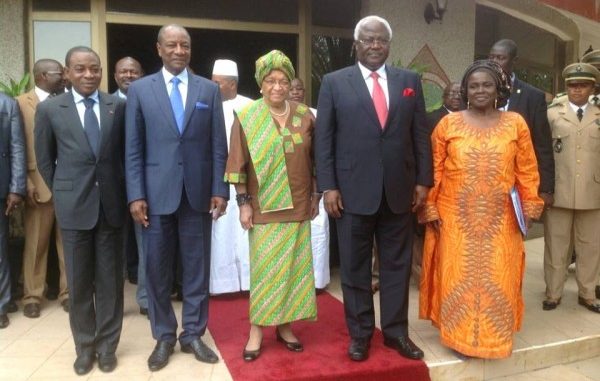 President Dr Ernest Bai Koroma left Freetown yesterday (Sunday, May 4th) for Conakry, Guinea where he participated  in the 23rd Summit of Heads of State and Government of the Mano River Union (MRU).
PRESIDENT KOROMA ARRIVES IN CONAKRY
The Summit, convened under the Chair of Liberian President, Ellen Johnson Sirleaf  was  convened at a time when MRU countries are facing serious challenges.
PRESIDENT ERNEST KOROMA AND HIS FRIEND AND BROTHER PRESIDENT CONDE HUG EACH OTHER

PRESIDENT KOROMA SHAKES HANDS WITH GUINEA OFFICIALS AT THE GBESSIA AIRPORT : BY HIS SIDE IS GUINEA'SA PRESIDENT ALPHA CONDE
The Summit, according to President Koroma who took questions from media representatives in the sub-region, will look at the implementation of the protocols of the MRU to further strengthen co-operation and the ongoing restructuring of the MRU to ensure that there is an effective and efficient Secretariat, and also to use the meeting to address the issues of collaboration in the areas of infrastructural development, energy and youth employment and empowerment.
PRESIDENT KOROMA AND GUINEA'S PRESIDENT ALPHA CONDE
"We will also be looking at how we can further collaborate in addressing our social issues. Don't forget that just recently we had the outbreak of Ebola, and it's as a result of effective collaboration within member states by using the institutions and the Ministries of Health plus the international partners that we were able to contain the situation, and I think that with collaboration we can achieve a lot more. So we need to build on this collaboration and cooperation," President Koroma emphasized.
MANO RIVER UNION LEADERS
The summit comprises a closed door session chaired by H.E. Madam Ellen Johnson Sirleaf.
Furthermore, a presentation of the Report of the Union's Ministerial Council would be made during this session as well as the Signing and Reading of the Joint Communique of the 23rd Summit of the Heads of State and Government of the MRU and a Press Conference marking the end of the Summit.
The President returns to Freetown this evening.