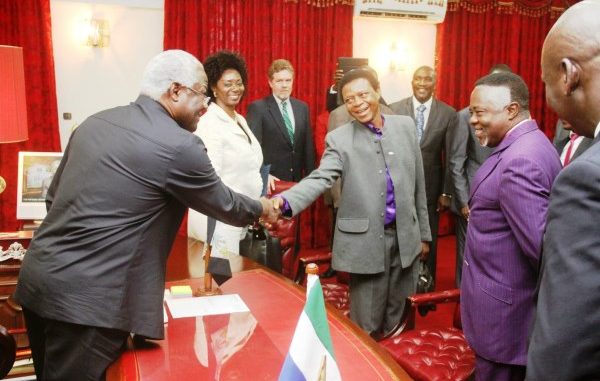 President Koroma has on Tuesday 3rd September, 2013, congratulated Bishop Abu Koroma of Flaming Evangelical Ministries for awards he received from the State of Texas, United States of America in recognition of his spiritual contribution to mankind.
The awards, according to President Koroma, clearly indicate that Bishop Koroma's visit to the United States created huge impact among the American people.
The president, therefore, profusely thanked the bishop for adequately representing the country as well as for strengthening Christianity. He also expressed hope that the opportunity will be effectively utilized, whilst urging for a follow-up action to ensure further consolidation of the already established ties with the people of Texas. He encouraged other Christian leaders to emulate the good example of Bishop Abu Koroma, adding that the Bishop contributed immensely to the implementation of the Agenda for Change in terms of sensitization.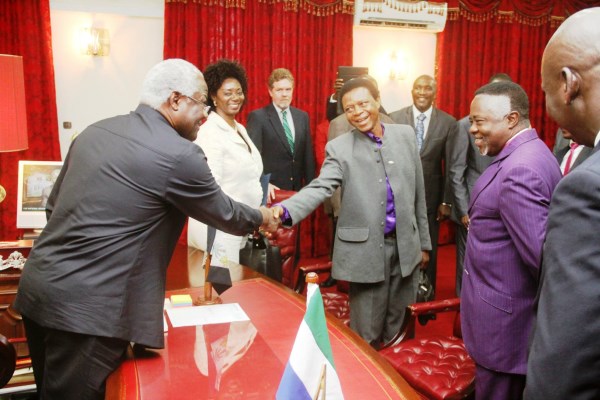 "Sierra Leone will not change if we do not change our values, double our efforts and do the right things. We should also have faith in religion and believe in hard work, honesty and commit ourselves to the development of the country so that the mind-set will change", he said.
According to the State House Communications Unit, the American Ambassador to Sierra Leone, Michael Owen said Bishop Koroma was honoured because of his growing and remarkable relationship with the people of Texas.
Bishop Abu Koroma noted that clergies have enjoyed religious tolerance and freedom in Sierra Leone during the tenure of President Koroma, while informing the Head of State that the lives of the people of Texas were touched through his spiritual contributions during his visit to the US.
In attendance were the Minister of Social Welfare, Gender & Children's Affairs, Moijueh Kaikai, Foreign Affairs and International Cooperation, Dr Samura Kamara, the Mayor of Freetown Municipality, Franklyn Bode Gibson, the American Ambassador, Michael Owen, the wife of Bishop Koroma, Madam Patricia Koroma and other members of the clergy