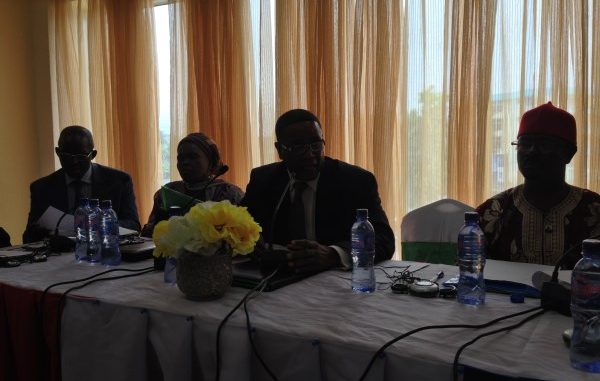 Sierra Leone's Minister of Information and Communications and Government Spokesman, Hon. Alpha B.S Kanu  on Thursday 29th August, 2013 appealed to Information Communication Experts and colleague Ministers of Information Communications Technology and Energy from the Mano River Union countries to consider the deployment of fibre Optic Cables overhead instead of underground. This he said will reduce cost and also facilitate faster deployment of the fibre cable for use by the citizens.
Speaking to technical experts and Ministers at the Corina Hotel in Monrovia, Kanu said that,"Africa in general and indeed the Mano River Union in particular stands at the cross roads of a paradigm shift. The advent of the information technology revolution provides an opportunity for Africa to make up for lost time during the industrial revolution and leap frog development by several centuries, if we give the right emphasis to the new opportunities.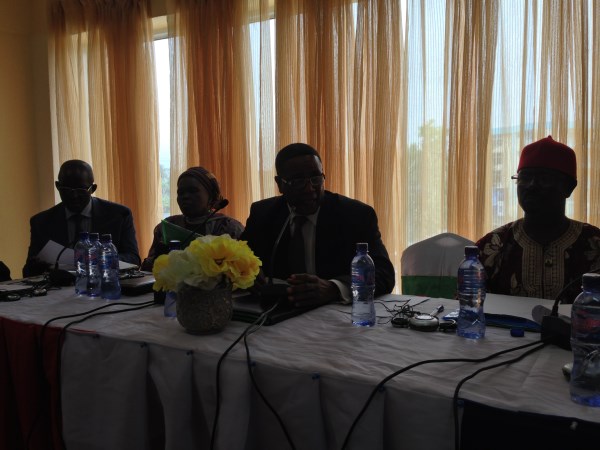 MINISTER KANU ( THIRD FROM LEFT ) ADDRESSING THE WORKSHOP
Information technology, unlike the industrial revolution, which provided the Western countries and some parts of Asia comparative advantage over Africa, in terms of development, provides the opportunity for our countries, our region and indeed our continent to move step by step walled side our more developed global partners. We are all at the same level of knowledge, the opportunities are open to us all almost equally and all we need is to catch up and even lead the revolution is political will, good strategic plans and the right targeted education for our youth".
The erudite Government Spokesman, believes that the best opportunities today within the reach of African countries is not in the judicious exploitation of the well-known natural resources, but in the judicious exploitation of another lesser known scarce natural resource; the electromagnetic spectrum. A resource that exists in every country on earth but not properly utilized for the socio- economic development of our nations.
If our countries are to access and utilize this resource for the well-being of our people we must first recognize that telecommunications and information technology is both a business and a social delivery service. The latter, he continued, we already know but the business potential eludes us and we do not look beyond providing accessibility to our populations.
MRU Ministers, Technical Experts and Ambassadors were shocked to learn that in Sierra Leone today, the contribution of telecommunications to the national budget more than doubles that of mining activities. In 2012 one Telco paid a total of USD67million in taxes and royalties to Government compared to a total of about USD55million from mining of all minerals including iron ore. This Hon. Kanu said, makes it inevitable for the planning and implementation of a regional MRU Strategy for ICT.
The Government of Sierra Leone in line with His Excellency the President, Dr. Ernest BaiKoroma's Agenda for Prosperity is aiming simultaneously at the direct benefits of increased revenues from both taxation and Public Private Partnership revenue sharing, and indirectly at increased GDP obtained from ICT related investments and general socio-economic benefits by the citizenry such as better access to international markets for their products.
The Minister also promoted the concept of shared infrastructure at national and intra-MRU level which everybody agreed will reduce Capital Expenditure (CAPEX) and Operational Expenditure (OPEX) leading to affordable access costs for low-income earners.
The objective of the three –day MRU workshop was to enable all Member States identify and adopt a unified ICT development program for the Union. Sierra Leone at the end of the meeting proposed a USD50 million project, Liberia USD172Million, Guinea USD54.75million and Cote D'Ivoire USD 126Million to the MRU for funding by the African Development Bank. These projects will facilitate the construction of ICT Infrastructure that will scale-up connectivity and the provision of services across Member countries.
Other members of Sierra Leone's delegation were; Mr. Martin Bash-Kamara, Deputy Minister of Energy and Power, Mr. Paul M. Sandi, Permanent Secretary, Ministry of Information and Communications and Mr. Ambrose Levi, Deputy Director of Communications in charge of Policy.