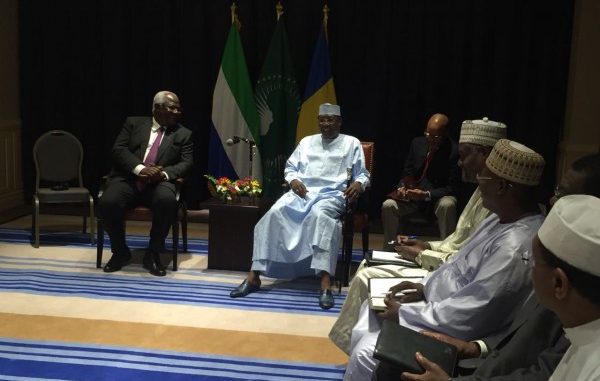 BY KABS KANU-
He is not only the President of the Republic of Sierra Leone. He is also an international diplomat par excellence.  As Chair of the African Union Committee of 10 states on UN Security Council Reform ( C-10), President Ernest Koroma's leadership skills are not only needed in Sierra Leone but on the international stage. So it was that the President left the nation yesterday on a three-nation African tour to  attend regional consultations on the reform of the UN Security Council.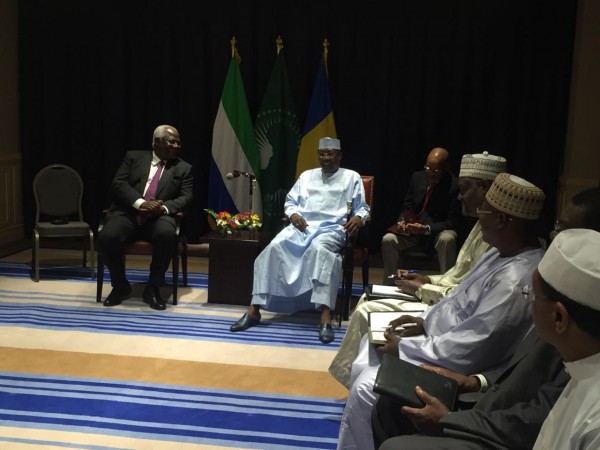 PRESIDENT KOROMA ( LEFT ) IN CONSULTATION WITH CHADIAN LEADERS
Presidential Spokesman, Abdulai Bayraytay reported yesterday that President Koroma had arrived in N'Djamena, capital of Chad to kick off the tour. According to Bayraytay, the meetings are to canvass support for a common position by Africa for the restructuring of the UN "so that Africa can get at least two permanent seats in the security council of the UN."
President Koroma will also hold diplomatic bilateral consultations with his colleague Heads of State on issues of mutual interest and cooperation, Mr. Bayraytay added.

The trip will also take President Koroma and his five-man delegation to Egypt and Zimbabwe
COCORIOKO  will bring you full details including a comprehensive analysis by LEEROY WILFRED KABS-KANU  of the significance of the consultations and Africa's quest for seats in the Permanent Category  of the UN Security Council and access to the veto.