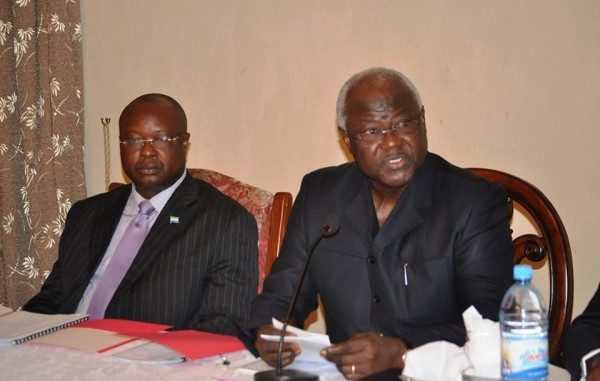 AN ADDRESS  BY HIS EXCELLENCY PRESIDENT ERNEST KOROMA AT THE DEVELOPMENT PARTNERSHIP COMMITTEE MEETING AT STATE HOUSE IN FREETOWN
Cabinet Ministers;
DEPAC Co-Chairs;
Development Partners
Distinguished Ladies and Gentlemen:
I welcome you all to this Presidential DEPAC meeting, and extend special thanks to my co-chairs and the Minister of Finance and Economic Development for having successfully chaired the regular DEPAC meetings in 2013.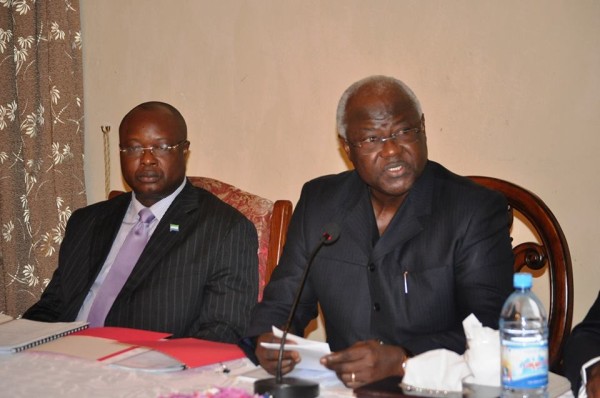 PRESIDENT KOROMA AND VP SAM SUMANA
At the last Presidential DEPAC meeting, we underscored the need for peaceful elections in 2012 while at the same time ensuring that the Government machinery does not stop operations as a result of campaign activities. I am proud to say that we achieved both. This is a manifestation of how much we are maturing as a democracy; it is a testament of the strength of our partnership; and an indicator of the successes that could be scored when support is coordinated, relevant and aligned to the aspirations of a people. For this we applaud our partners who coordinated support for the elections through the Basket Fund.
Since those successful elections, we have continued our actions for sustainable development. We still face challenges, but we are demonstrating unshakeable commitment to building roads, expanding access to water, attracting job creating investments, and subsiding healthcare and tuition.
In July 2013, I launched the Agenda for Prosperity. It is an Agenda firmly rooted in our people's aspiration for wellbeing, prosperity, dignity, and security in a tolerant and democratic nation. The Agenda for prosperity aims at laying the foundation for Sierra Leone's march to becoming a middle-income country by 2035. It is an ambitious agenda, but our will is equal to our ambition. This is why we believe that, together with our partners, together with our people, together with the youths and women of this country, the goals set out in the Agenda are achievable.
Ours is a partnership for achievements. We demonstrated it during the Agenda for Change. Your support was invaluable, and let me use this opportunity to thank the champions of this partnership, to register our appreciation of the support of development partners, and to reiterate our belief that the experiences gained during the Agenda for Change will bear us well in this new partnership for prosperity.
No doubt, implementing the Agenda for Prosperity requires the concerted effort of everybody, 'it's everybody's business'. We need the cooperation of everybody, every Sierra Leoneans as well as all our Development Partners. It is against this background that I very much appreciate our adoption of the Mutual Accountability Framework today. I am honoured because the framework affords this partnership for prosperity the opportunity to do things differently for better results; it provides guidelines for fulfilling our international commitments to the Busan and New Deal principles; and it offers us an opportunity to do more, deliver more and achieve more.
I very much trust that this partnership for prosperity will effectively translate the ideals and framework from paper to positive realities on the ground. This is a partnership that experience has made better knowledgeable, better skilled, and better abled to scale challenges and ensure effective utilization, implementation and reporting on aid and other resources.
Today, we will also talk about the progress we have made in terms of the EITI and the MCC processes. The Chief of Staff will give us an update on these two very important initiatives. We have encountered challenges in both process but we are resolved to addressing these challenges in a manner that bring us the desired results.
Let me however reiterate that we are not only addressing these challenges in order to benefit from a COMPACT within the MCC framework. We are addressing these challenges because we believe in the benefits of addressing them with or without the opportunity of getting MCC resources. This is because the issues addressed in the MCC and EITI are central to the achievement of our shared vision.
Co-chairs, we will achieve another milestone today through the launch of the braille version of our Agenda for Prosperity. This is the first time in this country's history that we have printed a braille version of our national Development Plan. Going forward, this is going to be the norm. We must stay the course; the worthy society, the society that aspires to dignity for all must not exclude from its development process citizens with physical or other challenges.
We will end today's meeting with an agreement on when to hold the consultative group meeting on the Agenda for Prosperity. In 2009, when we held the Consultative Group meeting in London, Partners committed to maintain their current level of support. Despite the global financial crisis during that time, our partners maintained their support to the Agenda for Change. I thank all of you very much for that as we look forward to holding the Consultative Group meeting on the Agenda for Prosperity in Freetown.
We hope that by convening the Consultative Group in Freetown, we can show case our progress and highlight our challenges since 2009. We anticipate that our non-resident partners can come and experience our unique 'Salone Hospitality'. This is a country on the move, a small country with aspirations as big as any other nation, a country contributing to peace-building and security in other lands, a country ready to leverage its resources, memories, culture, and aspirations to ensure a better world. For this we reiterate our faith in this partnership; and we have charged the Ministry of Finance and Economic Development to work with you our development partners on how we can all ensure that the Consultative Group meeting for the Agenda for Prosperity is successful.
Let me conclude by noting that, 2014 is the start of a fuller and more effective implementation of the Agenda for Prosperity; and our transformation and march towards becoming a middle income nation. We hope to complete most of the infrastructure projects currently going on. This means resources. We are therefore hopeful that the Consultative Group meeting will bring additional resources to finance our infrastructure projects in a bid to address the huge infrastructure requirements for transforming Sierra Leone.
As we embark on this journey, it is important that we deepen our partnership. The Mutual Accountability Framework should be regarded as the blue print for this enhanced partnership. I see that key elements relating to issues of aid effectiveness have been addressed in this document. So, let us all commit ourselves to implementing what we will be signing off today, bearing in mind that that we are all working towards the same goals, which are, the development of Sierra Leone and the lifting of the majority of our people out of poverty.
This has been my focus since I was elected as a Parliamentarian and leader of the opposition, it continued when I became President in 2007 and I when I was re-elected in 2012. I ask that we all continue to join hands to achieve this noble goal.
I will now ask my co-chairs to make their opening statements