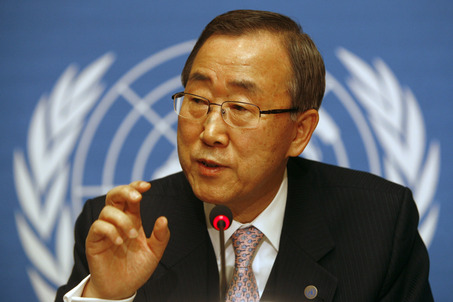 UN Secretary-General Ban Ki-moon on Sunday congratulated Sierra Leone for "the peaceful and largely orderly elections" held on Saturday, and called on all sides to work together to "bolster stability and unity" in the West African country.
"The secretary-general congratulates the people of Sierra Leone for the peaceful and largely orderly elections held yesterday," said a statement issued by Ban's spokesman.
"The high voter turnout and the remarkable calm displayed by the country's citizens as they cast their votes are a clear manifestation of their desire for peace, democracy and development," the statement said.
Sierra Leone's general election started smoothly on Saturday morning. About 2.6 million registered voters out of about 6 million populations voted at 9,493 polling stations to elect the president, parliamentarians and local councilors.
The elections were viewed as a milestone for Sierra Leone since a civil war ended there in 2002.
A decade after Sierra Leone's brutal civil war, voters select the leader for the third time and it is also the first elections organized by Sierra Leone itself, while the previous two elections were organized by the United Nations.
The chief electoral commissioner, Christiana Thorpe, in a radio talk show in the Sierra Leonean capital of Freetown on Friday said that the final results for the presidency will be announced within 10 days.
"As the country awaits the announcement of final results, the secretary-general calls on Sierra Leone's political leaders, parties and their supporters to accept the will of the people and to put their country above any other interests so as not to jeopardize Sierra Leone's hard-won peace," the statement said.
"The secretary-general urges all sides to work together and uphold their commitment to the people of Sierra Leone to bolster stability and unity," the statement added.

—