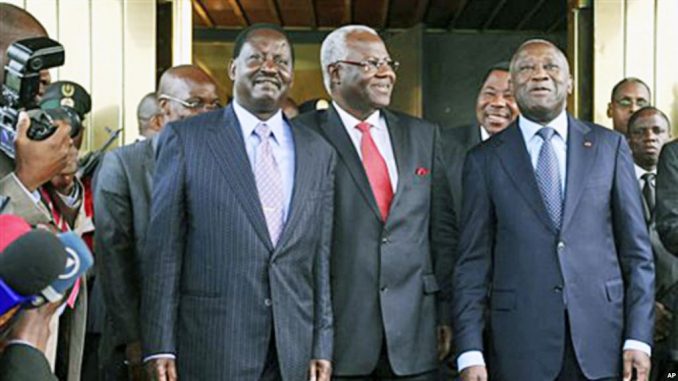 Published on January 4, 2011 by Cocorioko News   ·   No Comments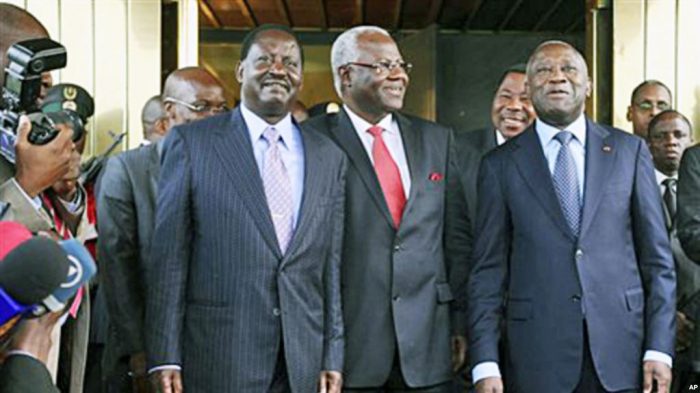 There has been a breakthrough in the Ivory Coast Presidential stalemate and crisis that threaten to plunge West Africa into another round of war ,  about  five years after the bloody disasters in Liberia and Sierra Leone. The Economic Community of West African States ( ECOWAS )  has announced that Mr. Laurent Gbagbo , the former President of the Ivory Coast who refused to step down after being defeated by the opposition candidate, Mr. Allasane Outtarra , has agreed to negotiate a peaceful end to the crisis. The ECOWAS announcement brought a huge sigh of relief across the continent after Nigeria's President and Chairman of the Commission , H.E. Goodluck Jonathan, previously announced that the crisis was still deadlocked. One refreshing sign of the breakthrough is that Mr.Gbagbo has decided to lift the armed seige by his forces on the hotel where his rival, Mr. Outtarra , remains holed up.
Yesterday, the 'Three Wise Men of West Africa' –The three heads of state appointed by ECOWAS  to help solve the Ivorian impassed–President Ernest Bai Koroma of Sierra Leone and his counterparts from Cape Verde ( Mr. Pedro Mendez )  and Benin  ( Mr. Yayi Boni ) , travelled to Abidjan to hold another round of peace talks with both Messrs Gbagbo and Ouattara  following their first meeting with the two a fortnight ago . They were joined by the Vice-President of Kenya, Mr. Raila Odinga. The general perception after yesterday's meeting was that the situation was still unresolved and more talks were needed .
It is not known how Mr. Gbagbo plans to negotiate the peaceful end he has agreed to bring to the crisis, as anything short of him stepping down from power will not be accepted by ECOWAS, the United Nations and members of the international community , including the United States, who have all accepted the elections result and recognized the winner, Mr. Ouattara. In fact, if Gbagbo stays in power and engages in a power-sharing arrangement with Mr. Ouattara, it will set a bad precedent in an already volatile subcontinent.
TOP PHOTO  :  PRESIDENT ERNEST BAI KOROMA ( IN RED TIE ) FLANKED ON THE RIGHT BY MR. GBAGBO AND LEFT BY KENYA'S VICE-PRESIDENT , MR. ODINGA.