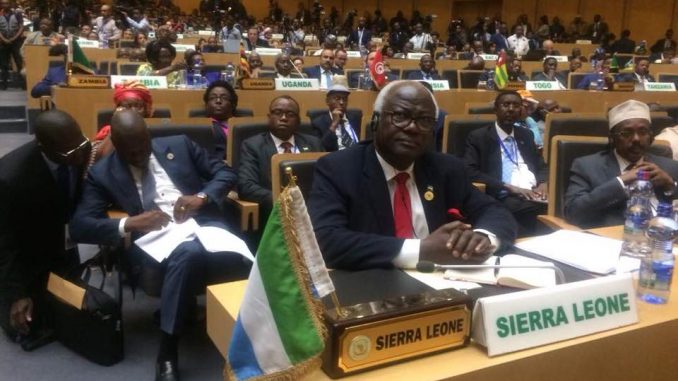 His Excellency Dr. Ernest Bai Koroma, President of the Republic of Sierra Leone today (Sunday 28th January, 2018) attended the opening ceremony of the 30th Ordinary Session of the Assembly of Heads of State of African Union (AU) held at the AU Commission's Headquarters in Addis Ababa.
The theme for this year's theme: "Winning the Fight Against Corruption: A Sustainable Path to Africa's Transformation," is on top of the agenda of the two-day Summit, which commenced today.
The Summit also discussed the migration issue of particularly young Africans risking their lives across the Mediterranean through Libya.
Recognizing the fact that the prosperity of the continent is predicated on peace aand security, African leaders lenthily discussed and reviewed the follow up report of the reform of the African Union.
President Koroma has been listed on the Agenda to deliver the vote of thanks. President Koroma will use this opportunity to deliver his valedictory statement to his colleague Heads of State and showcased his achievement credentials to Africa during the past 10 years as a visionary leader and transformer that championed the massive turn around in the growth and development aspirations of Sierra Leone.
Earlier, President Paul Kagame of the Republic of Rwanda in his welcome statement as the incoming Chairman of the AU promised to do the best job he could but canvassed the continent's full support.
He stated that "we are running out of time and must act now before deprivation."
The continental theme for the African Union 2018 Summit: "Winning the Fight Against Corruption: A Sustainable Path Towards Africa's Transformation," was launched by the Nigerian President, His Excellency Muhammadu Buhari.
@Abdul Karim Koroma