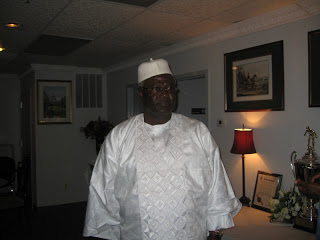 Anthony Abdul Karim Kamara, Jnr.
In what was considered by many observers and supporters of the APC as a strongly worded message, Ernest Bai Koroma, president of Sierra Leone and leader of the governing All People's Congress (APC), yesterday approved the dissolution of the North America executive and in no uncertain terms, reaffirmed the decision of the party's national secretariat in Freetown lead by Secretary General, Victor Bockarie Foh.
Delivering his remarks at the Intercontinental Hotel in New York where he is currently a guest as he attends the 64th Plenary Session of the United Nations General Assembly, his second meeting since he took over the reigns of government in Sierra Leone, President Koroma called for the conduct of new, free and fair elections to be held as soon as possible.
Calling on the interim executive led by Leslie Allen, his blunt message was that measures be put in place to bring a speedy conclusion to the matter. Admonishing all to put the party's interest first, president Koroma urged the interim leadership to present a representative executive that is truly reflective of the APC North America and one that will work hard to embody the ideals of the party.
On the need for a united APC, H.E. Koroma appealed to all to put away their personal agenda and instead work to see the party succeed. "If your goal is to see the party flourish and you have no hidden agenda, then you must work for unity in the party," said he. In an effort to bring issues to rest, the president reiterated his call informed for elections to be held as soon as possible and pledged to ask the national secretariat to closely monitor events at the North American branch.
Cognizant of year 2012, Koroma cautioned members of the North American APC to elect an executive that will work in tandem with the aims and objectives of the party and the development agenda that he has set out to accomplish for the people of Sierra Leone. "Failure is not and will not be an option for my party and government," he underscored. Counting on the support of all party members, friends and supporters to embark on a change of attitudes and being responsible of the manner in which the image of the party is portrayed, he challenged all to "ensure that we do the things that will make us an electable government in 2012."
In an apparent swipe to all party members who have disrespected the office of Sierra Leone's ambassador to the United States, especially with the many accusations and innuendos that have been circulated all over the Diaspora and the various local and international media houses about the current ambassador, Bockarie Kortu Stevens, the president was unequivocal: "Ambassadors are my representatives. Any disrespect for them is disrespect for me, too. They are fully mandated to represent me and our country abroad. That is why they have all the honour and privileges bestowed on me. If we are interested in being members of the party, we must respect that." With a deep sense of disapproval, president Koroma warned all to desist immediately from any acts of insubordination that have no room in a party where he is the leader.
That a ruling has been reached in almost a week since his arrival in New York with a strong condemnation for the conduct of some in the party, behaviour which threatens to bring disrepute to the office of Sierra Leone's Embassy (if it has not already done so), is not a surprise.
Perhaps, the surprise, if any, as confirmed reports indicate is that Camp Osman Conteh had submitted a formal letter of complaint to the president after Sunday's town hall meeting in New York detailing Ambassador Stevens' alleged practices within the APC-NA. This is in addition (as confirmed by Osman Conteh) to a meeting both camps held in New York again on Wednesday with Minister IB Kargbo which included members of Camp Stevens (Ambassador Stevens & Nanette Thomas) where subtle signals were perceived by team Osman Conteh (Osman and Mohamed S. Fornah) that victory in this tumultuous issue was within their reach. President Koroma could not attend because he was busy preparing his UN address which he delivered on Thursday, September 24.
Responding to questions I posed to him via telephone after all indications pointed to a losing battle on his side, deposed Osman Conteh, who was in high spirits humbly acknowledged having lost the battle to Ambassador Stevens. Even as he conceded defeat, he is of the strong belief that his defeat had to do with politics and has been left with no recourse to turn to except to accept President Koroma's directives. Asked whether he continues to believe in President Koroma as a leader of the APC, his answer was a resounding yes but alluded to quotations attributed to economist, John Kenneth Galbraith that "There are times in politics when you must be on the right side and lose." He continues to ponder his next options.
As he proceeded to his hotel driving through the streets of New York to retire to bed after a long day of activities with his boss around midnight, I caught up with Ambassador Stevens. Calm, humble but confident, Stevens informed me that he had no comments concerning the APC saga because the leader of his party, President Koroma had drawn the curtain on the issue. Asked about all those articles on various news outlets, his belief was that the writers of those articles did so to influence his boss who as he puts it "understand it and has come out very strongly and is in support of the decisions taken by the secretariat and has reaffirmed his confidence in the decision that I conveyed and he fully supports it and nothing will change. Elections will be held in ninety days and whoever wants to contest, can do so," he noted.
The new executive that has been mandated to carry out the affairs of the party on an interim basis until elections are held in three months are: Leslie Allen who was vice chairman and now occupies the position of Chairman, Abdul Bero Kamara who retains his position as secretary general, Banister Koroma appointed to the position of Organizing Secretary, Mohamed Koya Bangura appointed as Financial Secretary and Abu B. Bangura, as Treasurer. Foday Mansaray, Dr. Bankole Gibson and Sidique Kamara to the positions of Public Relations officer, Communications Director and Compliance Officer respectively.
*Editor's Note: Anthony Kamara, Jnr. is PV's USA Bureau Chief and Acting Deputy Editor. For comments, he can be reached via email at usapvchief@yahoo.com