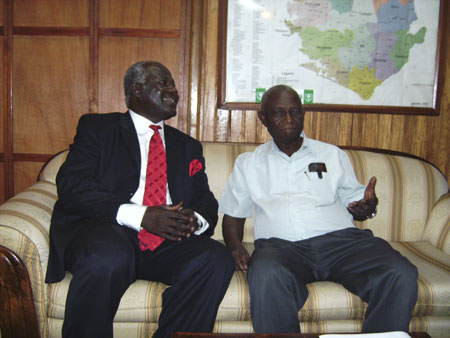 One of of the rich legacies that President Ernest Koroma will be leaving the nation when his term expires is fascinating  political tolerance.
President Koroma 's congenial embrace of political opponents  has enot only xemplified  his own dictum that politics is not a death and life affair but it has also set a precedence for the nation to follow, if we must continue to enjoy our hard-earned peace in Sierra Leone.
Many months ago, President Koroma hosted his 2012 presidential elections opponent, Dr. Julius Maada Bio at State House and gave him his blessings and resources to go out and help spread the Ebola social mobilization message . Some opposition members who just cannot embrace the reality of President Koroma's political uniqueness , accused  their former presidential candidate, Bio, of selling out to the President, ignorant of the fact that it was President Koroma's political tolerance and his ability to work with his opponents that was at work.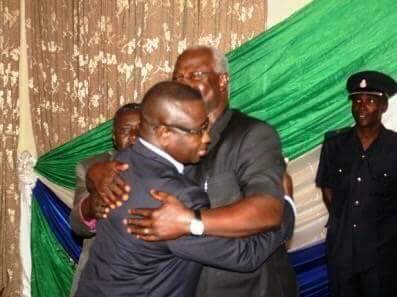 PRESIDENT KOROMA AND MR. MAADA BIO ENJOY A WARM EMBRACE
Then last week, President Koroma displayed his tolerant spirit once again during a funeral in the North when he described his opponent during the 2007 elections, Mr. Solomon Berewa,  as Sierra Leone' senior Vice-President.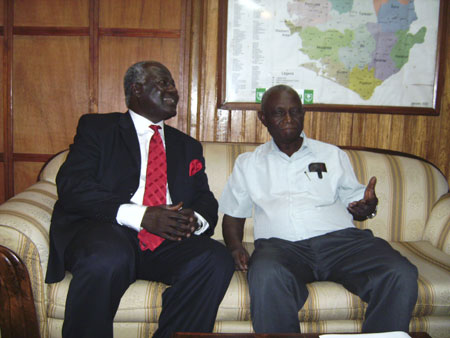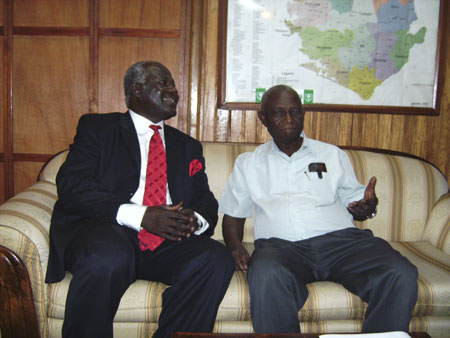 PRESIDENT KOROMA AND MR. SOLOMON BEREWA SHARE A JOKE AT STATE HOUSE
One of the key components of any wholesome functioning democracy is political tolerance.  It is also a sine qua non for nation-building and national development.
It is those anti-democratic forces in our society who frown and read meanings whenever our President reaches out to his political opponents. For politicians and citizens who are politically mature and democratic, it is a good and welcome sign for our nation when President Koroma embraces those who could have been political enemies.
We hope other Sierra Leoneans will emulate the examples of President Koroma. We are one country and one people and we need to dwell together in peace and tranquility , irrespective of our political alignments or beliefs.