By KABS KANU :
Pro-Ernest Koroma forces in the United States have been granted permit to demonstrate at the White House in Washington DC on Saturday April 11, 2015, in solidarity with the President and Government and people of Sierra Leone. The demonstration will be held from 10 am to 4 pm  and will be covered by the international media.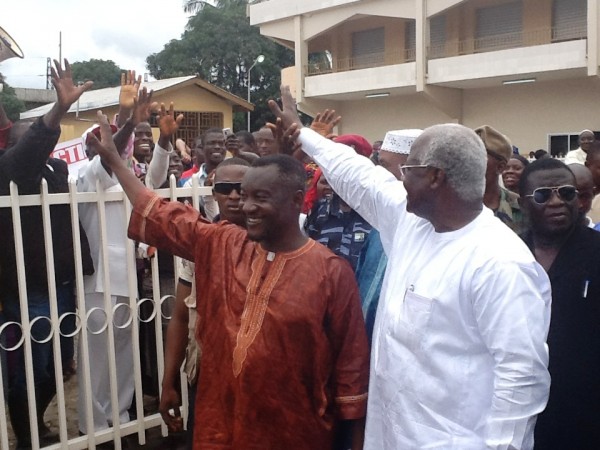 PRESIDENT KOROMA ACKNOWLEDGING CHEERS AND GREETINGS FROM HIS ADMIRERS IN SIERRA LEONE
The demonstration is being spearheaded by an organization called Sierra Leoneans For Peace Standing With  The President and the aim of the rally  is to support democracy and the Rule of Law in Sierra Leone.  The demonstrators will be commending President Ernest Bai Koroma for promoting national development, democracy, the Rule of Law, accountability and transparency and fundamental human rights in Sierra Leone, as well as  alerting   the U.S. and the International community about moves by dissident forces to trigger chaos in the country . Opposition forces ,  instead of giving  the Supreme Court chance to deal with the constitutional issues that have arisen over the matter of the relieving of former Vice-President  Samuel Sam -Sumana of his duties, are planning illegal demonstrations in Sierra Leone to stir up trouble.
The demonstration in Washington DC will also counter the rally planned the same day by a dissident group , the Concerned Sierra Leoneans,  who will be demonstrating to protest the relieving of the former VP of his duties.
While the so-called Concerned Sierra Leoneans would be using Lafayette Park , the pro-Ernest Koroma forces have been granted permit to use 1600 Pennsylvania Avenue , which will be adjacent. Both groups will be divided only by a sidewalk.
Madam Fynda Fillie-Faboe , who along with Madam Mariama Lowe-Bangura , was one of those who procured the permit , posted it on Whatsapp and sent COCORIOKO a copy. The  permit was applied for by Mr. Ibrahim Saspo Kamara  and was granted by the Metropolitan Police of Washington DC , in accordance with the provisions of the First Amendment Assemblies Act of 2004.
The Sierra Leoneans For Peace is therefore calling on all its supporters to turn out in full on Saturday at 10 am to conduct the rally.
MORE DETAILS WILL BE GIVEN AS THEY BECOME NECESSARY.