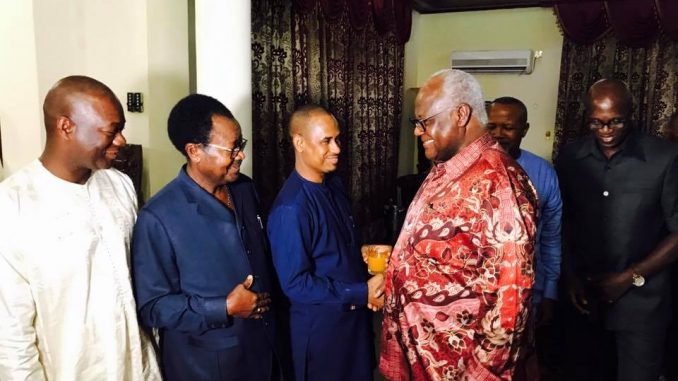 Chairman and Leader of the All People's Congress (APC) has continued his consultations with all APC flag bearer aspirants at his Hill Station Lodge this evening Tuesday 10th October, 2017. This is the largest gathering since the Chairman and Leader commenced consultations with all aspirants gunning for the APC presidential ticket for the forthcoming elections in March 2018. Twenty-one aspirants attended tonight's dinner and consultation meeting. Stay tuned for details…

Posted by Jarrah Kawusu-Konte on Tuesday, October 10, 2017
WATCH THE VIDEO ABOVE
Chairman and Leader of the All People's Congress (APC) has continued his consultations with all APC flag bearer aspirants at his Hill Station Lodge this evening Tuesday 10th October, 2017.
This is the largest gathering since the Chairman and Leader commenced consultations with all aspirants gunning for the APC presidential ticket for the forthcoming elections in March 2018.
Twenty-one aspirants attended tonight's dinner and consultation meeting.