By State House Communication Unit
As government continues to show commitment towards the relocation of flood victims, President Ernest Bai Koroma Friday 13 November completed a conducted tour to the temporal housing construction site for the affected families at Mile 6 Village on the outskirts of Freetown. The president also made on the spot visit at the Freetown Central Lorry Park and the Hastings Airport. His visit at Mile 6 was in sync with government's aspirations to provide a safe living environment for the September 16 flood victims in Freetown.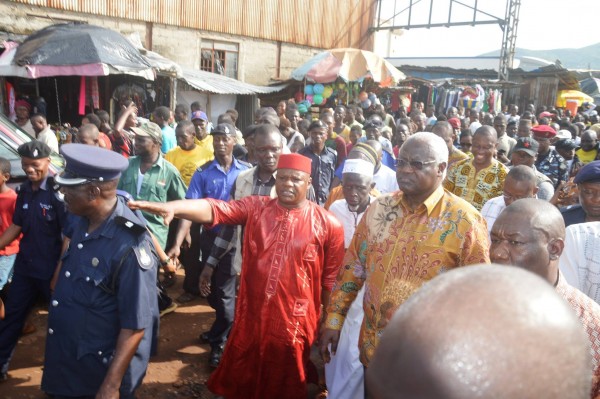 Briefing the president, Coordinator of the Office of National Security (ONS) Mr. Ismael Tarawally said a total of 1,209 flood affected families have so far been registered, clarifying that 108 families will be relocated to Mile 6. He said at the moment, 98% of the affected families have already been relocated. The security chief went on to state that for those families who have preferred to stay with their families will be given rent subsidy of Four Hundred Thousand Leones with a monthly package while those that will be relocated at Mile 6 would be given two months packages because of the new environment. "All the families that will be relocated will receive packages and for those families that will be relocated at Mile 6 will receive two months packages," the security chief explained.
In another development, President Koroma also visited the Hastings Airport in follow up on the issue of assigning land for the ministries of Health and Sanitation and Social Welfare, Gender and Children's Affairs. The president stated that his visit was to help make an informed decision and to determine whether to continue with the operations of the airport and the two ministries altogether. He said in the fullness of time, he will visit the Sierra Leone Airport Authority to inspect ongoing rehabilitation of facilities at the Hastings Airport.
President Koroma also visited Clay Factory at the Freetown Central Lorry Park where he inspected facilities around the park.