By State House Communication Unit
As the implementation of government's post-Ebola recovery programme gathers momentum, President Ernest Bai Koroma on Monday 16 November received British and Irish envoys at State House, Freetown. The purpose of the meeting was to have first-hand knowledge on the roll out of recovery programmes and how the two countries can fit into government's recovery agenda.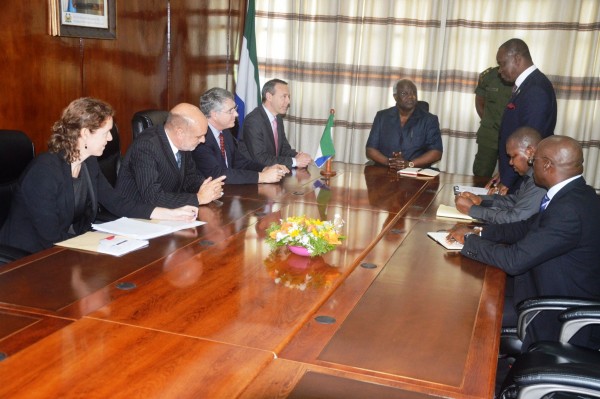 Addressing the envoys, President Koroma acknowledged the support provided by both Britain and the Republic of Ireland in ending the Ebola outbreak in Sierra Leone. Even as the virus has been defeated, President Koroma expressed the need to keep an eye on issues resulting from the outbreak and particularly those that have to do with survivors as well as keeping close eye on neighbouring Guinea, and sustain surveillance activities around the border. He informed them about government's recovery agenda that prioritizes four areas; strengthening the health sector, providing a conducive educational environment, building the private sector and agriculture.
President Koroma underscored the significance of collaboration to ensuring that the targeted set of priorities is achieved within the timeframe. Continuous engagement, he said, is crucial to the successful implementation of the programme. "Implementation is always challenged by capacity and resources and we need support in capacity and ensure that resources are provided on time," he said. Commenting on the issue of pregnant girls, the president emphasized government's commitment to ensuring that they don't drop out of school and will be provided with special training.
A significant part of the meeting was held behind closed doors.