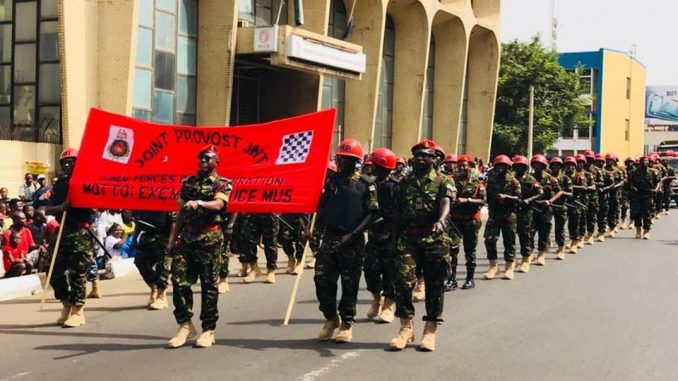 Yesterday was Armed Forces Day in Sierra Leone , and in a show of strength and resolve that will probably send a strong message to potential anarchists , soldiers staged a robust march in the city , chanting warning songs to would-be troublemakers.
Since the end of the war, the Sierra Leone Army has been seriously building capacity, through Britain, the U.S. and friendly nations. The RSAF has received top-flight training and has been equipped with the weaponry and logistics it lacked during the war.
Sierra Leoneans can start bragging once again that it has a well-trained and equipped army capable of protecting and defending the territorial integrity of our nation.
Sierra Leone never at any time lacked a competent army but during the 1970s and 1980s the forced was not equipped with arms and logistics because it had been politicized since it was introduced into politics by the late Force Commander, Brig. David Lansana and staged the first ever coup in the nation in 1967, followed by another  by the ACRM in 1968 and aborted coups in 1971 by late Brig. John Bangura , 1974 allegedly by the David Lansana and Mohamed Sorie Fornah group ,  and 1986 by the Gabriel Kai-Kai group. Since the government then did not trust the army because of these acts , it was impossible  to provide it with the necessary logistics. That was why the army did not perform to expectation when the rebel war broke out.
It must be noted the during colonial times and the first few years of Independence, Sierra Leone had one of the best trained and professional armies in Africa. In fact, during the early moments of colonial rule, the Sierra Leone Frontier Force was used by Britain to impose law and order in the British West African countries.
Therefore, we have always had a very good and trained army until the 1970s and 1980s.
However, a new well-trained and professional army and Police have been rebuilt in Sierra Leone since the end of the war.
Yesterday, during their parade, in an apparent reference to those planning to create chaos during the elections, the soldiers were heard singing : "UNA PAPA DEM; UNA PIKIN DEM; UNA WARN DEM O " ( Warn your fathers and sons to obey the law ) . Some people erroneously posit that these were threatening statements to the public but given the propensity for rabib political zealots to take the law into their hands, the law-enforcement forces need to send a strong message to vandals, anarchists and troublemakers that they will not be allowed to bring any chaos to the forthcoming elections.
HERE ARE SOME VIDEOS FROM JARRA KAWUSU-KONTE AND MOHAMED SANKOH :
De army don talk." Wunna warn wunna papa en pikin den".

Posted by Mohamed Sankoh on Tuesday, February 20, 2018