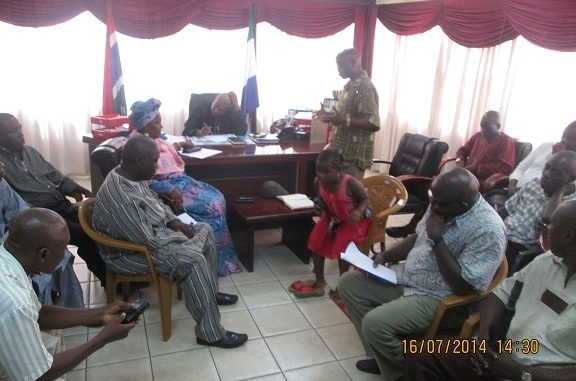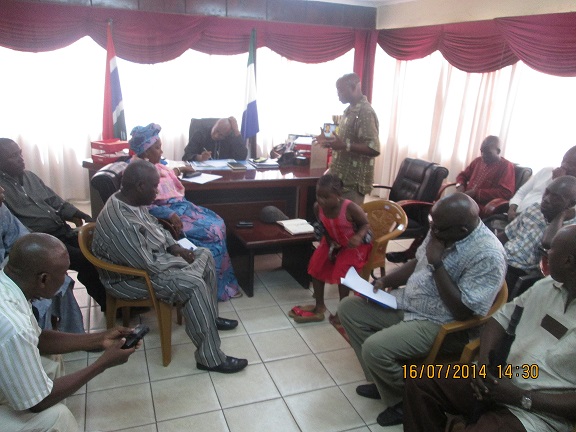 A cross section of Members and Executives of the Sierra Leone Nationals Union in The Gambia (SLENU) on Wednesday paid courtesy call on Sierra Leone's newly appointed Ambassador to The Gambia AMB Soulayman Daramy at the Embassy's Chancery in Banjul.
Speaking, the Chairman of the Union Sorie Koroma said as citizens based in the diaspora, it is but befitting that they pay a courtesy call to congratulate him and pledge their support and cooperation at all times. "Even before you presented your credentials, we have observed that you are really here to work in the interest of us based here and the country as a whole" he said.
Chairman Koroma, informed that there are many Sierra Leoneans in The Gambia engaged in divers field of work including, teachers, petty traders, nurses, footballers, and mechanics that are law abiding and contributing to the economy and development of The Gambia. "Mr. Ambassador and Deputy, we look forward to working with you and the Embassy staff in the interest of our country" he promised.
Responding, AMB Daramy expressed his thanks and appreciation for their visit, referring to it as patriotism. He said that in a closed door meeting with President Yahya Jammeh after presenting his credentials, he is pleased to inform that President Jammeh holds our country in high esteem and that he promised his government's support and willingness to work with the Embassy.
Ambassador Soulayman Daramy revealed to them that the Embassy has drawn up a work plan and top on the list is the registration of all citizens residing in The Gambia and next is to relocate the Chancery from Banjul to the Kombo's , where other Embassies are located. "Project wise" he noted " is to re-organized SLENU that comprises of all other organizations in The Gambia to represent the interest of all citizens". He promised the Embassy's support.
Ambassador Daramy called for the free flow of information from SLENU to all members of the Organization and cautioned that the laws of the land must be obeyed at all times. "I am here to learn and copy and take back to our mother land what needed to be implemented.
According to Ambassador Daramy the registration exercise will commence after the Ramadan fasting. He called upon all citizens to cooperate with the Embassy in the registration drive, reminding them that it is incumbent on all citizens to register with their Embassies on arrival in any country.
BY:- Ralph Ese'Donnu Sawyerr,
Information Attaché,
Embassy of Sierra Leone,
In The Gambia and Senegal.