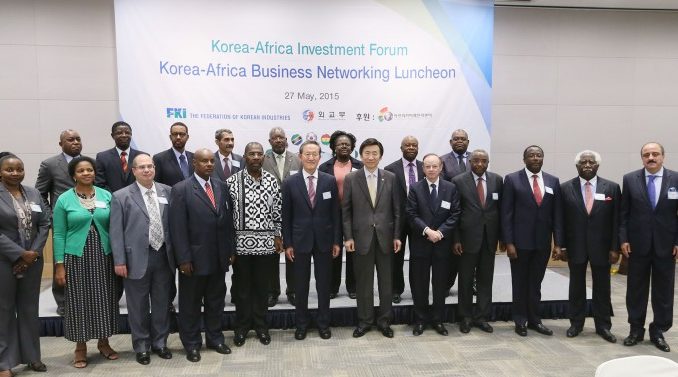 Sierra Leone had the distinction last week of being  one of three African Countries chosen  by the Federation of Korean Industries to highlight their investment potential and the climate for business opportunities. The other two countries chosen were Tunisia and Ghana.
A diplomat always blessed with the ability to explore such opportunities to showcase his country's abundant opportunities and potentials, Sierra Leone's Ambassador to South Korea, His Excellency Mr. Omrie Golley,  lit up  this annual Forum for Korea-Africa Business Networking,  held on the 27th May 2015 and hosted jointly by the Ministry of Foreign Affairs of Korea and the FKI , to update the gathering of business leaders present on the strides the President Ernest Bai Koroma-led  Government has made to eradicate the Ebola Virus Disease which has affected Sierra Leone over the past 12 months, while also highlighting the potentials  in Sierra Leone for investment in the Agribuisness, fisheries, tourism and energy and mining sectors of the economy.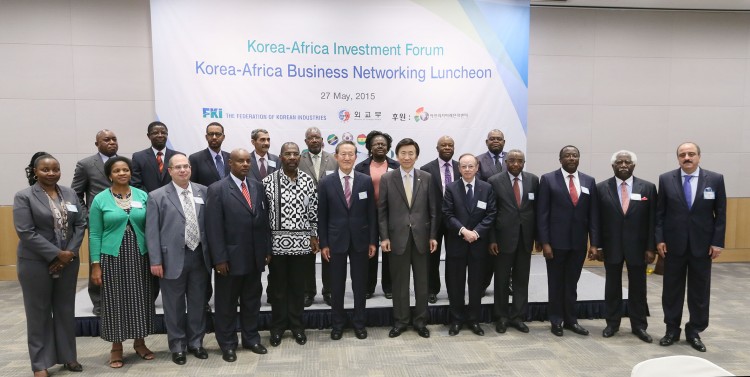 Ambassador Golley, (pictured here with Heads of Mission of the other African countries in Korea, together with Korea's Foreign Minister Yun Byung Se)
Delivering a 20 minute power point presentation at the meeting, which was followed by a question-and-answer segment , Ambassador Golley effectively unveiled the areas of the above-mentioned sectors of the economy where Korean and other international investors could establish fruitful business partnerships with Sierra Leone.
Ambassador Golley informed the Assembly that Sierra Leone was again open for business and he invited Korean business leaders to the country to observe first hand the potentials in the nation.
The Federation of Korean Industries was founded in 1961 as a non profit independent organisation and consists of Korea's major conglomerates and associated members. It addresses the Korean Government on major economic issues and policies and helps promote Cooperation with major international and foreign commercial organisations, and also assists Korean corporations in promoting corporate community relations.

Ambassador Golley making the power point presentation 



The power point presentation by Ambassador Omrie Golley