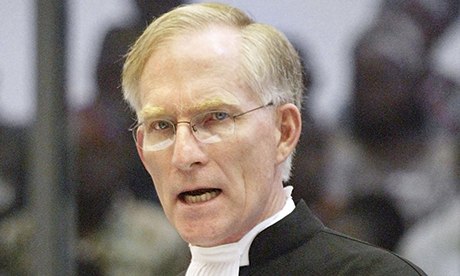 Tamba Borbor reports from Freetown : 
Thursday June 5, 2004
The Chief Prosecutor of the Special Court,  David Crane,  in his opening statement at the start of the trial against the leadership of the Civilian Defence Force (CDF) said  that the crimes will be proven in large part by the people of Sierra Leone and the events  will make men of civility and reason recoil.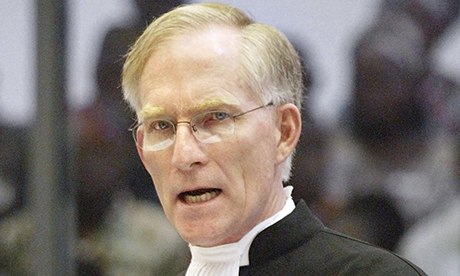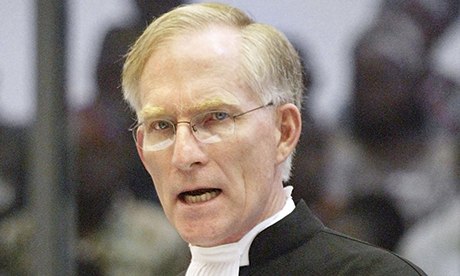 DAVID CRANE
"They will come before you one by one, damaged, proud, some afraid, yet still brave," he said. Crane promised  that during the trial "we will focus on crime bases in Koribundo, Kenema, Base Zero in Bonthe District, Moyamba, Bo and Tongo ,where alleged criminal acts or omissions took place."
The Prosecutor revealed that throughout the trial children who fought in the CDF would be recounting stories of alleged horrors they committed as child soldier in Sierra Leone. He said that a witness will also testify how the CDF moved into the town of Bradford and began looting, how his wife was shot with her calling out his name and was robbed of her life savings. Others he went on will testify that in Tongo in 1997-98 the Kamajors allegedly picked people at random and hacked them to death a standard tactic.
Crane  went on to say that a  damaged and broken man would also testified in the court how around 65 people were taken behind a house separated into groups of three to four and shot with their bodies rolling  down a hill into a valley. The CDF, to save bullets,  began cutting the heads of the remaining. The witness who was the last in the group had his neck cut from behind and he rolled down the hill watching those in front of him die one at a time.
David Crane said that the case against these indictees is "about breach of duty perverted into a killing frenzy against innocent civilians, non combatants, their own fellow citizens." He said that the CDF led by Norman and assisted by Fofana and Kondewa, largely supported by hunting society called Kamajors, was set up to counter internal threat of the RUF and later the AFRC. Their duty he said was to defend and protect the people of Sierra Leone, in the South and East in particular. "This duty was even more manifest by the fact that the indictee Norman was the Regent Chief in Koribundo, a located crime scene," he went on.
Crane  said that they failed to do their duties and in their frustration turned on their own fellow citizens – the Mende people whom they declared as collaborators of the RUF and AFRC. He said that it was under the leadership of these indictees that they turned what should have been a just cause into an unjust effect, which are serious breaches of the law designed to protect humanity. Citing an example of this breach of duty the Prosecutor said that in February 1988 due to an attack by the Kamajors on Koribundo one of the witnesses will testify how he and his brother were taken to a Kamajor base, beaten and tortured.
He said that the man's brother's throat was cut in front of him and was told by the Kamajors to go back and tell the people of Koribundo what will happen to them if they collaborate with the Sierra Leonean Army. He said that the man returned to Koribundo and noticed a lot of graves and would recall that Hinga Norman himself came to the town as he was Regent Chief at that time and held a meeting. "At this meeting, allegedly Norman told the town people that they should not hold the Kamajors responsible for what they had done in the town, but they should hold his responsible, that they were acting on his orders," David Crane went on.
He said that the witness will reveal how Norman said he was not happy with the Kamajors because they did not kill every living thing as were  told. Norman  was also said to be disappointed that the Kamajors  did not burn all and rebuked them for being afraid of killing.
According to him "no one deserves to live in circumstances like this, to die like this, to witness the horrors perpetrated by all sides and most certainly by these accused, who twisted a just cause to an unjust perversion. We will most assuredly show you through the witnesses the result of these unjust acts or omissions caused," he said.