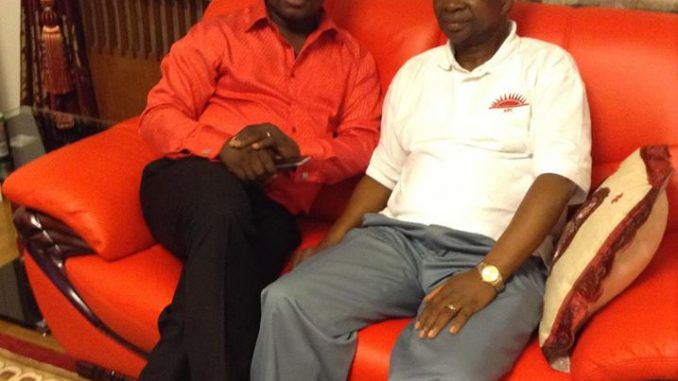 By John Pa Baimba Sesay-China —
All People's Congress Secretary-General, Osman Foday Yansaneh has, on Tuesday 20th August disclosed that given the outstanding role President Ernest Bai Koroma has played in reviving and reactivating the party to this peak, there is no desire on the part of the party to remove him as Chairman and Leader even when he shall have retired, as "there will be a role for him as he is an invaluable asset to the party."
The APC chief was recently in China, with a 10 man APC delegation on the invitation of the Communist Party of China. Other members of the delegation included Alhaji M S Kargbo Special Adviser to the President on Political Affairs, Kadiatu Mansaray, APC Women's Koinadugu District, Mohamed Sesay from Port Loko District, Issa Kanu from Bombali District, David Fornah and Abdulrahman Bangura both from the APC secretariat, Rebecca Koroma, Women's Leader Kailahun District, Zainab Bangura, APC Women's Leader southern province and Mohamed Bangura, Youth Leader Tonkolli District.
Ambassador Yansaneh, who departed China for Sierra Leone on Wednesday 21st August, has been one of several strong pillars upon which the APC stands. He had once served as party Secretary and this latest sacrifice he made in resigning his ambassadorial position in Ghana to take up the challenge is seen as a political second coming.
A well known committed party loyalist, Osman Foday Yansaneh keeps playing a critical role in the party ever since he joined it even at difficult moments, like when they were chased out of power in 1992 by some childish disgruntled elements in the country's national army. He served the Ministry of Works for years and also at State House where he was for a period not exceeding seven years.
In this his first Diaspora interview since elected as party secretary, Ambassador Yansaneh spoke on a range of issues, including the China visit; plans to restructure the APC both within and out of the country and the involvement of the military in the country's politics.
First he was asked why they chose to accept this latest invitation from China's communist party
OFY: Well, we accepted the invitation because of the historical ties between the two parties (the All People's Congress and the Communist Party of China) and also because of the level of government to government ties.
Siaka Stevens (late) had the foresight and his vision moved him to opt for the 'One China' policy which we pursued unto the United Nations, as we were part of the group of African nations that moved the motion for 'One China' That produced dividend in terms of much needed infrastructure in Sierra Leone from China, in the areas of agriculture (magbass sugar factor), landmark infrastructure (like youyi building, military and police headquarters, Mange and Kambia bridges and lately they have been offering scholarship to Sierra Leoneans to come and train here( china).
JBS: You did visit a number of provinces. What lessons did you learn, generally from this visit?
OFY: We visited an affordable housing community in Guangzhou, provided for mentally and physically challenged and children who are orphans. They took us to their technical institute they call the Creative Industrial Zone. We met with CPC leaders in all the communities we visited. We also visited an agricultural machinery company in Guangdong and also visited the Guangdong Academic for Agricultural Sciences.
On lessons learnt, they are many. The party (APC) is poised for restructuring and we have learnt lessons for the CPC. Sierra Leone entered into ties with China in 1971 but the parties established ties as far back as 1979 and since then senior officials from the APC have visited here just as senior CPC officials have also been visiting Sierra Leone. We (APC) have even extended an invitation for them to visit Sierra Leone in October. We had several discussions. The reorganization of our party came up. We told them about our multiparty system which puts some limit in terms of the party doing it all its way, as we have to take into consideration the opinion of the opposition which may not be a shared opinion of the ruling party. But they (CPC) told us, they too have eight democratic parties but they work with them and they share positions with them.
We learnt that the principal role of the CPC affords the party the opportunity to be the guiding instrument for policy and programmes. They do not only provide guidelines, but they are participants at every level. For us, the APC has provided the guideline first as seen in the 'Agenda for Change' which concentrated on five major sectors of the economy. Notwithstanding the fact that some ministers are APC Ministers, there is not a synergy between the party and government, unlike China. Along the line, you have Ministers that are APC but the functionaries are not. So there is need for the party and the government to be linked at a particular stage.
Also, real success is recorded in china because, sensitive areas are manned by party people, they know if the party falls it is their own fall. In our own case, there are some senior officials who don't care whether party falls or not.
JBS: Take us through in terms of political talks you had with the CPC
OFY: We made a number of requests at the provincial levels. At the highest level of the party, we met with a member of the Communist Party of China Central Committee, HE Zhao Hongzhu. He was also Deputy Secretary for the Central Commission for Discipline Inspection. We met with the Vice Minister International Department arts of the CPC.
During those meetings, we got the history of their party as I also gave them our party's history. I told them we are a party that believes in democracy, that in 1962, we went into an election that saw us win a third of parliament and made significant progress years later when we won the capital thus giving us position of Mayor and got a number of districts under the control of the APC. I also told them, that we won the 1967 elections at polls conducted by the SLPP, but they (SLPP) did not accept defeat as the Prime Minister was arrested. And that was how they aborted our first democratic experience. We also informed them about how, in 1968 when constitutional rule was restored, the APC setup an all inclusive government which had SLPP Ministers and Ministers from the independent members of parliament and that a referendum was held in 1978 for one party system of government and people voted for it. It was between that period- 1978 and 1992 that most of the development Sierra Leone ever witnessed took place.
We did tell them that there was a civil war and for 11 years the country's infrastructure was destroyed but constitutional rule was restored with the SLPP in power and they spent 11 years and no visible improvement was made in the lives of our people and an alternative had to be sought for and the APC emerged in2002 as the minority party in parliament. SLPP did very little again up to 2007. We also told them about how the APC manifesto clearly defined a 'change' through the 'Agenda for Change' and I gave them a rundown of what this agenda targeted. We told them about the health sector that has free medical service for lactating mothers, pregnant women and children under five and that we have been able to provide feeder roads, trunk roads rehabilitated thus linking major provincial towns.
Progress in the energy sector was also highlighted; with an improvement from 6 megawatts we met in Freetown Bo and Kenema when we got elected to now over 100 megawatts. With the help of China, we are building more hydro projects and so we discuss the need for China to come to our assistance in providing us much needed support for other areas such telecommunications, transport and communication was discussed.
JBS: You spoke about restructuring the party. Why and what support can CPC give here?
OFY: Our party needs to bring itself closer to the grassroots as it is a grassroots' party. But we need material support from the CPC having given them the structure of our party. We need material support for polling stations management scheme to bring party closer to the people.
JBS: What about plans to reorganize branches of the party in several other countries?
OFY: The Diaspora has a lot of problems that we are aware of. The concerns against incumbents or outgoing executives are not misplaced. We should allow for a uniformed system to like; determine what constitutes a branch in any country, in terms of membership; how they raise fund in terms of registration and contribution and what percentage remains with them and what goes to headquarters. The next point is the relationship between their bylaws and the party constitution.
The President has said we need to revisit our constitution. So we need the contribution of the Diaspora to see how their bylaws could be linked with the party. There is what we call hierarchy of legislation and this is applicable to the party constitution and the bylaws of the branches. Bylaws should not be in dispute with the party constitution. In America, there is another entity we were not aware of. They call themselves Council of Chapter Presidents. They have to defend what constitutes a Chapter and later we know who constitute the Electoral College, what is the membership for a State to be called a chapter, amongst others.
There is a lot of confusion and we want an abiding solution to these issues. Thus there will be a high level delegation including the Deputy Chairman, Secretary-General, Organizing Secretary, Elections Coordinator, representatives from the Women's Congress and the Youth League that will go to Britain, America, Germany and other areas.
JBS: President Koroma, as Chairman and Leader of the APC, has played a very crucial role in taking the party to where it is at the moment. How will it look like when he shall be retiring?
OFY: We have not provided any terminal period in terms of leadership of the party. As a party, we do realize the role that President Ernest Bai Koroma has played in reviving and reactivating the party to this peak. As you see, during the last convention, he was returned unopposed as Chairman and Leader of the party. The party has no desire to remove him as Chairman and Leader even when he shall have retired. There will be a role for him as he is an invaluable asset to the party. That is the mood of the people. So under his leadership the party will not feel his departure as President.
JBS: And the third term issue especially for the party?
OFY: You know the opposition are crybabies. The President is a democrat, he is an honest person, and he had always said the constitution is clear about term limit. But let me state, that at the party level, we are sure of a third term, since we are the only party that has created stability in the country.
JBS: There is this issue of the military in politics and only recently there were media reports about alleged mutiny. Are you concern as a party?
OFY: As a party, we are concerned about the appearance of the military rearing its ugly head again at whatever level because, we know the destructive results that instability will cause to a country. We will go all out to please the military but those who believe that the military should abandon their constitutional responsibility are deluding themselves because, the people of Sierra Leone no longer cherish a military regime and they should be mindful of the destructive impact of even an appearance of the possibility of the use of force, whether in the form of a mutiny or a coup d'état. It will be treated with the disdain it deserves.
JBS: Thank you Mr. Yansaneh
OFY: Welcome Pa Baimba