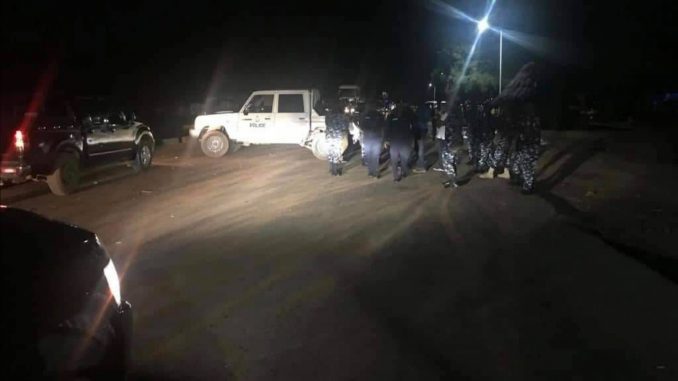 COCORIOKO REPORT
The plague of political suppression and harassment of opposition party members by the junta -acting President Maada Bio continued unabated in Sierra Leone yesterday when the Police–Now effectively a terrorist squad  under President Bio –attacked former Vice-President Alhaji Samuel Sam-Sumana and his supporters and violently stopped them from entering Port Loko, where the C4C Leader was planning to make a brief stopover on his way to Freetown after returning from a foreign trip at the Lungi International Airport.
The Police barricaded the highway with trucks and heavily-armed riot officers and fired teargas at the ex-Vice-President and supporters .
COCORIOKO  reporters were told that the orders to stop Chief Sam Sumana from entering Port Loko came from "Above". This paper learnt that it was a concerted attempt to stop the former Vice-President from interfacing with people in the district or making statements that will debunk the politically-inspired speech made in the town recently by the SLPP Vice-President Mohamed Juldeh Bah .
Port Loko is a strong, traditional APC stronghold  that the SLPP  is trying to snatch from them through subterfuge , dirty politics and selling of influence  , with the use of Juldeh and the former APC Information Minister-turned-renegade -and -betrayer, Alpha Kanu .
WE BRING YOU THE VIDEO RECORDINGS AND REPORTS BY VARIOUS NEWSMEN IN THE SOCIAL MEDIA . 
THIS RUBBISH BY THE JUNTA SLPP IS MORE THAN TOO MUCH

Posted by Apc Sankoh on Monday, June 17, 2019
By Kemo Cham
A spokesman for the Sierra Leone Police has confirmed that they prevented opposition leader Samuel Sam-Sumana from entering Port Loko on Sunday because he didn't have clearance to do so.
Sam-Sumana, a former Vice President and former presidential candidate of the C4C party in last year's election, was visiting the northern town on Sunday evening when he and his entourage were prevented from entering.
He was reportedly scheduled to watch a football match at the Old Port Loko Mini Stadium.
Sergeant Paul Hassan Turay, spokesperson for the Police in the North-west region, said they got intelligence of a planned political procession along the Pot Loko Highway and that they had not received any prior information authorizing such.
Turay said that when the intelligence reached the AIG northwest, he consulted with the Deputy Inspector General of Police who ordered them to prevent the politician from entering.
Sources told Politico that all three major points of entry into Port Loko town were barricaded by the police and Mr Sumana's attempt in all two points proved futile, with the exception of Malaykuria Junction along the Conakry Highway where the politician decided to walk his way leaving behind his vehicle after failing to persuade the police to let him in.
The source narrated that as he went along, a crowd of onlookers grew bigger behind him.
It is not immediately clear at what stage or why the police decided to fire teargas.
The incident reportedly happened between the hours of 4 and 6 pm on Sunday.
A Port Loko based reporter told Politico that up to seven rounds of teargas were fired.
The source said Sam-Sumana was hidden in a shop away from the police before he was subsequently moved out of the town.
Sergeant Turay neither confirmed nor denied that the police fired teargas. He however confirmed that they did prevent the politician from entering the town on the orders of their regional commander, stressing that they needed prior information to provide him proper security.
The Bai Bureh Warriors of Port Loko town and the Freetown-based FC Johansen were playing a friendly match at the Old Port Loko Mini Stadium.
"Sam-Sumana wanted to come and watch the game without clearance," said Sergeant Turay.
"As a senior political figure, he needed to inform the police so that we could put security measures in place. It was also for his own security and safety," the police spokesman added via a telephone interview.
Sam-Sumana served as Vice President of Sierra Leone from 2007 to 2015 when he was controversially sacked by then President Ernest Bai Korona as a result of a power struggle within the then governing All People's Congress party.
He subsequently cofounded the C4C under whose ticket he ran for the presidency in the 2018 general elections and emerged a distant fourth in the presidential race.
In January, the former Vice President was again on the spotlight after his security details were withdrawn by the police who said he wasn't entitled to personal state security.
Barrie Alhaji If to entering port loko one should take clearance I wonder why this police should not take away their uniform and put on party tee-shirt. If welcoming some one one should take clearance I am afraid.
Mohamed Turay What a pity. Does he need a permit to move around the township of Portloko? That's pure nonsense. They violated his human rights and clearly showed how terrible this administration has been to our country. Was bio who constantly displayed rude behavior even at some point blocked the procession of the president EBK but he was not even arrested.
James Sesay That's absolutely impressive. No Sierra Leonean should have a limit to anywhere in Sierra Leone. We mustn't tolerate this nonsense anywhere in Sierra Leone as it amounts to partitioning our country to some citizens. I salute you gallant guys for facilitating a peaceful citizen to tred his land as he wishes. Every Sierra Leonean is entitled to same