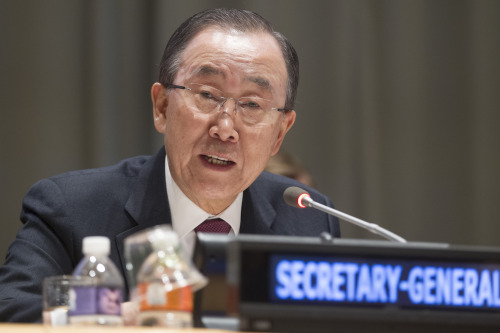 UN Photo/Loey Felipe
The Secretary-General presented today, 15 January 2016, his Plan of Action to Prevent Violent Extremism (PVE) to the UN General Assembly. Just this week, terrorist attacks in Turkey, Indonesia, Somalia and Cameroon have once again highlighted the threat that violent extremism poses to maintaining peace and security, fostering sustainable development, promoting and protecting human rights and the rule of law and humanitarian action.
Speaking before the Assembly, the Secretary-General warned against "short-sighted policies, failed leadership, heavy-handed approaches, a single-minded focus only on security measures and an utter disregard for human rights have often made things worse."
"Let us never forget: Terrorist groups are not just seeking to unleash violent action, but to provoke a harsh reaction," he said.
The Plan of Action is intended as an appeal for concerted action by the international community. It contains over 70 recommendations to Member States and the United Nations System to prevent the further spread of violent extremism.
The core recommendation of the Plan is that each Member State considers developing a National PVE Plan of Action.
Growth in Violent Extremist Groups
The fight against terrorism and violent extremism has been on the international agenda for years, but it has gained added urgency in the wake of ever-bloodier attacks by groups like ISIL, Al Shabaab and Boko Haram. At a recent discussion hosted by the Department of Political Affairs' Counterterrorism Implementation Taskforce and Counterterrorism Centre, Audrey Fox, of the Institute for Economics and Peace, said "terrorism is growing and it is growing rapidly."
Fox pointed to the Institute's Global Terrorism Index*, which in its latest edition is reporting an 80 per cent increase in deaths caused by terrorism worldwide from 2013 to 2014.
Infographic of Global Terrorism Index 2015 Highlights of the Institute of Economics and Peace
"In 2013 there are around 18,000 deaths attributable to terrorism worldwide; in 2014 32,000," he said.
"If you go back to the year 2000, the starting point of our index, it's a nine-fold increase in deaths."
Impact of Terrorism.  Infographic of Global Terrorism Index 2015 Highlights of the Institute of Economics and Peace
The magnitude of the problem, then, requires a major global effort. "The international community has every right to defend against this threat using lawful means, but we must pay particular attention to addressing the causes of violent extremism if this problem is to be resolved in the long run," Mr. Ban said today.
The Secretary-General listed what he called the "critical elements for success" in preventing violent extremism:  good governance, the rule of law, political participation, quality education and decent jobs, and full respect for human rights.
He also highlighted a common conclusion of the recent major reviews of the UN's work on international peace and security: "[W]e need to make prevention work."
Next Steps
The Secretary-General reported today that some UN Member States have already pledged to "help transform the Plan from ideas to reality." He pointed specifically to the International Conference on the Plan of Action that the Swiss Government has offered to co-organize with the United Nations in Geneva in April.
For more information about the Plan of Action to Prevent Violent Extremism, please visithttps://www.un.org/counterterrorism/ctitf/plan-action-prevent-violent-extremism
---
* The views expressed in the Global Terrorism Index 2015 of the Institute for Economics and Peace do not necessarily represent those of the UN Department of Political Affairs.