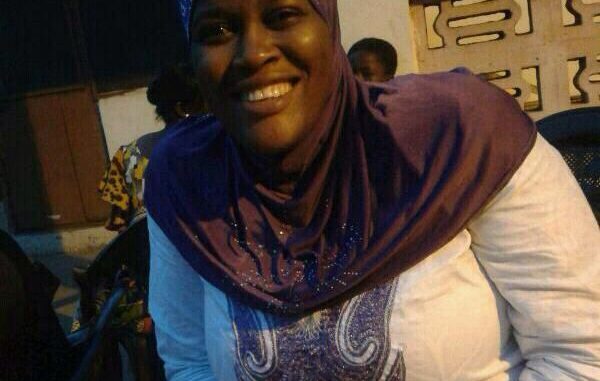 Life lived once by journalist Khadijah Deen-Savage
Life,they say is lived once, but lived well, once is enough. Khadijah Deen-Savage, you have lived your life,a life well lived,a life worthy to emulate…..you are going to meet our maker.These are trying moments for the family you have left behind, but surely, you will be with Allah till we, as friends, colleagues and your family members meet you again. 
A journalistic pen has fallen.  Down, it went with you, but trust, that pen will linger on ever, years after your departure.How? A closer look and rereading of your news items will bring us fresh memories of how you lived to tell us stories …how you reported on court trails, on criminal proceedings in our court system…how u helped build trust and confidence amongst the womenfolk in our beautiful profession called journalism.
Your hijab was a manifestation of a true and plainly Muslim life you lived….your smiles still have refused to go with you dear,  here they are, still pushing down to get us think about you and not to cry but smile and celebrate that precious and beautiful life and contribution you made in journalism. Dija, words can't bring down our feelings as journalists,as colleagues…but be assured, Allah will be waiting for you the world after here…
That which  you did when we were at the Independent Observer newspaper was extremely marvelous,great and outstanding especially at a time when some of us were literally running away, in search of greater opportunities especially from the perspective of financial rewards. You stayed and kept staying in the profession, in the midst of societal challenges and  even at death, one thing did not disappear, your contribution in shaping women and media in journalism.
Khadijah, you will be missed, you are gone, truly so, you come no more.   Allow me ask WIMSAL to cry no more, rather, they should thank Allah for a life well spent by you and for what you did in serving not just mankind but also  Allah/God . Rest In Peace dear…RIP..May Allah Be With You…
Pa Baimba Sesay, former workmate at Independent Observer Newspaper, Sierra Leone
John Baimba Sesay,M.A, B.A (Hons) FBC-USL
Press Attaché
Sierra Leone Embassy
7 Dong Zhi Men Wai Dajie,
Chaoyang District, Beijing
People's Republic of China
100600
*Tel: 0086-13701206875*
* Fax:0086-1065323752*
Public relations are a key component of any operation in this day of
instant communications and rightly inquisitive citizens. -Alvin Adams
Sent from my iPad